As Sunny Stroeer ascended to the top of Mount Aconcagua — a peak known as the "Mountain of Death" — she stood in awe of the snow-capped summits and endless sky. But one thing stood out to her besides the natural beauty: a gender gap.
Sunny is a full-time outdoorswoman on a mission to mix up the boys club of adventure and action sports. The blonde-haired beauty from Germany is a rock climber, trail runner, ultra-runner and photographer. Name any outdoor activity — she's likely tried it at least once. She has sponsorships with Adidas and Powerbar and is an ambassador with Sisu Girls, a nonprofit dedicated to empowering girls to chase after their dreams.
If Sunny's life sounds like a non-stop adrenaline rush, it's because it is. But it hasn't always been that way.
Sunny graduated from Harvard Business School in 2011 and quickly launched into a consulting career working 100 hour weeks. It took turning 30 and hitting total burnout at work for her to trade her cubicle and six-figure salary for her Chevy Astrovan and athletic shoes.
Whether she was running a 100K trek in Madagascar or climbing cliffs at Zion National Park, she took note of the large under representation of fellow female adventurers, and the ones she did spot were usually in secondary positions — accompanying a male friend, boyfriend or husband.
"Moving among big mountains and climbing in the back country requires equal parts skill and self-confidence," says Sunny. "Women are just as capable of acquiring the prerequisite skills, but there aren't as many female role-models and mentors out there to help impart both skills and confidence."
Her personal journey quickly became rooted in a new purpose to show women they are capable of simply putting themselves out there.
Sunny decided to recruit a team of women — ranging from a well-known Yosemite rock climber to a rocket scientist — to lead an all-female expedition back to Mount Aconcagua. She said they turned heads every step of the way.
I want more women to find their own voices. Women tend to ask themselves, "Can I do this?" I'm here to show them they can do it.
She's already planning her next all-female journey, which will be a three-week trek at Mera Peak in Nepal.
"I firmly believe women who are active in the outdoors are poised to develop a higher level of self-confidence," says Sunny.
We chatted with Sunny to learn how she turned her passion into a career and found ways to empower women to go after their dreams.
What inspired you to trade your stable job for an unstable life on the road? Did you have a trigger moment?
I hate to admit this, but the reason I traded stability for instability was because I had to. After a particularly intense project (think: 100-hour weeks, sometimes working for 43 consecutive hours without a break), I had hit rock bottom and simply could not see myself getting through another tough stretch on the job without losing my sanity or jeopardizing my health. In other words, I quit because I didn't see how I could go on. In retrospect, I wish I hadn't needed that trigger moment; if only I had had the guts to follow my heart sooner.
How did you prepare before quitting your job?
I announced my resignation a full nine months before I actually left. That early announcement gave me a firm commitment to exit but also enough off-ramp to plan and prepare. I used the time between announcement and last day to sort my finances — saving every penny to pay off the remainder of my student loans — and to come up with a vision for what to do next. The answer for me was simple: ditch the apartment and live adventurously yet cheaply by exploring our public lands and national parks with an old converted van as my base camp.
Why do you think you're seeing more men than women on your treks, hikes and climbs?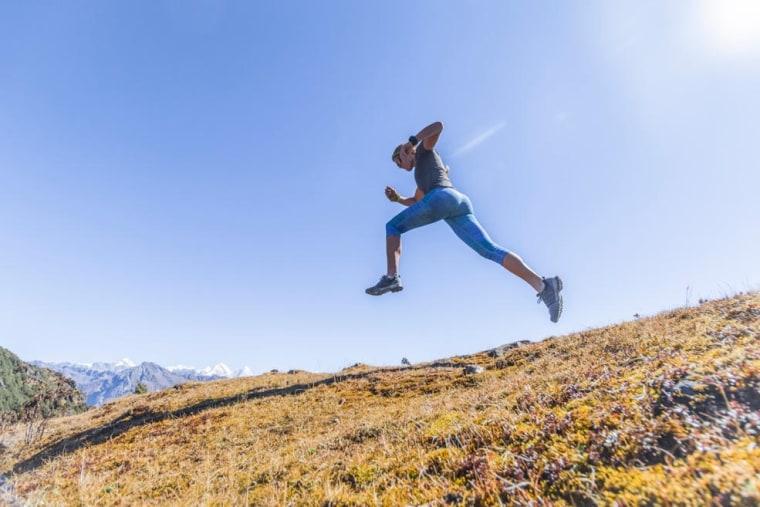 Just like finance and strategy consulting (the two industries I worked in before moving into my van), outdoor and adventure sports are traditionally male dominated. Think about it: how do most people get into being active and competent in the outdoors? Through outdoorsy friends who take them along and show them the ropes. And if there aren't many females among those outdoorsy friends to start with, there can be a big intimidation factor for a woman to be the newbie tagging along with a group of guys.
Who are your female role models?
My mom, and fellow professionals like Libby Sauter, Krystle Wright and Lynn Hill — women who dream big and go for it!
What are some ways we can encourage women to embrace the outdoors early on?
I think role models and mentors are key. Organizations like SisuGirls do great work getting girls into the outdoors and creating a connection to female outdoor and adventure sport role models. Beyond that, I am also a big fan of initiatives like And She's Dope Too and Chicks with Picks that target women of all ages to get them into the outdoors.
What advice do you have for women who want to take more risks but are afraid?
Don't think about the risk — think about the payoff. I am afraid all the time. I was afraid to quit my job, I am almost always afraid before starting up a climb and I was afraid the day I set a new female speed record on Aconcagua. Being afraid is normal, healthy and 100 percent OK. Just don't let it keep you from trying anyway!
The inspiring part is not where you succeed; it's your willingness to try.
What's next for you? How are you going to continue advocating for women's empowerment through adventure sports?
I will continue leading women's trips to big mountains. On the personal front, there are more female FKTs (fastest known times) that I am planning to get to work on, and hopefully contribute a bit to raising the bar for what we as women expect ourselves to be capable of!
What are your hopes for women in the world of adventure sports?
I'd love to see more of us out there — not because it makes the world of adventure sports better to have more women participate (though it does), but because it makes the world better. I firmly believe that women who get to experience and embrace adventure sports are poised to develop a higher level of self-confidence, that they're more likely to challenge the status quo (can you say pay gap?) and be strong leaders and female role models for their communities.