Wisconsin Precision Casting makes metal parts that go into larger objects. Think lawnmowers, hospital gurneys, boat propellers, hand tools. Its customers range from independent designers to the big boys: Caterpillar and Deere.
Based in East Troy, Wis., the small business had been operating for nearly 50 years within America's Rust Belt, which includes manufacturing-heavy states from New York to Wisconsin.
Then, about eight years ago, co-owner Cliff Fischer encountered a 3-D printer for the first time.
"When I saw a 3-D drawing of a part and I watched it being produced in front of my eyes in a short time, I said, 'We've got to jump on this,' " he said. "It's going to revolutionize our industry."
Today, Wisconsin Precision uses 3-D printers to "print" metal objects. The fast-evolving technology, sometimes called additive manufacturing, lets them create custom prototype molds and finished products in weeks instead of months. Its new customers include juice-machine makers and model-train enthusiasts.
An industry secret for years, 3-D printing is spreading quickly to the masses.Amazon has unveiled a dedicated section for 3-D printing, including desktop models from Brooklyn, N.Y.-based start-up MakerBot. (Amazon founder Jeff Bezos is among its investors.) And anyone can buy a 3-D printer from Staples.
There's no shortage of provocative ideas. NASA is developing 3-D pizza for astronauts. Defense Distributed, a nonprofit digital publisher, is focused onprintable gun components.
(Read More: 10 ways 3-D printing will blow your mind)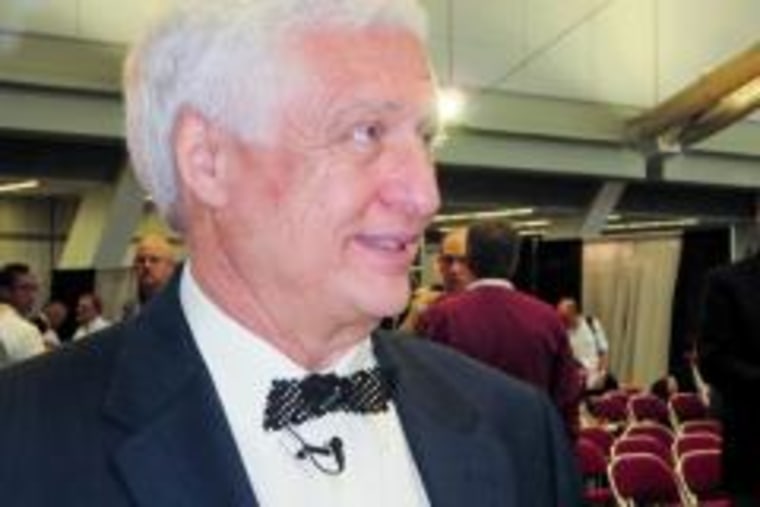 Our 'Moon Shot' moment
The technology holds serious promise for many sectors, including medicine and transportation. And innovation could mean new manufacturing jobs in industries decimated by plant closures.

Fans of 3-D are bullish. They forecast transformation comparable to the introduction of mass-produced Ford Model Ts or the Wright brothers' leap into powered flight — two early-20th-century innovations that changed everything.
The 1969 Apollo mission was evoked last week at RAPID, a 3-D printing conference in Pittsburgh. The technology is poised to be this generation's "moon shot moment — absolutely, without question," said Ed Morris, director of the National Additive Manufacturing Innovation Institute (NAMII).
(Read more: Welcome home, wade in USA is back)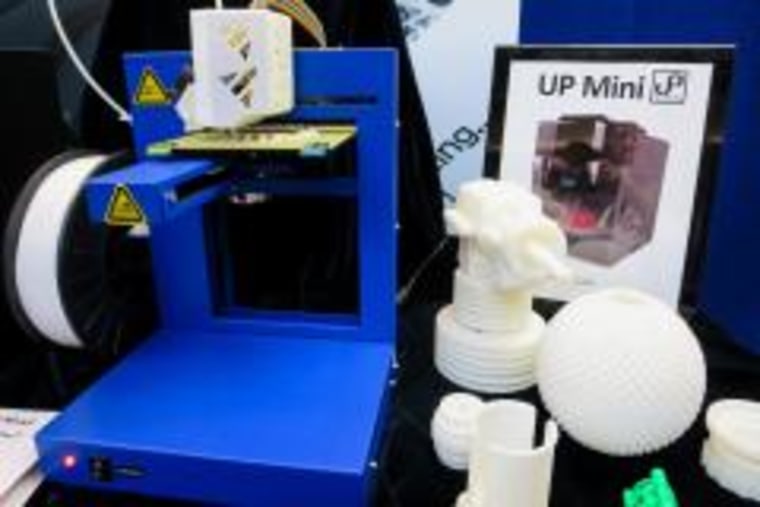 How it works
3-D printers can be massive, industrial-strength machines the size of office copiers, costing tens of thousands of dollars, but they're also available in desktop models, for consumers and hobbyists, priced at about $2,000. You can already design some 3-D objects on your smartphone using mobile apps. Draw a shape with your finger and hit the print icon, and your 3-D printer can start building your design instantly.

Printers that make plastic objects start with a small, football-sized spool of plastic, which resembles spaghetti. The printer extrudes the material, bit by bit, as dictated by the design: a bracelet, a toy mold, a wrench. Some objects are printed whole, while others require modest assembly.
The kind of plastic used is already advancing. ABS, which is more pliable, can be sanded to create finished products in which the additive layers are less visible.
Then there's metal 3-D printing — what Fischer and his team do at Wisconsin Precision Casting. Unlike plastic's spaghetti-like threads, metal printing uses lasers to weld metallic powder into structures. In other applications, spools of metal wires are beaded into shapes.
No longer limited by the shapes that conventional machines can stamp out, manufacturers are limited only by their imaginations. Envision honeycomb structures rather than solid ones, spiral rather than straight shapes.
"When I saw the 3-D printing process in action, I knew I had seen the death of machining as we know it today," said Christian Joest, president of Imperial Machine & Tool, based in Columbia, N.J. It makes military hardware for objects such as door-gun mounts and howitzers. "Additive manufacturing has the potential to transform American industry and the entire way we do things."
3-D printing of battlefield surgical instruments
Medical applications of 3-D printing are particularly mind-blowing. Prosthesis makers are using the technology to create custom artificial limbs — no more ill-fitting, generic parts.

(Read More: How technology is reinventing the prosthesis)
And consider combat surgery. Keeping sterile instruments in stock on the battlefield is a constant challenge. Combat surgeons have been known to use vodka and bleach to sterilize surgical tools.
Additive manufacturers have found a way to fashion durable, plastic surgical instruments that when printed on-site, emerge sterile. And because products are designed digitally, 3-D printing allows for mass customization.
For example, a combat surgeon who prefers to palm an instrument (instead of looping fingers through cumbersome handles) can redesign the handles. Spring rates can also be tailored to surgeons' preferences.
"It's no problem," said Shayne Kondor, a medical modeling engineer who helped develop a 90-day program with the Defense Advanced Research Projects Agency, or DARPA, part of the Defense Department. "You just make a file" of 3-D instruments for each surgeon, he said during a RAPID presentation last week.
(Read more: 3-D printers and the cool stuff they make)
3-D guns
But innovation brings risks.

It's not hard to imagine terrorists getting hold of ever-cheaper 3-D printers and producing gun components. Some legislators have called for regulating or banning 3-D gun manufacturing.
Industry leaders underscore the need for sound judgment as innovation moves forward.
"I believe that common sense will determine the right balance," said Morris of NAMII, which was created as part of President Barack Obama's effort to revitalize the manufacturing sector. The institute, based in Youngstown, Ohio, is part of a regional push to remake the Rust Belt into a "tech belt."
(Read more: Youngstown's story: Rust Belt turns to 'Tech Belt' in the name of jobs)
Creating the next-generation manufacturing workforce
Another challenge is ensuring that America is training enough students in science and math to fill future jobs that additive manufacturing is forecast to create.

"I am convinced that additive manufacturing, as a teaching tool, can make math and science relevant and fun for America's youth," Morris said.
A technical high school in Findlay, Ohio, is graduating students skilled in advanced manufacturing. They're landing $18-an-hour jobs straight out of high school—no need for college and student loan debt.
"The biggest misconception out there in the general public is that you have to have a four-year degree to get a good-paying job," one Ohio educator told PBS. "But industry tells us that's the furthest thing from the truth. Skilled labor is what they're after."
When you go back about 40 years to the Apollo program, the rooms that directed the moon-landing mission were filled with people in their 20s and 30s, along with gray-haired advisors, Morris recalled. "It's not unlike what we're doing today in additive manufacturing and 3-D printing," he said.
To carry the flight analogy a bit further, 3-D printing innovation has liftoff but hasn't reached altitude.
"We have yet to conceive what will happen," Morris said.
— By CNBC's Heesun Wee; Follow her on Twitter