You check your oil, tune the engine and make sure you car's brakes are working right. But you may still be riding around in a four-wheeled time bomb, it turns out.
At least 45 million vehicles – about one in six licensed to operate on U.S. roads – suffers from an unrepaired safety problem subject to an outstanding recall. In fact, the figure could be millions higher, according to new research by J.D. Power and Associates, but it can be difficult to track compliance rates on older recalls.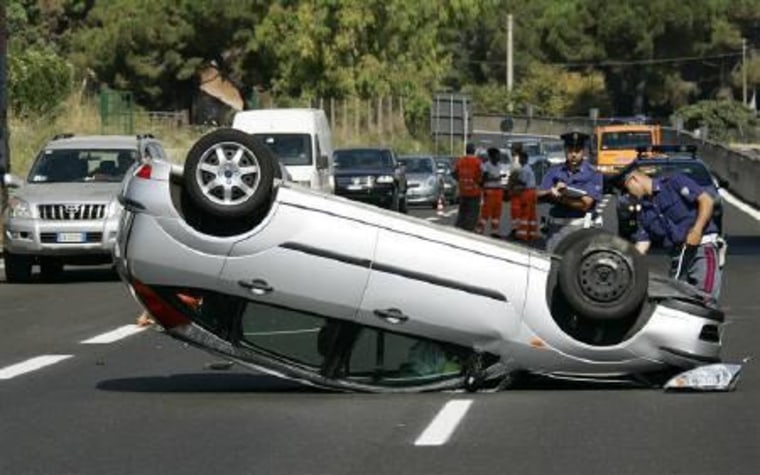 The study is in line with other recent research and reflects the fact that the U.S. has seen an explosion in safety-related recalls in recent years for everything from improperly inflated tires to airbags that can overinflate in a crash, spewing deadly shrapnel into the passenger compartments. There have been faulty ignition switches, leaky gas tanks and corrosion-prone vehicles that can drop bumpers and parts into the path of traffic.
"The steady surge in recalls, combined with NHTSA's stated goal of 100 percent recall completion rates have made the number of un-remedied recalls still on the road a critical statistic for automakers and dealers," said Renee Stephens, the head of automotive operations at J.D. Power.
The National Highway Traffic Safety Administration may, indeed, be pushing for 100 percent compliance, but the reality is anything but. At best, automakers confirm they're pleased when even 70 percent of the vehicles covered by a recall actually come in for repairs. And it's not uncommon to see response rates as low as 30 percent.
Even Minor Recalls Still Require Fixes
Often, that lower figure is the case in what some describe as minor recalls. Honda is one of a number of automakers who, in recent years, have had to replace the door stickers found in every new vehicle listing tire inflation rates. That might sound minor, said Clarence Ditlow, director of the Center for Auto Safety, but he is quick to note that improperly inflated tires contributed to crashes that killed hundreds of people riding in Ford Explorer SUVs at the beginning of the new millennium.
But even with major safety problems — such as the faulty General Motors ignition switches — blamed for more than 100 deaths, it can be difficult to get motorists to care enough to come into a dealer showroom. Pressed by NHTSA, GM even offered gift cards to owners to boost response rates.
So far, barely a third of those vehicles covered by the Takata airbag recall have been repaired and it's unclear just how many more will be eventually.
It's not always that motorists don't care. You may simply not even be aware that the car carrying your kids to school and soccer practice has a steering wheel that can come loose or a suspension that can fail at highway speeds.
Older Vehicles are Hard to Track Down
When older vehicles are targeted for recalls, said Stephens, completion rates also tend to be lower, in part, "because it can be harder to contact owners." The older the vehicle, the more likely it is to have been sold, industry records show, often more than once, meaning recall notices can go astray.
Automakers must follow some basic rules, including the size and form of their recall notifications. NHTSA is still pressing carmakers to do a better job. Beyond the carefully prescribed recall notices that go out by mail, they are exploring other options, including phone calls, text messages, e-mails and other options.
And, as things are going, finding new means to reach owners will grow increasingly critical. While Power's research found more than 45 million vehicles have not been brought in to fix problems subject to recall since 2013, Stephens said there could be "millions" more that the study didn't include. That's because automakers don't have to keep accurate compliance records that go back any further.
Record Numbers of Recalls
The number of vehicles being targeted by recalls continues to grow at or near record rates. One reason is that NHTSA has adopted a much tougher policy on safety problems in the wake of scandals like the GM ignition switches, Toyota's unintended acceleration issues, Fiat Chrysler's problem with Jeep fires, and the Takata airbag mess. The latter could eventually come to encompass more than 50 million vehicles.
And that reveals another reason why recalls are growing larger, on average, while repair rates lag. In recent decades, manufacturers have put a premium on so-called "economies of scale." And that means they routinely share things like airbags, brakes and other mechanical components. So, where a recall might once have affected a single model and perhaps 10,000 vehicles, it may now cover millions, even tens of millions of vehicles, like the Takata airbag problem.
Is My Car on the List?
The NHTSA now requires all manufacturers to make it easy for owners to check if their vehicles are subject to an outstanding recall. You'll find that on their public websites, as well as the government's own, SaferCars.gov. You'll just need the Vehicle Identification Number, or VIN. You can find it on your registration, as well as on a tag at the base of the windshield.
There's more good news: manufacturers are required to make recall-related affairs free of charge.
But do be aware it helps to schedule a fix, rather than simply showing up at the dealer service bay. The recent, mega-million vehicle recalls have been straining corporate and dealer resources and manufacturers have had a tough time getting enough replacement Takata airbags, for example. But, most of the time, you'll be able to make a quick appointment and have the peace of mind of knowing that you and your family are driving in a safe vehicle.