Tesla said Wednesday that all vehicles being produced in its factory — including the Model 3 — will have hardware needed for full self-driving capability at a "safety level substantially greater than that of a human driver."
"It will take us some time to complete the validation of the software and get regulatory approval but the important thing is that the foundation is laid" for fully autonomous driving, said Tesla CEO Elon Musk on a call with reporters.
Musk said the company's goal is to do "a demonstration drive of full autonomy from LA to New York by the end of next year."
Related: Tesla Says New Model 3 Orders Won't Be Ready Until Mid-2018
Tesla said the vehicles now being produced will have eight surround cameras that provide 360-degree visibility around the car at up to 250 meters of range. The cameras will work with 12 updated ultrasonic sensors to allow for detection of both hard and soft objects at nearly twice the distance of the prior system, the company said.
To aid in seeing in heavy rain, fog, and dust, a forward-facing radar with enhanced processing was added to provide additional data about the world on a redundant wavelength.
"This hardware, combined with Tesla's existing over-the-air update capabilities, will allow the automaker to continue improving its self-driving capabilities with minimal inconvenience for owners," said Karl Brauer, executive publisher for Autotrader and Kelley Blue Book, said in comments sent to CNBC. "It's a big up-front commitment to self-driving technology that other automakers may not be willing to make at this point."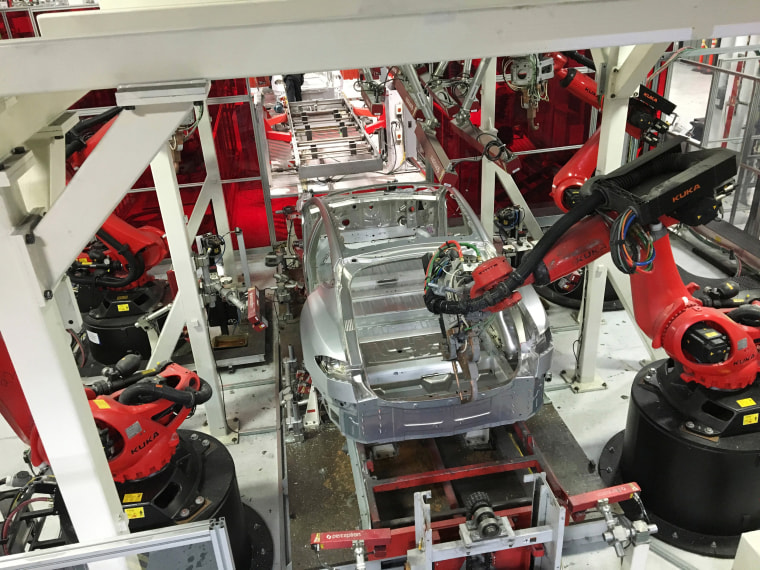 However, Michael Harley, senior analyst for Kelley Blue Book, said it is "actually not a challenge to offer a full range of Level 4 autonomous hardware to any new vehicle — this is essentially a collection of cameras, sensors, radars and processors. The most critical piece of the puzzle, which is missing from Tesla's announcement, is the car-to-car communication that ensures full Level 4 autonomous riding is safe for passengers and pedestrians alike."
Tesla cars that have already been produced — what Musk called "Hardware 1" cars — will still see improvements based on such things as fleet learning and software updates, but their capability will ultimately be "limited by the fundamental hardware."
This development follows a recent update to Tesla's Autopilot system where the technology was tweaked to make greater use of the car's on-board radar, and, among other things, included a warning system that will disable the feature if drivers ignore multiple warnings to keep their hands on the wheel.
Related: As Europe Fast Tracks Electric Cars, Will Tesla Be Overtaken?
The Autopilot system has drawn both praise and criticism, especially since its alleged involvement in some high-profile crashes. Tesla has defended the technology, saying it is safe when used as directed.
The news comes ahead of Tesla's earnings on Oct. 26, and an expected Tesla/SolarCity product announcement on Oct. 28.
Tesla and SolarCity also are expected to release additional financing information on the merger on Nov. 1, and shareholders will vote on the deal on Nov. 17.
This story originally appeared on CNBC.com.