The increasingly contentious battle between the Trump administration and Mexico could lead to some significant collateral damage, most notably to car makers and car buyers.
After the Mexican government rejected a White House demand to pay for a border wall, President Donald Trump floated the idea of imposing a 20 percent tariff on goods imported from south of the border.
This, in addition to a possible reopening of NAFTA trade deals, means that automakers — who made extensive use of NAFTA to set up a network of manufacturing operations in Mexico — could be among the hardest hit.
How to Respond?
For now, there is widespread disagreement about how to respond to the Trump plan. Japanese automakers Nissan and Toyota say they are looking for ways to increase U.S. production. Ford's CEO, after meeting with the new president last week, is rejecting the idea of building any new U.S. factories. Meanwhile, Fiat Chrysler's chief executive says it may be time to rethink the possibility of a merger with domestic giant General Motors.
Industry analysts suggest that whatever the automakers do, Trump's plan could mean higher prices and less choice for auto buyers. And it could actually mean fewer jobs for auto workers.
After meeting with the new president on Tuesday, the CEOs of each of the domestic Big Three sounded positive notes, Ford Chief Executive Mark Fields telling reporters, "I think as an industry we're excited about working together with the president and his administration on tax policies, on regulation and on trade to really create a renaissance in American manufacturing."
The NAFTA Question
Fields has also sounded off with concerns about Trump's potentially restrictive trade policies, telling an audience at the Los Angeles Auto Show shortly after last November's election that new trade barriers would have a "huge impact" on the American economy, and not a good one.
In the 23 years since NAFTA went into effect, Mexico has grown from an automotive backwater largely supplying a modest domestic market into one of the world's fifth-largest producers of motor vehicles. And the vast majority of those are earmarked for export. In 2015, according to the latest full-year data from the U.S. government, $50.5 billion in assembled vehicles were shipped to the States.
Related: Trump Team Jumped on NAFTA Before Inaugural Speech Had Even Ended
Those vehicles range from econocars like the Nissan Versa to full-size pickups such as FCA's Ram 1500. American carmakers operate seven assembly lines and a number of parts plants in Mexico, but so do most of the major foreign-owned manufacturers. Kia and Audi, for example, opened factories there in the last year, and Mercedes-Benz is set to partner with Nissan's Infiniti brand at another new Mexican plant.
It's not just fully assembled cars coming across the border. In 2015, U.S. data show, $51 billion in automotive parts were also imported. From wiring harnesses to engines, they're used at almost every assembly plant in the U.S. Toyota, for example, imports about a quarter of the parts used in its American-made Camry sedan – though some components also come from China, Japan and other sources. Jim Lentz, the head of Toyota's U.S. operations, warns a 20 percent tariff on Mexican goods could add $1,000 to the price of a Camry – a more than 4 percent increase on base models.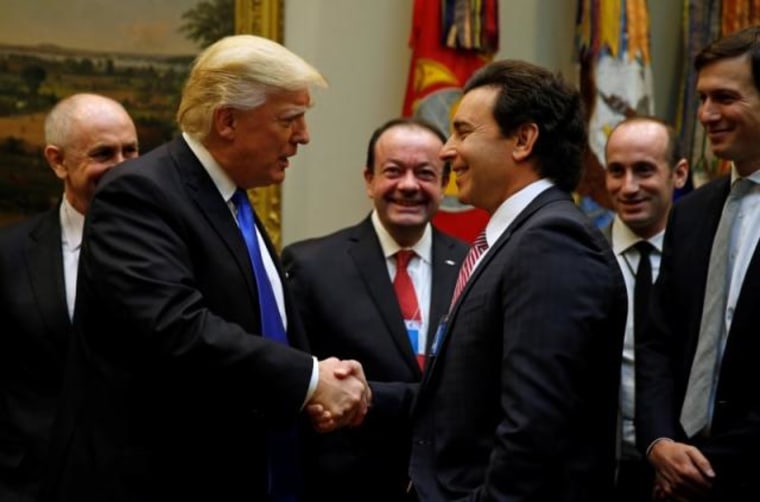 Stick to the Plan
Trump's goal is to force production back to the U.S. Nissan CEO Carlos Ghosn has, in recent weeks, said that he'll consider such options. GM announced it would bring back some axle production from Mexico, adding 400 jobs. But Chairman and CEO Mary Barra also stressed, during a media briefing at this month's Detroit Auto Show, that GM won't make major changes in its global production strategy to stay on the president's good side.
Related: Big Three Hear Trump's Plea for More Jobs
In the week's before the inauguration, Trump had criticized GM for importing its Cruze model from Mexico. That was partially inaccurate. The vast majority of those Chevrolet models are made in Ohio, with only a few thousands Cruze hatchbacks coming from Mexico.
And analysts say the economics of moving that five-door model to the States would be unjustified. New border barriers could "reduce choice" by forcing manufacturers to abandon many low volume models, said analyst Dave Sullivan, of AutoPacific, Inc.
Ford's Fields, despite trying to find some common ground with the new president this week, has been most blunt about staying the course with the maker's manufacturing strategy. Though Ford will not build a second, $1.6 billion assembly plant in Mexico, it will go ahead with plans to move the small Focus model to that country, instead consolidating production at an existing, underutilized facility in Hermosillo.
And, on Thursday, Fields told analysts and reporters during an earnings conference call that he's not about to change strategy, especially with the U.S. auto market starting to slow after three years of record growth.
"Nothing is on the plate right now for brand new facilities" in the U.S., Fields said.
Not an Easy Withdrawal
Other automakers, including Toyota, BMW and Volkswagen have said they don't intend to shift production, though the Japanese maker hopes to increase U.S. output by growing sales and market share. BMW, meanwhile, has pointed out that it is actually a net exporter from its Spartanburg, South Carolina assembly plant.
Volkswagen is perhaps most vulnerable to any new trade restrictions, producing about 32 percent of the vehicles it sells in the U.S. south of the border. It is increasing State-side production, but by adding a new SUV model, the Atlas, at its Chattanooga plant, not by transferring Mexican operations.
Related: Fiat Chrysler Earnings Hit $2B for 2016
For his part, FCA CEO Sergio Marchionne said the automaker could move some heavy-duty pickup production back from Mexico "relatively quickly." That appears to be because the smallest of the domestic makers is already retooling a former passenger car plant in Sterling Heights, Michigan, to build more of its popular Ram pickups.
But analyst David Cole cautioned that on the whole, any shift in production from Mexico "wouldn't be quick." Adjusting manufacturing plans "can take years," explained Cole, the director-emeritus of the Center for Automotive Research in Ann Arbor, Michigan. The conversion of the FCA plant near Detroit, for example, was already in the planning stages at least two years ago.
Is There a U.S. Automaker Mega-Merger on the Horizon?
Trump's trade policies could lead to an even more dramatic twist in the auto industry, suggested FCA CEO Marchionne. Two years ago, he proposed a merger with cross-town rival GM, but "we were rejected," the Canadian-educated executive told reporters during his own earnings conference call Thursday.
But that appears to be an idea Marchionne wants to revive, telling those on the call, "A tie-up of that caliber would create the largest American car company in the U.S., and create the largest car company in the world, and it would be American-based."
He hasn't discussed the idea with either Trump or GM, he indicated, but it would be the sort of tie-up that could fit an "America First" agenda.