What's the most popular vehicle for Americans making more than $200,000? Luxury brands such as Porsche, Lexus, and Mercedes-Benz might spring to mind; or perhaps a Tesla.
Wrong.
The single most popular vehicle purchased by Americans earning above $200,000 a year is the Ford F-150 pickup truck, according to a new study by the consumer research firm MaritzCX.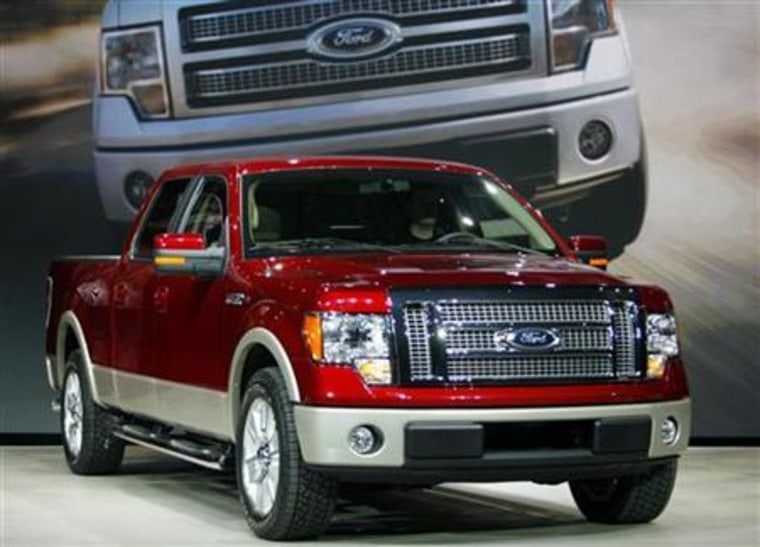 Demand has been so strong at the high end that Ford has repeatedly introduced new, ever higher-end models over the last decade, starting with the King Ranch Edition, adding the Platinum and now the F-150 Limited.
Buyers Want Even More Bling
"Whenever we add something, buyers tell us they'd like something even more expensive," said Ford Truck Group Marketing Manager Doug Scott.
"The irony is that manufacturers are struggling to find enough content to put in their vehicles to get prices up to $100,000 or more," where they could compete more directly with classic luxury flagships like the Mercedes-Benz S-Class sedan, said George Peterson, head of research firm AutoPacific, Inc.
Related: Mercedes to Launch Street-Legal Formula One Car
Mercedes-Benz will have a busy schedule when the Geneva Motor Show stages its annual media preview next week, the automaker is planning to roll out 34 all-new and updated models. But one is likely to stand out more than the others: the Concept X, a thinly disguised version of the all-new pickup truck Mercedes plans to bring to market later this year.
"With the Mercedes-Benz pickup, we will close one of the last gaps in our portfolio," declared Dieter Zetsche, CEO of Daimler AG and head of its Mercedes-Benz brand, during a Swedish preview of an early version of the Concept X, last autumn.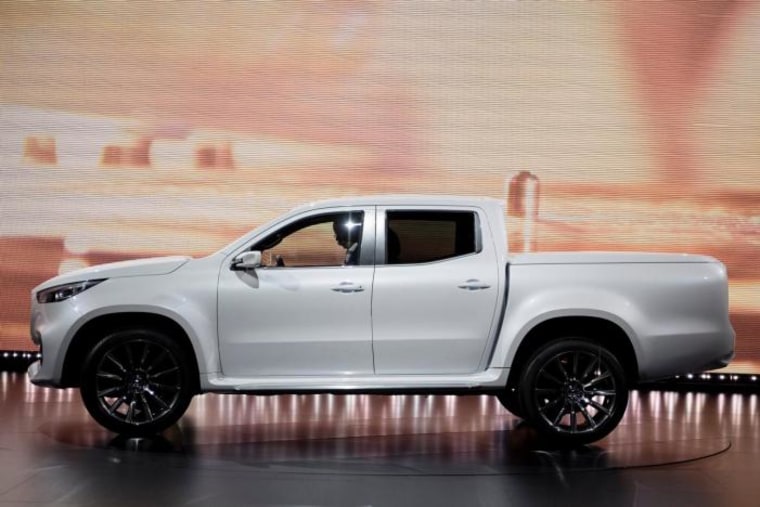 High-line SUVs today are offered by virtually every luxury brand, with most of the holdouts, including Aston Martin, Lamborghini and Rolls-Royce, set to soon add them to their line-ups. But if Mercedes is successful with its first pickup, don't be surprised to see that move copied, as well.
While you can get into a Ford F-Series model for as little as $27,000 (including delivery fees), the half-ton F-150 can push well above $70,000 if you want to add the sort of features normally found in a luxury sedan, such as wood trim, heated-and-cooled leather seats, and an audiophile sound system.
The F-150 is by no means unique. Roughly three out of every four of the GMC Sierra light-duty crew-cab models General Motors sells are priced above $40,000. And Fiat Chrysler's Ram brand has seen similar, high-end demand grow faster than overall pickup sales.
Pickup Sales Have Picked Up
The full-size pickup market — which includes commercial and heavier-duty trucks, such as the Ford F-450 — accounted for 12 percent of the record 17.5 million new vehicles sold in the U.S. market last year — or about 2.24 million trucks, according to industry sales data.
Related: Ford Is Bringing Back the Bronco — and Jobs — to Michigan
Midsize pickups — such as the Toyota Tacoma, GMC Canyon and Nissan Frontier — generate only a fraction of that demand, total sales of just 448,398 last year. But that was a 25.6 percent surge.
Midsize models generally cost about $5,000 to $10,000 less than comparable full-size offerings, but there are signs that they, too, are starting to appeal to high-line customers.
"In the past year the (U.S.) midsize truck market has come back a bit," Volker Mornhingweg, head of the Mercedes-Benz Vans division, at a news conference late last month. Until now, the German maker had said it had no plans to bring the X-Class — the production version of the Concept X — to the U.S. But it appears to be rethinking that decision, Mornhingweg telling reporters, "We are watching developments very closely, and we will take a decision at the appropriate time."
Related: GM's $1B Investment Not Driven by Trump
If Mercedes does decide to enter the luxury truck segment in the U.S., it actually wouldn't be the first. Ford's upscale Lincoln brand tried several times in recent years. It sold less than 1,000 of its distinctive Blackwood models, which featured a power tonneau cover over its bed. It didn't do much better with an F-150 rebadged as a Lincoln.
But those vehicles missed what buyers were looking for, said AutoPacific's Peterson. In years past, pickups appealed to some upscale buyers who just wanted something different in their driveways. But these days, Peterson said, customers more often need serious work vehicles to tow their boats and horse trailers, or to haul mulch, plants and lumber to their weekend cottages.
"There's definitely a place for a Mercedes pickup," said Peterson.