What would James Bond do?
Long known for exclusive, high-performance sports cars, like the new DB11, Aston Martin is heading off in a new direction. Flush with fresh capital and determined not to continue shrinking like the once far-reaching British empire, the car maker has laid out plans to adapt both to shifting consumer demands and to increasingly stringent government mandates.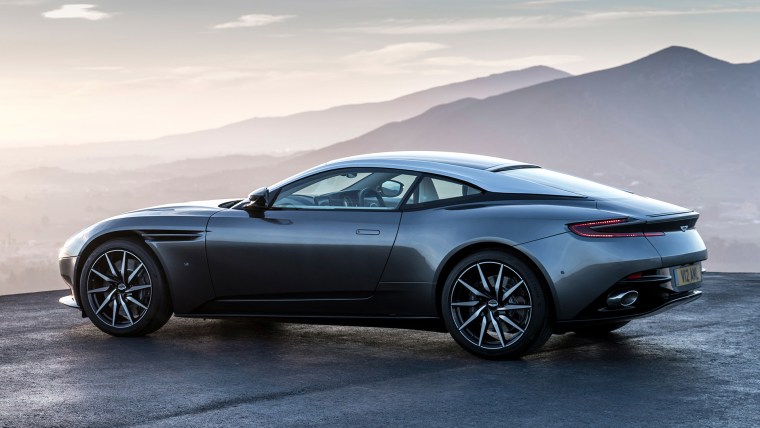 Over the next five years, Aston plans to launch an array of new products that might seem distinctly out of character. That includes the 103-year-old company's first-ever sport-utility vehicle, as well as an all-new battery-electric vehicle.
Traditionalists needn't worry, however. Aston isn't abandoning its core audience. It's just rolling the new DB11 into showrooms, the new sports car picking up on some of the sleek lines of the one-off DB10 the maker designed specifically for the latest 007 adventure, "SPECTRE."
And it has been pushing into even more exotic territory in recent years, with ultra-exclusive, limited-edition models like the new Vulcan Zagato Volante, a $745,000 convertible supercar, and the Vulcan "ultracar" — of which just 24 were produced, each going for $2 million. There'll also be a new hypercar, the AM-RB001, a joint project teaming Aston with its new Formula One racing partner, Red Bull.
"The plan is to replace all our existing cars moving onto a line-up that is all-new," said Simon Sproule, Aston Martin's chief marketing officer.
Read More: James Bond's Favorite Car Goes Electric
From the current mix of four distinct model lines, Aston expects to have seven by the end of the six-year plan put in place by CEO Andy Palmer, a former global product planner for Nissan. And the marque is making plans to expand even further when it moves onto its next long-range plan in 2021.
"Sports cars remain at the center of our portfolio," Sproule stressed, during an interview at the Pebble Beach Concours d'Elegance late last month. And, if all goes according to plan, Aston hopes to be selling about 7,000 of them a year before the current plan wraps up.
That would be more than double the roughly 3,000 vehicles Aston sold last year, and about in line with the record 7,300 sports cars the marque moved in 2007, before the global economic meltdown and the start of Aston's own, potentially life-threatening financial problems.
Aston has struggled from almost the moment it was first created in London in 1913 by Lionel Martin and Robert Bamford. (The Aston in its name refers to the Hill where the two original raced their vehicles.) Three decades ago, the company was rescued by Ford Motor Co., which ran the British marque until 2007 when it was sold off to a consortium of investors including two Kuwaiti financial firms.
Despite their deep pockets, it seemed close to collapse until new CEO Palmer began lining up more capital last year, a cash infusion of around $300 million coming from Aston's current key shareholders, a mix of Kuwaiti and Italian investors, as well as Germany's Daimler AG, the parent of Mercedes-Benz.
Mercedes has also agreed to provide a new, high-performance V-8 that will complement the new V-12 Aston has developed in-house.
Like more mainstream manufacturers, such as former owner Ford, Aston is having to adapt to changing market realities. Today, virtually every high-end luxury maker has laid out plans to enter the SUV market. This year alone, key competitors like Bentley, Jaguar and Maserati are launching luxury utes, with Lamborghini and Rolls-Royce set to follow.
In March 2015, Aston delivered a surprise when it unveiled its own utility vehicle concept, the DBX, at the Geneva Motor Show. It's expected to become Aston's most popular product line, with plans to bring total global sales to around 10,000 units annually. By comparison, Ferrari wants to boost its global volume to around 7,500 vehicles a year.
The other surprise news from Aston came when it announced plans to build a fully electric version of its four-door Rapide model. And Sproule said the maker will be looking at electrifying the DBX next. Plug-in hybrids may very well follow as Aston addresses the increasingly stringent fuel economy and emissions laws going into effect around the world.
Read More: With Improved Range and Speed, Electric Cars Move Into the Fast Lane
If all that isn't enough, Aston Martin also plans to revive the long-dormant Lagonda brand name, using the big sedans to target the likes of Rolls and Bentley. A new Lagonda won't reach market until after the current 6-year plan wraps up in 2021, however. And it is a risky venture considering others have tried and failed when trying to enter that segment, including Daimler with its Maybach brand.
Indeed, Sproule and other Aston executives admit they're taking on a lot of challenges when even a fraction of the strategy would seem risky enough. "The key," he said, "is to generate enough (cash) that we can become self-funding."
But Aston has been doing a better job of delivering on its promises since hitting bottom, and that gives observers hope that, this time, it can pull off its admittedly ambitious plans.
If the company does, 007 will have a lot of options to choose from going forward in his never-ending fight to save the world.