Australia's 100-year-old automobile industry just came to a close.
It might have been just another day for workers at the Holden automobile plant near Adelaide, but for the fact that at the end of the shift the aging assembly line produced its last Commodore sedan.
At one point, the country was producing nearly 500,000 vehicles a year, and even at the beginning of this decade, automakers like Holden's parent General Motors were looking for ways to increase exports to countries like the U.S. But with production costs rising and government leaders opting to end subsidies, manufacturers began pulling out.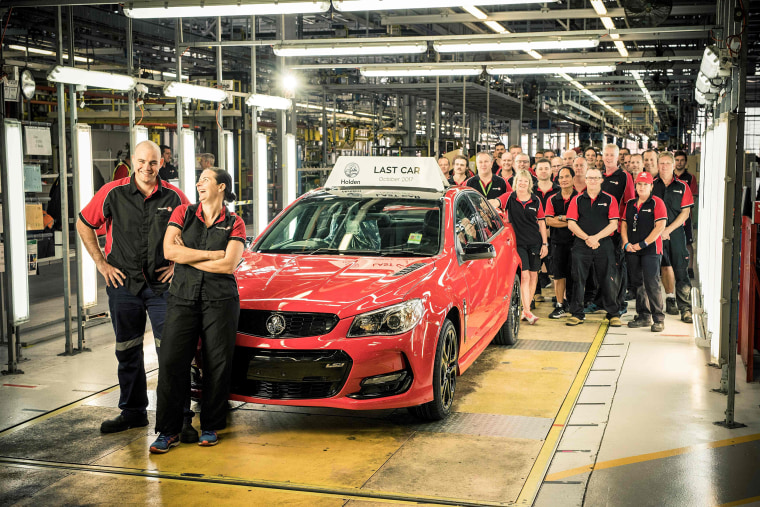 "The end of Holden making cars in Australia is a very sad day for the workers and for every Australian. It is the end of an era," Prime Minister Malcolm Turnbull said on Friday.
A century of history
With a relatively small population spread over a vast continent, the automobile found early acceptance in Australia, and the first steam car was produced there in 1896. The first gas-driven model, a Tarrant, was assembled in Melbourne in 1901.
Several foreign manufacturers, such as Ford, were early entrants into the Australian market, and the influx accelerated in the years after World War II. Holden, which began as a saddle manufacturer in 1856, moved into automobile manufacturing in 1908. It was acquired by GM in 1931 and was the first true high-volume manufacturer to emerge in the wake of the war.
It helped drive Australian domestic production to a 1970 peak of around 475,000 vehicles. But production began to slip in the new millennium. Volume slipped to 167,538 by 2015 as a slow exodus of manufacturers turned into a rout. Mitsubishi and others shuttered their Australian operations due to high costs and opportunities to build in emerging markets such as Vietnam, Thailand, India, and China.
To many, the end of an era came into clear sight when Ford decided to end production in Australia, where it built its first vehicle, a Model T, in 1925. By mid-decade, Ford had already closed one of its two plants, and only 600 employees labored on at the Broadmeadows factory in Melbourne. That factory produced vehicles like the Falcon, perhaps best known outside of Australia for its role in the "Mad Max" film series. After a 91-year run, Ford closed Broadmeadows in October 2016.
That left just Holden — and Toyota, which closed its Melbourne operation two weeks ago.
200,000 jobs lost
"We haven't seen in recent history the collapse of an entire industry, but that's what is happening," John Spoehr, a professor at the University of Adelaide, told the Associated Press as the Toyota plant was closing. He was co-author of a study that estimated the end of automotive manufacturing will ultimately cost the country about 200,000 well-paying jobs.
Holden alone, he estimated this week, pumps about $1 billion Australian into the economy and its departure "will leave a very deep economic gap."
During its run, Holden itself produced nearly 8 million vehicles before the last sedan rolled out of the Adelaide plant.
For his part, Mark Reuss, the former head of Holden and now GM's global product development director, said the closure of Holden marked "a very emotion filled day for me." Reuss, during his tenure, had struggled to find ways to keep it open, and said he "put my heart and soul in the place."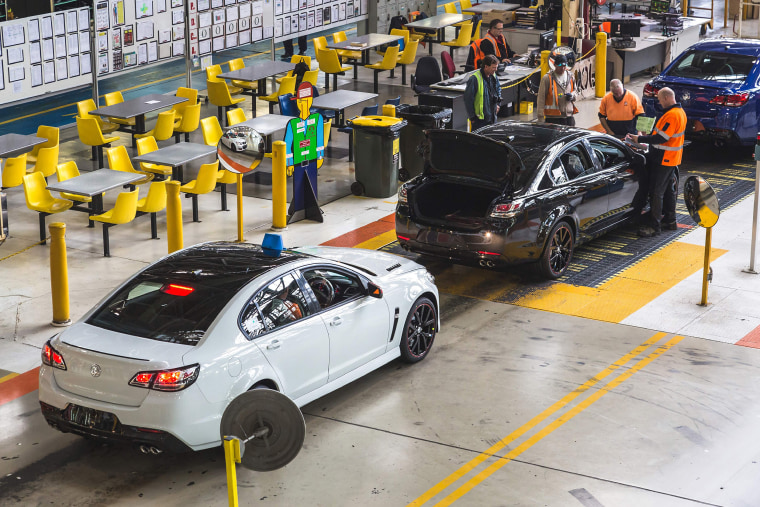 The industry's collapse has led to plenty of finger-pointing. Many blame the 2013 federal government decision to end hefty incentives that manufacturers claimed were essential to support otherwise unprofitable plants.
But there has also been criticism of unions for driving up wages at a time when cheap labor was readily available to manufacturers in nearby Asian markets. For his part, Turnbull insisted it was the consumers who turned their back on the industry.
"People stopped buying the sedans being made in Australia," he said, insisting the real problem was changing public taste. "The manufacturers who've progressively closed their operations in Australia have made it clear it's not because of a failure of government subsidies."
There are still a handful of manufacturers producing trucks in Australia, including Kenworth, a subsidiary of Paccar, and Italy's Iveco. But on the automotive side, Australia's assembly plants have now gone dark.