It may look like it drove off the set of Tron, but the jet black-and-chrome motorcycle that BMW just unveiled is more than just a fantasy.
"I am selling emotions, passion," explained BMW's CEO, Harald Krueger. "If a customer just needs to go from Point A to Point B, they don't need a BMW."
Saddled with a mouthful of a name, the Motorrad Vision Next 100 is one of four futuristic concept vehicles the Bavarian automaker put on display in a hangar at the Santa Monica Airport. Collectively, they're meant to mark BMW's centennial — but rather than look back at its long history, the company has used its year-long birthday celebration to examine where it expects to go in the next century.
While it might be a stretch to imagine what the automobile of 2116 would look like, Harald Krueger, CEO of Bayerische Motoren Werke, said there'll be more than enough change over the next decade or two.
"Our world is rapidly changing, and individual mobility must evolve to meet the needs of a complex society," he said during the unveiling of the Vision motorcycle.
Krueger pointed to four key areas that will reshape BMW — and the rest of the auto industry:
Battery-electric and other alternative powertrains, such as hydrogen fuel-cells
Connected car systems that will keep motorists linked to the Internet and help vehicles talk to one another
Autonomous and fully driverless vehicle systems
Car- and ride-sharing, as well as other so-called mobility services.
There are plenty of papers being written about these transformations. But to give a sense of what it all might look like to a motorist, BMW developed four different concept vehicles, collectively dubbed the Vision Next 100 models. It's been rolling them out since March as it moved its centennial celebration to various stops around the globe. The debut of the Tron-like bike in Los Angeles marks the wrap-up of the roll-out.
Produced primarily out of ultra-light carbon-fiber, the first thing you're likely to notice about the bike is that it can stand up by itself, even when parked, thanks to a gyro-stabilization system. Motorcycle riders will also likely note the absence of a traditional front fork. Instead, the concept uses a "bionic," flexible frame that BMW engineers claim would be easier to steer.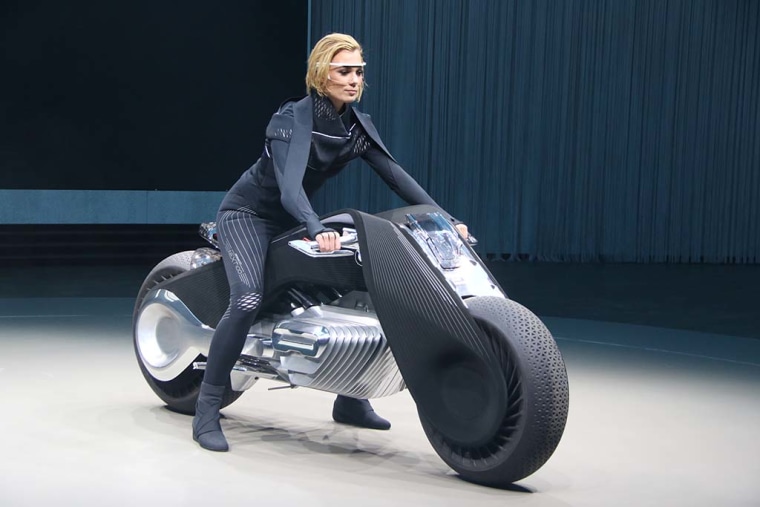 The engine, meanwhile, might superficially resemble the classic, opposing-piston gas engine design BMW favors, but it's actually an electric drive-train. In one of the more intriguing touches, the outer housing of the engine — where the pistons would normally be housed — can extend outward while driving, or pull into the frame when stopped.
A closer inspection revealed that there were no gauges or displays on the bike. Instead, the rider relies on a pair of goggles. What's seen varies, depending upon where the driver is looking — or what information they ask for. Augmented reality systems are starting to make the move into the consumer electronics world, so this technology could be available on a motorbike in the not-too-distant future.
"It is a technology we strongly believe in," explained Adrian van Hooydonk, BMW's global design director.
While none of the four Vision concepts are likely ever to see production, many of the individual features and technologies they rely on will.
BMW already has a special brand, dubbed "i," as in "innovative," that markets the battery-electric i3 city car and the i8 plug-in hybrid sports car. A roadster plug-in will be added in 2018, and another model will come three years later. But BMW is also moving electric propulsion into the mainstream, said CEO Krueger.
It has also formed a partnership with Toyota to develop hydrogen-powered vehicles, the executive suggesting the allies will show off their technology during the 2020 Tokyo Olympics.
Lightweight materials will help improve both range and performance, he added. Significantly, BMW is the partner in what will soon become the world's largest carbon fiber manufacturing plant in Washington state.