"Bad" is good, at least when it comes to the old and long-reviled Pontiac Aztek.
Routinely named as one of the ugliest vehicles ever to roll off a Detroit assembly line, the quirky crossover-utility vehicle is suddenly finding a new generation of fans among millennial used car buyers, apparently as a result of its recurring role as Walter White's ride in AMC's "Breaking Bad" TV series, according to new research by the automotive data service Edmunds.com.
In fact, the Aztek is just one of several now-discontinued models to connect with millennial buyers after being largely rejected during their initial production runs. Other models, which are even more popular than the Aztek, include the Dodge Magnum wagon and Chrysler Pacifica crossover, the research found.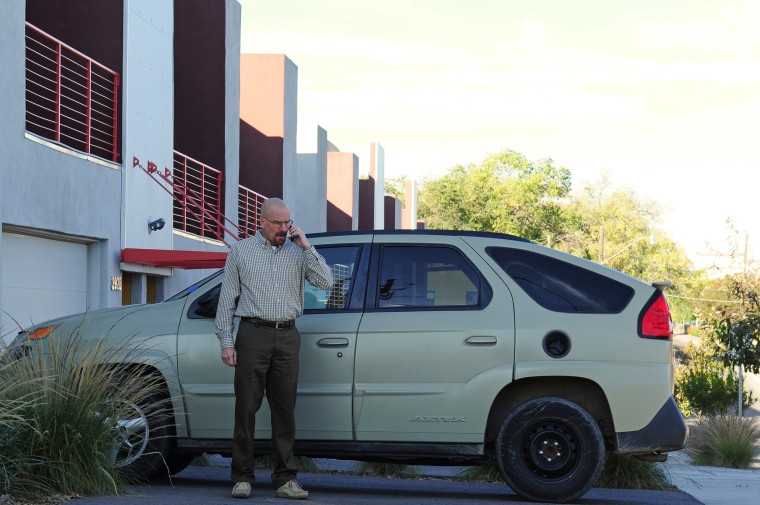 While much of the models' popularity derives from young buyers seeking a better price on a discontinued model, the Aztek's appeal is at least partly attributable to the wildly popular cable show which portrayed a dying high school chemistry teacher who becomes a major dealer of methamphetamine, according to Jeremy Acevedo, an analyst with Edmunds. Character Walter White, portrayed by actor Bryan Cranston, drove an Aztek during much of the show's five-year run.
The sudden interest in the Aztek is "one of those quirky purchases that we're coming to see more of with this generation," Acevedo said.
Launch at the turn of the millennium as a 2001 model, the Pontiac Aztek was initially billed by the General Motors brand as the "Swiss Army knife of automobiles," and it did win kudos for the flexibility of its seating and cargo layout.
Automakers Ready for Reset: Preview the Dozen Hottest 2016 Models
But while an earlier concept version also was praised for its edgy styling, the production model was routinely panned. CNBC, for one, listed the Aztek as one of its "10 Ugliest Cars Ever."
Pontiac planners stuck with the ungainly hatchback through 2005, making a series of modest tweaks that did little to win over critics. By the time production wrapped up in late 2005, Pontiac was suffering from a sharp decline in sales. It became one of four brands abandoned by parent General Motors as it emerged from bankruptcy in July 2009.
But used versions have been gaining traction on the market. In fact, Edmund's analysis of registration data compiled by Polk found that in four of the last five years, Aztek has been one of the 10 vehicles with the highest share of millennial buyers. So far this year, it is sixth on the Gen-Y used car list.
How much of that is due to its role on "Breaking Bad" is unclear, but Acevedo clearly sees that as a strong influence. One of the Azteks used on the show, which was damaged and undriveable, recently was auctioned off for $7,800, according to the auction site Screenbid. Three of the crossovers were used in the filming of the show.
Can New Toyota Prius Retain its Spot Atop the Hybrid Heap?
It's not a complete surprise that millennials might go for vehicles – and brands – no longer in production. Such "orphan" products often command a lower price on the used market than ever-popular alternatives like a Toyota RAV4 or a Honda CR-V.
Other discontinued models to score big with Gen-Y include the Dodge Magnum station wagon and Chrysler Pacifica. The Magnum, in fact, had the highest rate of millennial buyers of any used vehicle through the first half of 2015, with 28 percent of its customers being in the 21- to 33-year-old age range. For Pacifica, the generation accounted for 27 percent of its buyers, while the figure was 26 percent for the Aztek.
More From The Detroit Bureau
Top Drops on Global Convertible Sales
U.S. Motorists Saved $1.4 Billion on Gas; Prices Heading Below $2?