Cadillac sales in China have exploded, jumping 44 percent in just one month — compared to a 4 percent year-over-year decline in U.S sales.
Cadillac sold 18,011 vehicles in China last month. By comparison, it sold just 10,298 vehicles in the U.S. — marking a 4.1 percent year-over-year decline.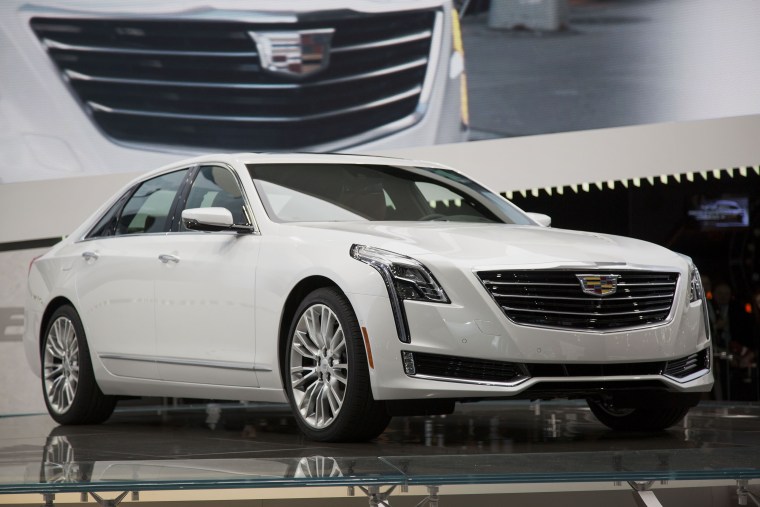 The Detroit luxury brand's sudden surge in the Chinese market is all the more surprising since Cadillac just launched an array of new products for the U.S., including the flagship CT6 sedan and big XT5 sport-utility vehicle.
"Our growth is explosive and sustained," said Cadillac President Johan de Nysschen, despite the brand's struggles in the U.S. and other parts of the world.
Checkered Past
Founded in 1902 by Detroit automotive pioneer Henry Leland — who, in an ironic twist, went on to launch Caddy's long-time lead competitor, Lincoln — the GM brand ruled the vast American luxury market for most of its first century. But Caddy hit its peak in 1978, with U.S. sales of 347,000 vehicles. Last year, the numbers were slightly less than half that, at 170,006.
General Motors' flagship brand hasn't led the U.S. luxury market in nearly two decades, ceding dominance to its German and Japanese competitors. Last year, Mercedes-Benz took the American crown, its 2016 sales of 374,000 cars, trucks and crossovers more than doubling Caddy's total. Worldwide, Mercedes moved over 1 million vehicles.
Related: Chinese Clone Cars Irk Western Carmakers
Last year's poor showing was doubly disappointing for Caddy considering the wave of new — and well-reviewed — products Cadillac brought to market, including both the CT6 and the XT5, the latter meant to capitalize on booming U.S. demand for utility vehicles.
But while American buyers have been less than receptive, Cadillac is finding a ready market in China.
Caddy's Hack
Parent GM was one of the first foreign manufacturers to enter what was then an insignificant market just before the turn of the millennium. It is now the second-largest automaker there, just behind Volkswagen AG, though GM's Chinese sales are dominated by the near-luxury Buick brand, Chevrolet and an assortment of local brands.
Caddy first looked to China more than a decade ago, seeing an opportunity to expand demand for an earlier, hoped for renaissance centered around the first-generation CTS sedan. The edgy model, which introduced Cadillac's distinctive Art & Science design language, was initially slotted in between the likes of the Mercedes C- and E-Class models, and the BMW 3- and 5-Series lines.
But the maker sorely underestimated the pickiness of Chinese luxury buyers. At the time, most relied on chauffeurs, owners typically riding in the rear. The original CTS model didn't have back seat heaters or radio and climate controls. It proved a spectacular flop.
Caddy isn't making the same mistakes as it launches new products in China, including special versions of the XT5 and CT6. They not only offer an array of high-tech touches — including CT6's infrared night vision capable of spotting pedestrians on Beijing's often dark back streets — but the sort of backseat features Chinese buyers expect.
And rather than import those two key models, which would mean a 25 percent tariff limiting their competitiveness, Cadillac is rolling them off a new, $1.2 billion assembly line near Shanghai, where GM's Chinese headquarters is based.
Demand has been solid, encouraging Caddy to triple its Chinese dealer network, which it eventually hopes will give it 900 outlets — even as it moves forward with plans to trim its U.S. showroom count by 40 percent.
Competitors have tried to downplay its initial success, noting that the U.S.-based brand has been relying on hefty incentives. But givebacks, as well as price cutting, have become the norm, rather than the exception, as competition in China has increased. Adding to the pressure has been an overall market slowdown. Sales growth was in the mid-single digits in 2016, down from a peak of nearly 100 percent increases a decade earlier.
Lincoln Logs Sales
China has now provided a lifeline for two of GM's four remaining U.S. brands. As the Detroit maker struggled to emerge from bankruptcy in 2010, the Obama administration pressured GM to drop its weakest brands in return for a federal bailout. It abandoned Saturn, Saab, Pontiac, and Hummer, but balked at eliminating Buick.
Related: Shot Across the Bow? China Could Slap an Antitrust Fine on GM
It had become one of the largest brands in China, Ed Welburn, the recently retired GM global design director, told NBC News. "We worried that if we dropped Buick in the U.S. it would tarnish its reputation over there."
No one is talking about dropping Cadillac, but strong demand in China is equally critical, helping justify the additional $12 billion the brand intends to invest in new products by 2020.
Ironically, China could also provide salvation for GM's long-time rival, Lincoln. Ford launched the brand there a little more than a year ago, and sales have been growing rapidly. China is expected to be Lincoln's largest market within the next several years, according to Ford planners.