The Toyota Prius is the world's best-selling hybrid-electric vehicle and has routinely been one of the top sellers in green-minded markets like California and Japan. But Toyota's launch of an all-new version for 2016 at a time of cheap gas prices could dent its popularity, industry experts warn.
The market has been flooded with high-mileage hybrid competitors since the Toyota Prius was last redesigned in 2009. Meanwhile, sales of battery-based vehicles in general have been plunging.
That explains why Toyota is downplaying fuel economy and emphasizing the style and handling of the new Prius.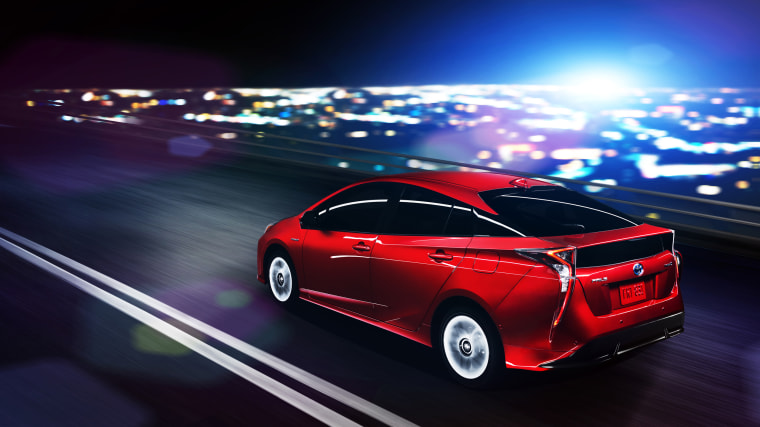 The new model "has a certain presence to it that will appeal to a broader range of buyers," Bill Fay, general manager of the Toyota brand in the U.S., said following the unveiling of the fourth-generation Prius Tuesday night in Las Vegas.
The new hybrid is longer, wider, lower and a bit roomier. It has a new double-wishbone suspension and a lower center of gravity that should give it more sporty handling. It has a more lavishly equipped interior, adds more safety and infotainment technology, and adopts a new, more aggressive exterior design.
That said, there was general agreement among those attending the Tuesday night preview that the new Prius is less visually distinctive and more mainstream than the first three generations.
It remains to be seen how consumers respond to that. Part of the appeal of the earlier models was the fact that the car immediately stood out as something different. But internal Toyota research also found that some potential buyers didn't like the hybrid's quirky shape.
The Detroit Bureau: Here Come the Hottest 2016 Models
"It should have broader appeal because it is more conventional looking," John O'Dell, a specialist in green car technology for data service Edmunds.com, said of the 2016 model.
Toyota is keeping many of the details about the new Prius secret prior to its launch early next year. For example, it won't discuss what changes it has made to the Hybrid Synergy Drive system, though it has been widely reported that it will have a larger, 1.8-liter gas engine paired with its twin electric motors.
While final mileage numbers have yet to be determined by the EPA, Toyota hasn't ignored fuel economy, however. The automaker said it is anticipating the 2016 Prius will get about 10 percent better mileage than the current model – which would translate into something around 55 mpg in the combined city/highway cycle. That would be the best mileage of any vehicle on the road except for a handful of plug-in hybrids and pure battery-electric vehicles.
But with energy sector analysts predicting gas prices could dip to $2 a gallon by year-end, the question is whether fuel efficiency matters as much as it did during the peak years of the third-generation Prius, when gas cost twice as much and appeared to be heading toward $5 a gallon or higher.
"That's a real challenge," said Stephanie Brinley, a senior auto analyst with IHS Automotive. The cheaper gasoline becomes, "the harder it is to justify a hybrid like Prius financially."
There are now a number of similarly sized gasoline-powered vehicles getting as much as 40 mpg, Brinley noted. For a motorist clocking a typical 12,000 miles a year, the new Prius would use less than 220 gallons of gas compared to 300 gallons for the all-gas model. At current fuel prices, that would mean savings of barely $200 a year.
Biggest Auto Dealer Network Says It Won't Sell Recalled Vehicles
What is obvious, said Brinley, is that Toyota "wants it to be more than just a payback car. ... They want to make it desirable for more than just fuel efficiency."
Toyota has not said where it will price the new Prius, but analysts said it will likely not be much above the $24,500 base sticker price of the current model, given the competitive market. And the automaker is adding a new stripped-down Eco model, which could come in under the current base.
For Toyota, the good news is that Prius has a repurchase rate that is among the highest in the automaker's entire portfolio, and Fay said he is confident, "our current owners will want to trade up."
Still, recent trends are worrisome. Demand for the familiar Prius hatchback was off 16.3 percent for the first eight months of 2015 compared to the previous year. Some of that may be the result of potential buyers waiting for the new model, but sales of all battery-based vehicles are off by double-digits.
Significantly, two of Toyota's hottest models right now are the big gas-powered Highlander SUV and Tacoma pickup, both having their strongest years since 2003.
That means Toyota will have to pursue a two-track marketing strategy, industry analysts say. It will have to continue pushing the hybrid's green benefits to traditional, environmentally motivated buyers while playing up the car's new styling, handling and refinement for everyone else.
It remains to be seen if that will be a winning formula.
More From The Detroit Bureau
Top Drops on Global Convertible Sales
U.S. Motorists Saved $1.4 Billion on Gas; Prices Heading Below $2?