The owner of four Southern California car dealerships is suing Mitsubishi Motors North America and its credit arm, alleging that they forced the dealerships to stock more vehicles than they could sell and subsequently charged them millions of dollars in extra financing costs.
Abbas Ahmadi filed suits in 2013 and this year over dealerships he runs in Cerritos, Huntington Beach, Costa Mesa and Victorville against Mitsubishi Motors North America and Mitsubishi Motors Credit of America. The plaintiffs — Surf City Corp., South Coast Mitsubishi, Bazoft Automotive II doing business as Cerritos Mitsubishi, and Victorville Mitsubishi — allege breach of contract and unfair business practices, among other claims.
Sign up for top Business news direct to your inbox.
Ahmadi, who according to his lawyer also goes by Gholam Abbas Baahmadi, claims that Mitsubishi set a sales goal of selling 500,000 cars nationwide by 2005 and increased the inventory his dealerships were required to carry, so-called "channel stuffing."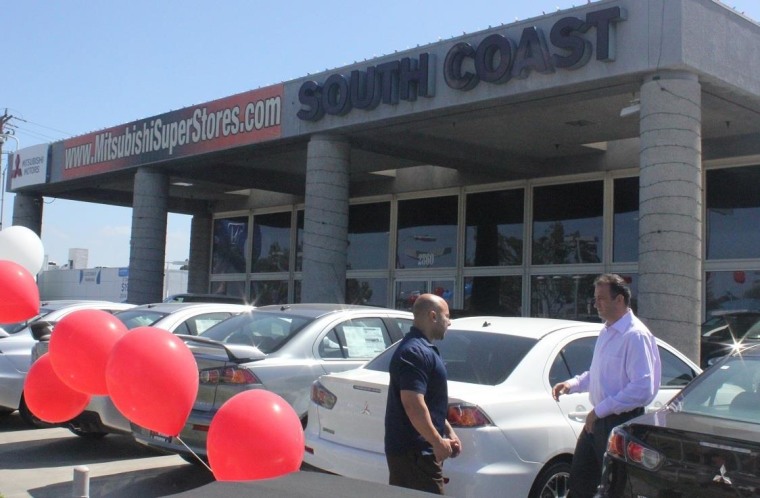 At the Cerritos dealership, Ahmadi claims he agreed to carry an initial inventory financed for $1.7 million in 2012. But within months, Mitsubishi increased that inventory nearly 50 percent and increased the finance charges by nearly $2 million, the suit claims. "The impermissible increases in new car inventory at Cerritos Mitsubishi continue to this day," court documents state.
Mitsubishi didn't hit its 500,000-unit goal, with reported U.S. sales peaking at 345,111 vehicles in 2002 and dropping to just 62,227 last year.
The four dealerships were overcharged at least a million dollars in interest each for the excessive inventory, alleged Ahmadi's attorney, Bobby Samini, who said he believes Mitsubishi was trying to meet production numbers by pushing the cars through to dealers.
Mitsubishi Motors North America said in a statement: "Mitsubishi Motors regrets Mr. Baahmadi's decision to file these cases. We believe the underlying claims to be entirely without merit, and we are aggressively defending ourselves in these cases."
Ahmadi also says he invested heavily in dealerships in Huntington Beach and Victorville. He was repeatedly rebuffed in trying to buy the Huntington Beach property, which he leased, only to have the property sold to a real estate developer, Samini said. At his Victorville dealership, Ahmadi built a "super store" after Mitsubishi told dealers to gear up for increased sales, Samini said.
Mitsubishi's practices cost his client $6 million to $10 million, not including future losses, Samini claims, though the suits ask for damages to be determined at trial.
Samini questions, as have some industry watchers, whether Mitsubishi plans to exit the American market, as Suzuki did in late 2012. Mitsubishi Motor Corp. President Osamu Masuko has said the company has "no intention whatsoever of withdrawing from the U.S. market."