There was a time when the automotive mantra was that "safety doesn't sell." This year's New York International Auto Show, which opens this week, is proof that safety is now one of the top priorities for buyers. And, as manufacturers race to find ways to add new safety systems, the digital revolution is making that both easier and more affordable.
Safety systems such as Hyundai's Safe Exit Assist and Rear Occupant Alert are just two of the new breakthroughs on display at the New York show. Such protection might once have commanded a steep premium, but automakers are now bundling arrays of safety technologies together at a relatively low price — and, increasingly, as standard gear.
But the recent crash of a self-driving Uber SUV has some observers questioning whether this technology can live up to consumers' expectations.
Proponents of robot cars say they face a conundrum in that the public is expected to be less tolerant when machines take a life than a human driver. The fatal Uber crash was the first involving an autonomous vehicle. Yet there were far fewer headlines when it was reported that about 6,000 pedestrians were killed in the U.S. last year.
"The reality is there will be mistakes along the way," said Toyota's U.S. CEO Jim Lentz, at a Reuters news event this week. "A hundred or 500 or a thousand people could lose their lives in accidents like we've seen in Arizona."
Yet that compares with 40,000 total highway deaths in America in 2017. And so, said Peter Schwarzenbauer, a board member with BMW AG, the reality is that "We could eliminate most (highway deaths) by having autonomous driving roll out." Its just going to "take much longer than some people say" to make the technology as good as possible and build consumer acceptance.
What's out there
Hyundai's Safe Exit Assist monitors adjacent traffic so a back seat occupant won't open the door until the coast is clear. Rear Occupant Alert uses ultrasonic sensors to check if there's a child or pet left in the back when the vehicle is shut down. It should help prevent some of the deaths that occur each year when children are left inside a hot vehicle.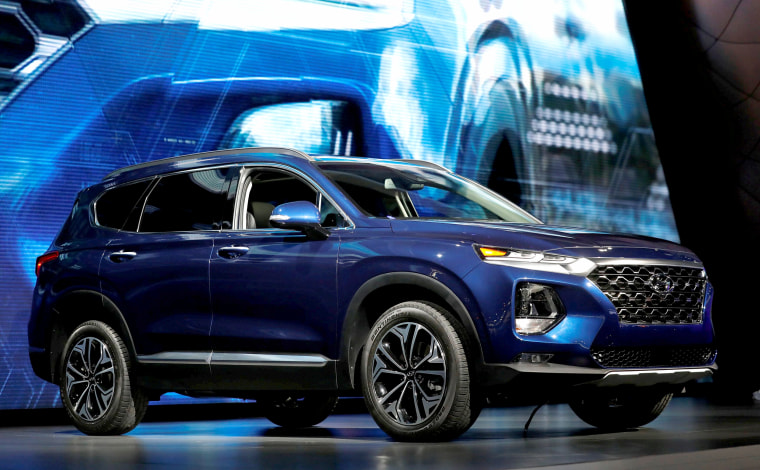 Automakers have come a long way since airbags and seatbelts were cutting edge. Today, the limits are only those of an engineer's imagination, suggested Corey Holter, a marketing manager with Ford.
By the end of the decade, all new vehicles will come equipped with backup cameras. A number of new models on display in New York go a step further, using radar, cameras or sonar sensors to spot obstacles a driver might miss, even with a camera, when backing up. If so, the vehicle automatically applies its brakes.
Using similar sensors, most manufacturers have agreed to make forward collision warnings standard in the coming decade as part of a precedent-setting industry-government consortium. More advanced versions also can spot pedestrians, bicyclists and even medium to large-sized animals, and apply the brakes if a driver fails to act in time.
Auto engineers like to talk about "sensor fusion." A car's radar, cameras, and sonar sensors work in harmony like a human's sight and hearing to improve both the range and accuracy of how a vehicle "sees" the world around it.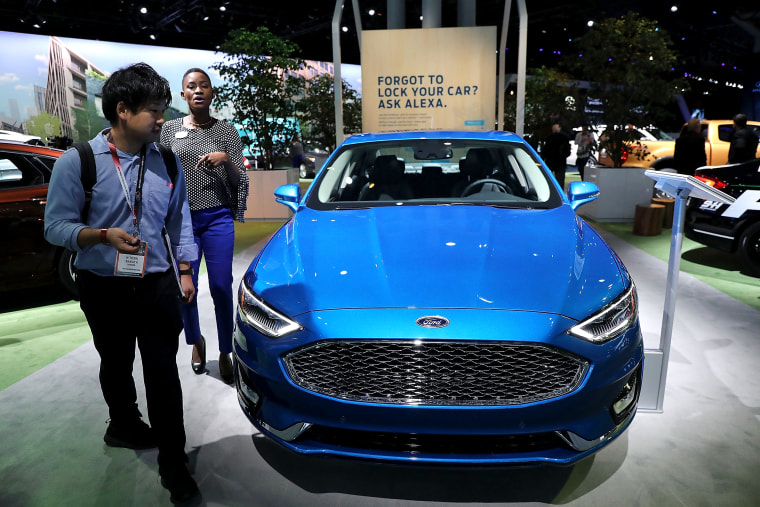 One of the most popular of the new safety technologies is "BLIS," which watches for traffic in a vehicle's blind zones. "For customers who already have had it on a car, it's the most desired feature on their next car," said Ford's Holter. And the automaker's research says about four out of five buyers who currently don't have that feature want it.
Sensor fusion often allows an automaker to add new safety functions without more hardware. The new Hyundai Kona SUV, for example, has forward collision warning but not active cruise control, which allows a vehicle to adjust its speed to the flow of traffic.
"It's something we've talked about adding," said Kona Product Planning Manager Trevor Lai, noting it would only require writing and uploading some additional software.
In fact, Tesla has added new safety features to its battery-electric vehicles with software updates that it sent over the air, in the same way that companies like Apple and Samsung use over-the-air, or OTA, updates for their smartphones.
Forward progression
Back in the 1990s, when the first wave of digital safety technology debuted, systems like electric stability control were offered on high-line products like the Mercedes-Benz S-Class and BMW 7-Series, often as options nudging $2,000. Today, mainstream brands like Honda, Toyota and Hyundai are packaging a wide range of these technologies together and, in many cases, making them standard gear or, on low-end models, offering the packages for less than $1,000.
The trend is only expected to accelerate. The new Nissan Altima debuting at the New York show will feature ProPilot Assist, a technology designed to help keep a vehicle centered in its lane. The current version still requires a driver's hands on the wheel but a hands-free version will follow, Nissan officials have indicated.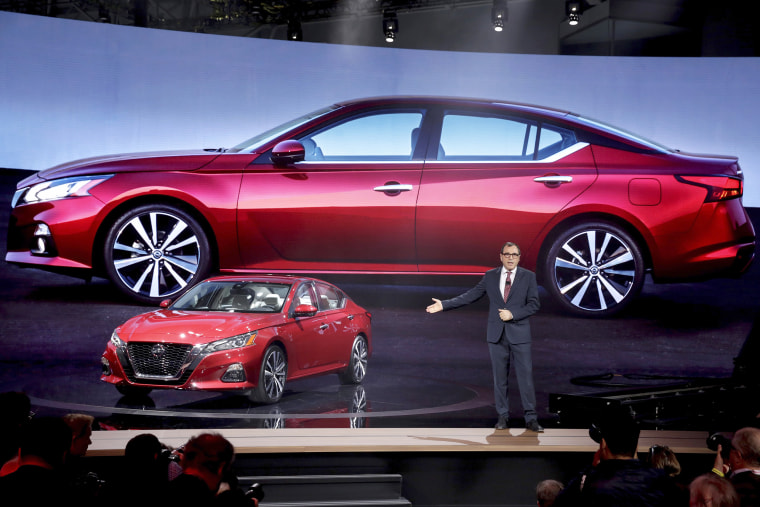 The next big wave of safety, it seems, will bring more and more autonomous technologies, with a number of manufacturers expecting to go fully hands-free by early in the new decade.
That has raised some concerns, however, in the wake of an unexplained crash in California earlier this year involving a Tesla Model S that rammed a fire truck, as well as the prototype autonomous Uber that struck and killed a woman pedestrian near Phoenix. The NHTSA is probing both incidents.
While some observers, such as California's Consumer Watchdog, fret about the potential dangers of turning control over to robotic technology, others contend these were rare flukes. If anything, data from the Insurance Institute for Highway Safety shows a sharp decline in crashes and injuries on vehicles using technologies such as blind-spot detection and forward collision warning. And so, if anything, the trend towards even more safety gear — at an affordable price — is not likely to slow down.