It might have been costly, but Elon Musk appears to have dodged a bullet. Tesla's CEO negotiated a relatively light penalty over the weekend, just days after being sued by the Securities and Exchange Commission for allegedly misleading investors over a plan to take Tesla private.
After a double-digit plunge, Tesla shares rallied Monday, regaining weekend losses triggered by concerns that the automaker could not only face massive fines but also lose its visionary founder. In fact, Musk will have to pay a modest $20 million penalty — the equivalent of a parking fine for someone estimated to be worth as much as $20 billion. He will also have to relinquish his role as Tesla chairman for three years, but will remain on the board and retain his role as Tesla CEO. He has also been banned from tweeting about Tesla news.
"The bulls on Tesla will highlight that this is a great outcome for Tesla — which, relative to the worst case scenario of Elon Musk being removed as an executive at the company, it is," said Jeffrey Osborne, an analyst with Cowen & Co.
"Ignore the distractions," Musk himself told Tesla employees in one of several e-mails obtained by CNBC. In a pitch meant to get his staff focused on what matters, Musk declared that Tesla is "very close" to finally turning a profit, something he said would be part of an "epic victory."
But is it going to be just a case of "business as usual" after receiving a relatively modest slap on the wrist? We may have to wait a few weeks to see, though one key test will come through the same medium that got Musk in trouble in the first place: Twitter. The Tesla boss has made extensive use of that and other forms of social media to not only get out news about the battery-carmaker but also to create a cultish following.
"Musk was able to get to this level because of his ability to leverage modern social media. He just didn't put together the right boundaries — and it blew up," said Eric Schiffer, chairman of Reputation Management Consultants, a Los Angeles firm that helps celebrities, businessmen and other high-profile individuals.
Exactly what triggered Musk's now legendary announcement in the first place has yet to be revealed. But Musk has added more fuel to the fire, tearing up during a New York Times interview and worrying "the worst is yet to come," then going on to do a podcast with cutting-edge comic Joe Rogan where he sipped scotch and lit up a joint. There have been widespread reports that the workaholic executive has also become dependent upon Ambien to sleep.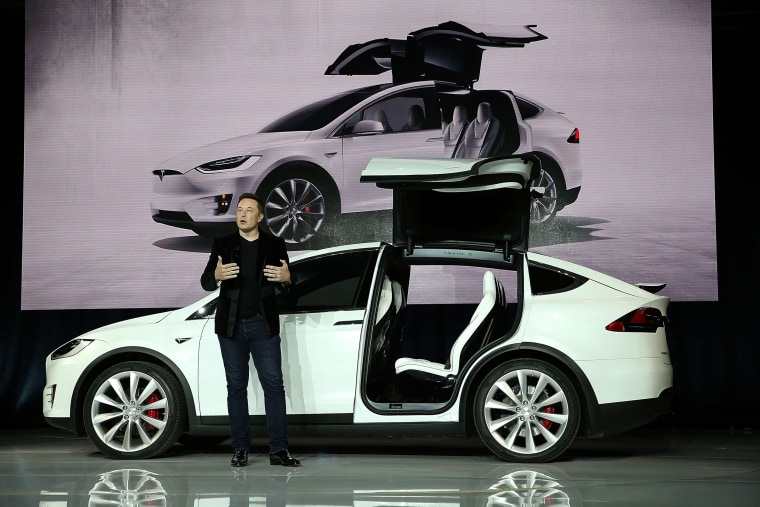 If anything, reputation expert Schiffer said the brief battle with the SEC may prove to be the best thing that could have happened to Musk. "I think it will be a seminal lesson he will build upon, because the piece holding him back was his level of emotional maturation." On the other hand, Schiffer cautioned, if Musk doesn't "look in the mirror" and figure out how to get himself under control, "he might not have an escape hatch in the future as he did with this settlement."
From a business standpoint, Musk and Tesla have several critical tests coming up. Later this week, the automaker will announce production and sales numbers. Analysts and investors want to see another sharp rise during the third quarter reflecting what appeared to be a breakthrough at Tesla's troubled Fremont, California, assembly plant during the previous three-month period. Tesla needs to roll out at least 6,000 vehicles a week to be taken seriously and it needs to start addressing an order backlog while also bringing in new orders that will keep its factory humming for the foreseeable future.
Then, in early November, it will report its third-quarter financials. Musk has promised Tesla will be in the black for the last half of 2018, while also delivering positive cashflow. Forecasts vary widely. But, even if it comes close to a profit after record losses in the first half of the year, it would probably stave off the bulls.
There are still plenty of other challenges ahead, however. Tesla faces a number of lawsuits, including several filed by short-sellers who contend the privatization bid was simply meant to hammer them. Then there's the National Labor Relations Board lawsuit alleging Tesla fired nearly 1,000 workers because they were in favor of unionizing the Fremont plant. There are several more lawsuits outstanding, and Tesla also faces at least two investigations by federal regulators looking at the safety of its vehicles, and the semi-autonomous Autopilot system, in particular.
Those are plenty of "distractions" that Musk, as CEO, and whoever replaces him as chairman really can't ignore. But the board and key investors are pressing the company founder to tone things down — to rein in the tweets and the podcast appearances.
Musk himself will have to find a balance, recognizing that while his unique approach is a fundamental part of Tesla, it could also cause his empire to crumble.