Diesel cars were supposed to be clean, fast and fuel-efficient. But when it turned out Volkswagen had rigged more than 500,000 of its turbo diesel engines to illegally pass U.S. emissions standards, sales came to a screeching halt.
But VW isn't the only one that's been hurt.
In January of this year, Americans bought a grand total of 222 diesel passenger cars and light trucks, down from about 4,500 during the same month the year before.
Plummeting Demand
Demand for diesels from all manufacturers has collapsed since the cheating was revealed in September 2015. And while a few car makers still plan to enter the market, many analysts are now questioning whether so-called "oil-burners" will be able to survive, especially as other high-mileage alternatives come to market.
VW has admitted rigging both the 2.0-liter turbodiesel, or TDI, engine used in models like the Golf and Jetta; as well as the more upmarket 3.0-liter engine found in the big Touareg SUV, as well as products from sibling brands Audi and Porsche. All of the German maker's diesels have been barred from sale pending the approval of an acceptable fix that would allow them to meet U.S. emissions standards.
Until recently, VW had been signaling it was prepared to resume sales soon. And that would have been no surprise considering that, as recently as 2014, its American dealers sold sold 79,422 TDI models, or 21.6 percent of its total U.S. volume.
But, at the Los Angeles Auto Show earlier this month, Hinrich Woebcken, CEO of the Volkswagen Group of America, suggested the company was rethinking its long-term strategy. "Why don't you put the money on the spot where the future is?" he suggested during a conversation with reporters.
Are Friends Electric?
The future, it seems, is electric, at least to Volkswagen's new way of thinking. Earlier in the year, it unveiled the VW I.D. battery-car concept during the Paris Motor Show, with company officials promising a production version delivering around 300 miles per charge would be the first of 30 battery-electric models to come by 2025.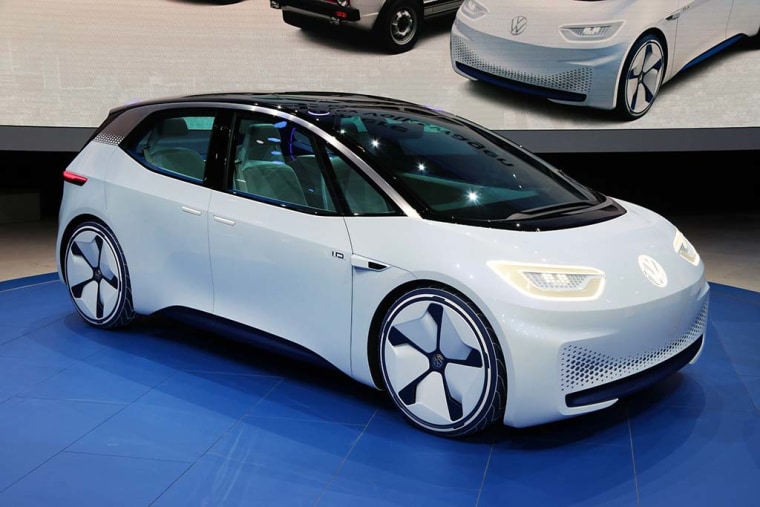 Now, Herbert Diess, the global VW brand boss, has made it official. "At the moment we assume that we will offer no new diesel vehicles in the U.S," Diess told the German business daily Handelsblatt, following announcement of a worldwide turnaround program last week.
A number of old models — apparently including many diesels — will be dropped. VW will eliminate 30,000 jobs in existing operations. But it will create 9,000 new openings, many to develop EVs.
American diesel fans won't be left out entirely by the German automaker. Audi of America President Scott Keogh told Reuters, "Once we hopefully get past everything, I see an opportunity for potentially, probably to offer (a diesel) on one model, and that model would probably be the Q7 SUV."
Low Demand
Whether buyers will even be interested, at that point, remains uncertain, said analyst Stephanie Brinley, of IHS Automotive.
In the wake of the revelations about VW's emissions test scam, demand fell off the cliff. But even before the VW scandal erupted, demand was on the decline. Diesel sales hit a recent peak of 490,000 in the U.S., according to Statista.com, in 2014. But sales of diesel-powered passenger vehicles slumped to just 155,000 last year, according to trade group the Diesel Technology Forum.
"It's hard to determine how much of that was the result of declining interest in diesels and how much was a direct reaction to the VW problem," said Brinley.
Not everyone is ready to walk away from the market. After several years of delay, Mazda is finally getting ready to launch its own SkyActiv diesel engine in the U.S. And there seems to be enough demand in the pickup segment that some makers, notably Nissan and Fiat Chrysler's Ram brand, could continue to offer diesel options.
Several European makers, including Mercedes-Benz and BMW, also continue offering diesels. But they have faced increased regulatory scrutiny and delays getting new models into U.S. showrooms. With those makers also looking at rapidly expanding their battery-car options, Brinley and other analysts question whether such commitments will begin fading away.
So, where many observers were, barely two years ago, predicting a major diesel renaissance in the U.S., such optimistic expectations seem to have been dashed.