When Toyota launched an all-new version of its popular Prius hybrid last year, it delivered a 10 percent increase in fuel economy, to an average 55 mpg. But as good as that might sound, a new study suggests it isn't a bargain.
In fact, if you're thinking about buying a hybrid car, truck or crossover in hopes of saving some cash, think again. Research by consulting firm Vincentric LLC reveals that, with rare exception, the improved mileage won't offset the added price tag compared to a conventional, gas-powered vehicle.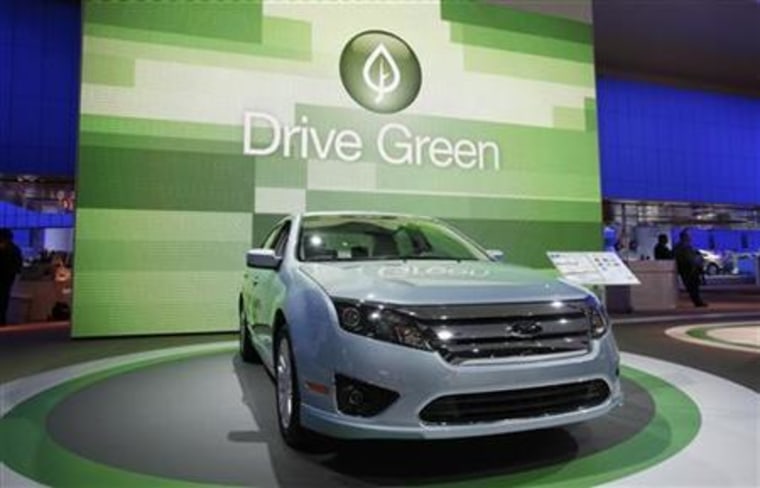 Of 29 hybrid models covered by consulting Vincentric's U.S. Hybrid Ownership study, only seven actually proved cheaper to own and operate than comparable, gas-powered models. "Hybrids," said Vincentric President David Wurster, "may be losing their competitive edge."
One of the reasons why hybrids don't make as much economic sense as they once did is the plunge in fuel prices over the last two years. According to the AAA, the average gallon of unleaded regular is going for $2.21 across the U.S. today, about 28 cents less than a year ago, and the lowest figure since 2004.
Gas prices have been fluctuating wildly in recent months, and while there's no indication of any immediate rebound to the $4-a-gallon figures we saw three years ago, most experts eventually expect the numbers will turn upwards again.
Even then, that wouldn't necessarily guarantee that hybrids will begin making economic sense. Vincentric researchers point out that the fuel economy of many gas models has risen sharply in recent years. Some are now pushing into hybrid territory with figures that can run to 35, even 40 mpg or more.
Read More: Toyota to Phase Out Gas-Powered Vehicles
Another factor is the premium that most manufacturers charge for those vehicles compared to a conventional, gas-powered model. That can run to thousands of dollars extra for many hybrids, though a rare few makers have gone the other direction.
The Lincoln MKZ Hybrid costs the same as the standard gas version of the midsize luxury sedan — and that's why it's one of those seven hybrid models that make financial sense, according to Vincentric. The others are:
Audi Q5 Hybrid
Ford Fusion Hybrid
Lexus CT 200h
Lexus ES 300h
Toyota Avalon Hybrid
Toyota Prius C.
"There are still instances when a hybrid's cost of ownership savings justify the hybrid price premium," said Vincentric's Wurster. But, he stressed, "Buyers should analyze individual models and their own driving patterns to decide whether a hybrid or its gas counterpart is the best choice to save them money in the long run."
To start with, consider how much gas you will use and what it would cost each year. If you drive a typical 15,000 miles annually and your hybrid delivers an average 50 mpg, you'd use 300 gallons and spend $663 annually at today's price for regular fuel. Over the five-year ownership cycle calculated by Vincentric, that would be $3,315.
A vehicle getting 40 mpg would use 375 gallons and run up an annual fuel bill of $828.75 — or $4,143.75 over five years.
At 30 mpg, expect to use 500 gallons. You'd spend $1,105.00 a year on gas, or $5,525.00 over five years.
Now factor in the price difference between the hybrid and an identical or similar non-hybrid model — say the Prius and the Toyota Corolla. Vincentric's Hybrid Ownership study also factored in things like depreciation, fees and taxes, financing, insurance, maintenance and repairs. With their more complicated powertrains, it can be more expensive to keep hybrids running over time.
Read More: We Test Drive the First Hybrid Motorbike
Going forward, it could become even more difficult to make a case for a hybrid, some experts caution. They point to the way automakers continue driving up fuel efficiency on gas-powered products using an array of tricks, including vehicle weight reduction, turbocharging and direct fuel injection, as well as the introduction of new 7-, 8-, 9- and, soon, even 10-speed transmissions.
Nonetheless, you can expect to see even more battery-based vehicles come to showrooms over the next few years, whether in the form of micro-hybrids, conventional hybrids, plug-ins, and even pure battery-electric vehicles. The industry may have no option now that federal regulators have indicated they will hold to the 54.5 mpg Corporate Average Fuel Economy standards set to phase in between now and 2025.
The challenge will be to deliver ever-better mileage without pricing vehicles beyond the reach of the typical automotive buyer.