With 707 horsepower, the Dodge Challenger and Charger Hellcat models are the most powerful muscle cars to ever roll off a Detroit assembly line, and the fastest. Just ask any dealer who has watched the two vehicles squeal out of showrooms faster than the factory can build them.
Even though Dodge is heavily promoting the Hellcat in a series of new 30- and 90-second ads, the cars are sold out for the rest of the 2015 model-year. But parent Fiat Chrysler isn't the only one struggling to meet demand. Ford Motor Co. saw a roughly 40 percent jump in sales of its long-popular Mustang last month. And while sales are off a bit for the Camaro, Chevrolet expects a big surge of demand once it launches the all-new 2016 version in the months ahead.
Only a few years ago, skeptics were predicting the demise of the muscle car, saying the classic V-8 engine that powers them was likely to be relegated to the automotive rust heap. Hybrids and battery-cars were expected to take their place. But as recent sales figures have demonstrated, Americans aren't about to abandon their long-standing passion for performance. These days, manufacturers are being forced to pile on the incentives to get buyers to consider those alternative-power vehicles.
'Resurgence of the muscle car'
"The love of the Mustang combined with the reintroduction of the Camaro, Challenger and Charger has sparked a resurgence of the muscle car," said Brad Smith, director of automotive statistics at Experian Automotive, which this week released a new report on the resurgence of American muscle.
According to Experian, muscle car sales have risen more than 35 percent over the last nine years and there are now more of these vehicles on the road than there have been in decades. After a seven-year gap due to declining sales, Chevrolet took the seemingly risky gamble of reintroducing the Camaro in 2009. It went on to become the segment's best-seller for five years, only losing its perch as muscle car king-of-the-hill with the launch of Ford's 50th anniversary Mustang earlier this year.
"While the growing popularity might run contrary to conventional wisdom, consumers are continuing to show their appreciation for a part of American history and not steering away from raw horsepower to focus solely on fuel efficiency," Smith said.
That said, even muscle cars are getting better mileage these days. The 455-hp Chevrolet Corvette Stingray can deliver as much as 31 miles per gallon on the highway – a figure that not that many years ago would have impressed a compact car buyer.
To get there, manufacturers are using a variety of tricks, such as displacement-on-demand, which shuts off some of an engine's cylinders when the demand for power is light. And direct injection has the advantage of not only reducing emissions and fuel consumption but boosting performance.
Then there are the "blowers." The 6.2-liter engines in the Dodge Charger and Challenger siblings use supercharging to add scads of power upon demand. The new Mustang, meanwhile, is now offered with a turbocharged engine option for the first time, something that will be offered buyers of the 2016 Chevy Camaro, as well.
Looking forward, as they face even tougher emissions and mileage standards, automakers are looking at still more advanced options. Dave Pericak, the head of the new Ford Performance unit, recently confirmed that the maker is even looking at battery-based technologies, such as hybrids, that could pair performance and fuel economy.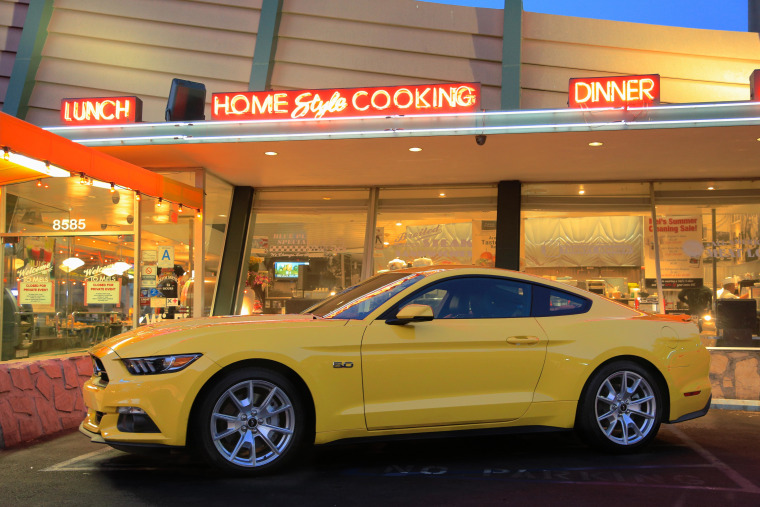 That's no surprise. Three of the world's most exotic and powerful supercars -- the Ferrari LaFerrari, the Porsche 918 Spyder and the McLaren P1 -- all use hybridized powertrains.
With demand so strong, why would Dodge be rolling out a new ad series for the Hellcat and Viper featuring Phil Collins performing his classic rocker, "In the Air Tonight"?
"We don't build Hellcats or Vipers for high volume. We build them as brand positioning statements," explains Dodge CEO Tim Kuniskis. "These vehicles may be a very small percentage of our overall sales but they send a very strong message about the brand personality and attitude."
That's particularly important in reaching a new generation of so-called Millennial buyers who, until recently, seemed surprisingly indifferent to automobiles overall. If anything, went conventional wisdom, they were fixated on hybrids and other energy-saving alternatives.
But conventional wisdom is often proved wrong. Another study, this one by Enterprise Holdings, found 91 percent of Gen-Y stating it is "important" to own a car. Meanwhile, Ford reports that 35 percent of Mustang buyers nationwide are Millennials, a figure that climbs to 40 percent in California.
Not surprisingly, industry data show that demand for performance cars tends to be stronger in Sunbelt regions of the country. According to the Experian study, Texas residents were, on a per capita basis, 79 percent more likely to buy a muscle car than motorists in Vermont.
More from The Detroit Bureau
To Hell and Back (Hell, Mich., That Is) in the 707-hp Dodge Charger Hellcat
NHTSA May Have Missed Potentially Deadly Truck Hitch Defect