Ford Motor Co. announced Tuesday it has scrubbed plans to build a new $1.6 billion assembly plant in Mexico, a project that had been spotlighted by then-candidate Donald Trump, especially after Ford said it would move small car production from the U.S. into that new factory.
But while the move is being hailed by some as a victory for the president-elect, a closer look at the announcement, made by senior Ford executives at a suburban Detroit assembly plant, did not actually reverse the central decision the automaker announced last April.
Small car production, such as the compact Focus model, will still move to Mexico, just into an existing Ford plant in Hermosillo.
And while Ford will use some of the savings from the planned Mexican plant to expand its factory in Flat Rock, Michigan, that project appears likely to have happened anyway. The maker's new body shop and expanded assembly line will handle production of two new battery-based models that were not expected to be built in Mexico, anyway.
"We reached the point where we believed we could get…capital savings" by abandoning the new plant, Joe Hinrichs, Ford's President of the Americas, told NBCNews in an exclusive interview.
One of the key reasons was an update of sales projections for the Ford Focus. Demand for passenger cars – smaller models, in particular -- has been falling rapidly as American motorists shift to SUVs, crossovers and light trucks. That was a key reason Ford wanted to move the Focus and C-Max "people-mover" out of the Wayne Assembly Plant to Mexico in the first place. The factory is being converted to built higher-volume, and notably higher-profit, light trucks.
According to Hinrichs, the revised forecast didn't justify building an entirely new plant. Instead, he explained, Ford now can make room for lower volume production at its existing factory in Hermosillo. In the process, that frees up money to update a second factory in suburban Detroit. Even then, the "net savings," the executive explained, come to around $500 million.
Ford will also get improved economies of scale for the Focus by building it in Hermosillo, since the plant will now operate near capacity. And, it will save substantially on labor costs compared to what it paid union workers in Michigan to produce the Focus.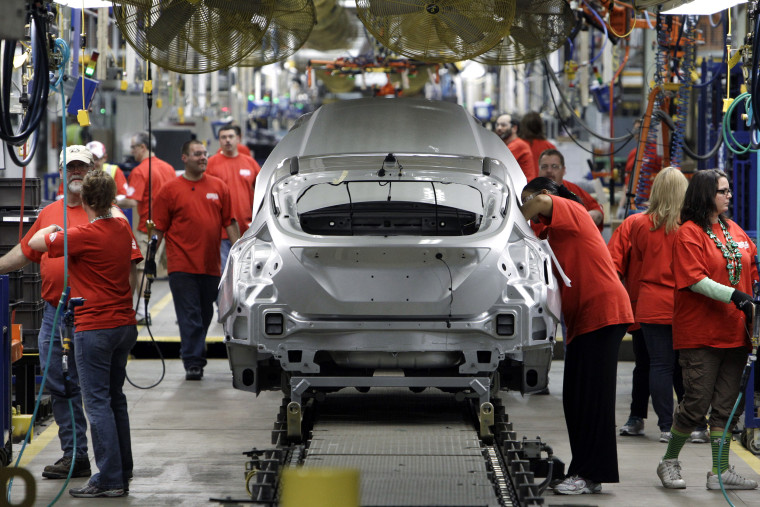 "There's more to manufacturer than labor costs," Hinrichs noted. Logistics are critical, as is the fact that Mexico has more free trade agreements in place than any other country in the world but for Israel. That means fewer tariffs when exporting the Focus, further improving the business case for keeping it in Mexico.
Meanwhile, some of the savings on the abandoned Mexican plant will help Ford not just justify upgrading its plant in Flat Rock, but, in turn, help make a business case for adding two new electrified models that will be produced in the factory. That includes an all-new pure battery-electric vehicles expected to have a range of "at least" 300 miles. The other product will be a hybrid-powered model due out in 2020 that would be Ford's first model to allow fully autonomous driving.
The Tuesday announcement is expected to be promoted by the incoming Trump Administration as an indication of how its hardball stance on trade with Mexico is paying off – even if Ford will continue with its plan to move small car production out of the U.S. At the very least, the shift in plans will create about 700 new jobs in suburban Detroit.
Whether that will be enough to bring a simmering feud between the two sides to an end is uncertain. After candidate Trump started criticizing Ford, the maker's Chairman Bill Ford met with the business-cum-politician but failed to get Trump to stop criticizing Ford.
Shortly after the November election, during a keynote speech at the Los Angeles Auto Show, Ford CEO Mark Fields went public with the dispute, arguing that the idea of trade barriers, especially steep tariffs, would be harmful to U.S. consumers and the overall economy.
On Tuesday, Chairman Ford -- the great-grandson of the automaker's founder – made a private call to advise the president-elect of the news.
Hinrichs told NBCNews that Trump had not been in the loop as the decision was being made to abandon the Mexican plant. There appears to be no direct quid-pro-quo, though Ford CEO Fields was effusive in his praise of the president-elect on Tuesday, suggesting he had "confidence" in Trump's "pro-growth policies."
That may help Ford to step out of the spotlight. Though the incoming president has already turned his attention towards Ford's cross-town rival General Motors.
"Make in U.S.A. or pay big border tax," the next president declared in an overnight tweet, slamming General Motors for "sending Mexican-made model of Chevy Cruze to U.S. car dealers-tax free across border."
The nation's largest automaker fired back later in the morning by noting, "General Motors manufacturers the Chevrolet Cruze sedan in Lordstown, Ohio." In a rebuttal statement, it added, "All Chevrolet Cruze sedans sold in the U.S. are built in GM's assembly plant in Lordstown, Ohio. GM builds the Chevrolet Cruze hatchback for global markets in Mexico, with a small number sold in the U.S."
Senior officials with several other manufacturers contacted by NBCNews said they are watching developments with Ford and GM closely to see if they will next be targeted. "We're waiting to see," said an executive with one of the major Japanese automakers.
Mexico has found itself at the center of the manufacturing debate, and the auto industry is at ground zero. The country has gone from a relative backwater a decade ago to become one of the world's five largest sources of automotive production.
Virtually every major automaker now assembles vehicles in Mexico. In the past year alone, new factories have been opened or started by players including Nissan's Infiniti – which is pairing up on a plant with Mercedes-Benz – Kia and Audi.