Tesla continues to dominate the electric car market, but Ford has come galloping into the arena with a battery-electric SUV that the Detroit mainstay says is "inspired" by its Mustang coupe. Making its debut at a flashy Sunday night media preview, days ahead of the 2019 Los Angeles Auto Show, the Ford Mustang Mach-E promises to deliver solid performance, significant range and a reasonably affordable starting price while capitalizing on a nameplate that has been a mainstay of the American market for 55 years.
To break through to potential buyers of electric vehicles, Ford needed a "hero," said Jason Castriota, Ford's global brand director for electrification. That's why it decided to go with a familiar face. "The Mustang nameplate is known around the world and is a really powerful brand," he added, though Castriota confided that it wasn't the strategy Ford had originally planned.
Earlier efforts to bring to market an all-electric vehicle, such as the short-range Ford Focus EV, had generated little customer enthusiasm. So, the carmaker initially focused on building what critics like to call a "compliance car," a relatively bland entry meant to meet the minimal zero-emission vehicle sales requirements set by California and the dozen states that have copied its ZEV mandate.
That changed when Jim Hackett was named Ford CEO in May 2017, following a boardroom coup, and began emphasizing the need to make battery cars a significant part of the company's line-up – a strategy backed up with an $11.5 billion investment in "electrified" vehicles through 2022.
"We had no choice" but to all but completely start over, said Castriota, during a background briefing at Ford's Product Development Center in Dearborn, Michigan, ahead of Sunday's Mach-E debut.
The challenge for the team assigned to develop a new battery-car was that they had to stick with the original timeline, a late 2019 introduction, with sales set to begin the following year. Ironically, the various members assigned to what became known as "Team Edison" told NBC News, that turned out to be a good thing. It meant using a smaller, more focused group than normally would be assigned to such an important project.
"It's something Ford doesn't do very often," said Phil Mason, the customer experience chief for Mustang Mach-E.
Shortly after Ford's management shake-up, the decision was made to draw inspiration for the new BEV from Mustang. It resulted in a major change to both the SUV's body and its underlying platform. Though it sits taller than the classic, coupe version of the "pony car," the resemblance is unmistakable, starting with the distinctive, shark-like grille, the long hood and the sweeping roofline. And, of course, there's the requisite galloping Mustang badge.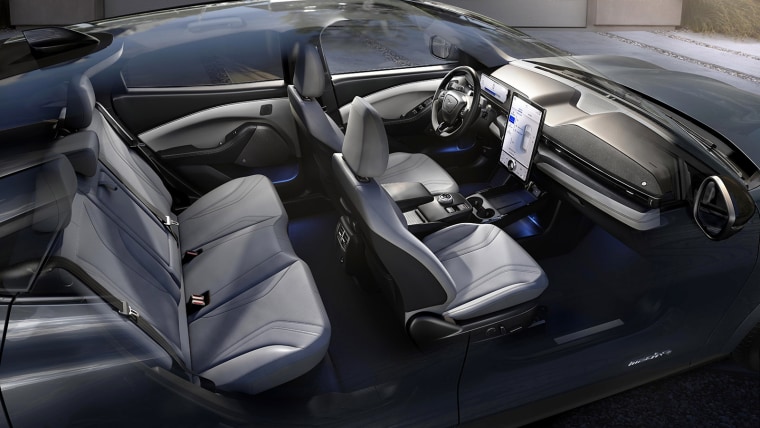 It's not a Mustang clone. The interior, in particular, will likely surprise those familiar with the classic coupe. For one thing, virtually all traditional knobs and switches have been replaced by a 15.5-inch, portrait-oriented touchscreen using specially designed infotainment software that can handle everything from seat heaters to navigation, laying them out in a neat arrangement of tiles.
"We wanted to declutter the interior," and give it the high-tech feel that EV buyers have shown they are looking for – a design theme that has worked well for Tesla.
But, if the new SUV was going to be called a Mustang, it had to be injected with the most essential element of the classic coupe's DNA: performance, said Ron Heiser, the project's chief engineer. To start with, that meant shifting away from the original design that would have put a motor on the front axle.
In production form, the Mach-E will be offered in three configurations:
The "base" model will feature a single motor on the rear axle, much like a conventional Mustang
The mid-level version will become the first all-wheel-drive Mustang, adding a small, second motor on the front axle
The Mustang Mach-E GT will increase the size of the front motor to deliver maximum performance.
While Ford isn't revealing final numbers, Heiser suggested that the base car will get around 250 horsepower and over 300 pound-feet of torque, jumping to more than 450 hp and 600 lb-ft for the GT.
"Our base model will be faster than a base Porsche Macan (SUV) and close to the Macan Turbo, which can hit 60 in as little as 4.1 seconds. The Mach-E GT, meanwhile, "will be within spitting distance of a Porsche 911 GTS," which sprints to 60 in about 3.5 seconds.
There will be two different battery packs for the electric Mustang SUV, a 75 kilowatt-hour option offering something in the mid-200 mile range, and the 98 kWh pack pushing over 300, in line with the expectations for the Model Y SUV Tesla will bring to market next year.
The 400-volt system will allow users to go from a 10 percent state of charge to 80 percent in just 45 minutes using the newest Level 3 public quick-charging stations. And Ford has partnered with several companies, including Electrify America and Greenlots, the latter a Shell subsidiary, to ensure access to free charging at over 12,000 stations. The automaker also is working with Amazon Home Services to install home chargers that can boost range by 32 miles per hour.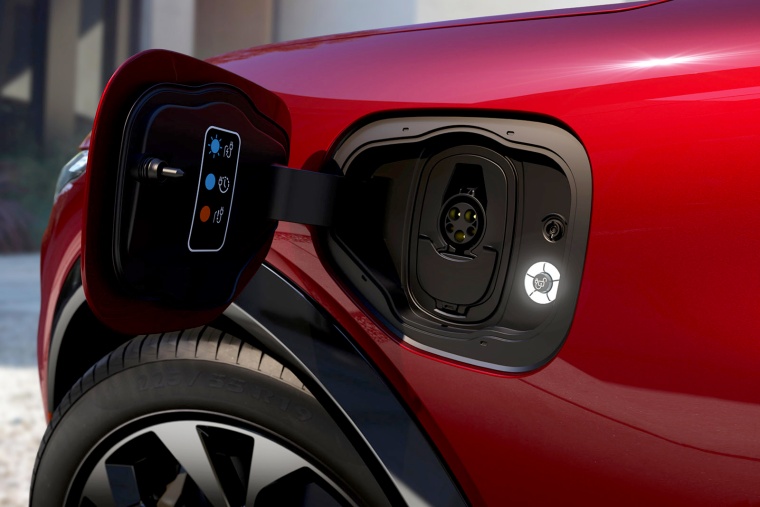 Ford, meanwhile, claims the Mach-E will match up with the Mustang coupe. It is even using on the GT version the sophisticated Magneride suspension system found on the new, top-line Mustang Shelby GT500.
Will the mix of features and performance help Ford's first long-range BEV find a market? "Absolutely," said Sam Abuelsamid, principal auto analyst with Navigant Research, though he thinks the Mustang Mach-E likely won't generate the massive sales levels that Tesla is predicting for the Model Y – which could top 500,000 annually worldwide.
But, "It will be a success for Ford and probably will be profitable," added Abuelsamid, something that would be a significant breakthrough considering even Tesla has had trouble consistently operating in the black.
Pricing will be another critical factor, but Ford appears to be staying close to what Tesla is hinting at for Model Y, with a price range of $45,000 to $65,000. And Ford will still be able to offer buyers the full $7,500 federal tax credit on its Mustang Mach-E. Tesla's incentives will completely disappear on Jan. 1, 2020.
The test won't come until next year, since the base and mid-level Mustang Mach-E only hit showrooms next fall, with the GT version following in summer 2021. But potential buyers already can place advance reservations with a fully refundable $500 deposit, so we soon could get a hint of how well buyers accept the idea of an all-electric Mustang SUV.