Ford Motor Co. hopes to begin selling fully driverless vehicles to consumers by 2025, CEO Mark Fields said, about four years after the automaker begins marketing the technology to ride-sharing and delivery fleets.
Ford recently turned the auto industry's conventional wisdom on its head by saying it plans to go beyond basic autonomous technology — which would require a trained "operator" ready to take control in the event of an emergency. Instead, Ford wants to take the driver out of the picture entirely.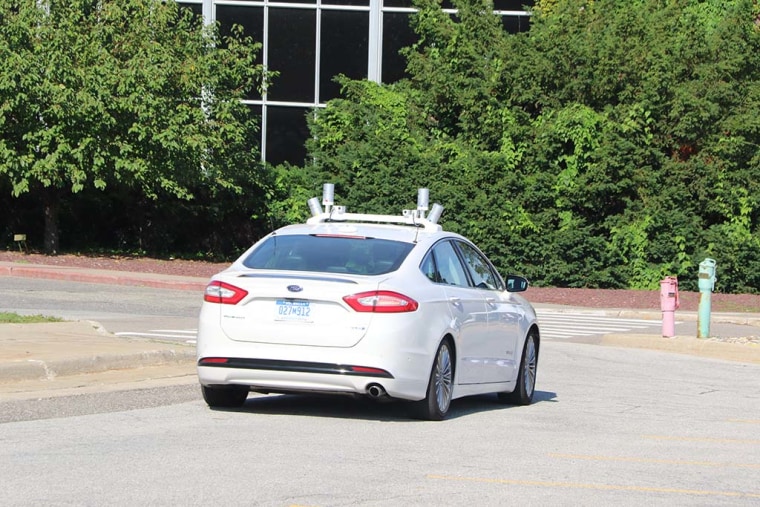 "We believe the next decade will be defined by the development of autonomous vehicles," CEO Fields said during a conference Ford is sponsoring this week looking at future trends.
Vehicles using semi-autonomous, advanced driver assistance systems, or ADAS, are already rolling out on the highway, and several makers, including Nissan and Tesla, have targets of putting fully autonomous models into production around 2020. But such systems still will require motorists to be at the ready.
Several companies want to take drivers out of the picture entirely, including Google and Ford, as well as Uber. The ride-sharing service believes driverless vehicles would allow it to drop costs so low it would become cheaper to call for a ride rather than owning a personal vehicle.
For his part, Fields acknowledged there could be fewer private vehicles on the road in crowded mega-cities in the future. But he downplayed concerns this would result in a wholesale slide in auto sales.
With driverless ride-sharing vehicles running 24/7 and clocking far more miles than private vehicles, "they'll be traded in more often," he suggested.
Ride-sharing services and delivery fleets would be more likely to swallow the added costs of driverless vehicle technology, the executive noted. But, as with smartphones and other electronics, he also said the cost of driverless systems will drop with time and scale.
So, longer-term, Fields said, Ford is "dedicated to put autonomous vehicles on the road for millions of people, not just those who can afford a luxury vehicle."
There remain plenty of skeptics who question whether autonomous vehicles of any form will be ready to hit the road by 2021, never mind fully driverless ones — known in industry lingo as "Level 4" technology.
Fields acknowledged there remain a number of challenges to overcome. And coming up with working technology is just one of those hurdles. He also pointed to:
Regulatory issues: Lawmakers and rule makers must approve autonomous and driverless vehicles. The U.S. Department of Transportation plans to issue its first guidelines in the coming weeks.
Economic issues: Even for fleet buyers, costs must come down sharply to gain widespread acceptance.
Public acceptance: Consumers will not only need to believe the added costs are justified but that they will be safe in a car driven by computers.
Transportation Secretary Anthony Foxx recently stressed that motorists have the right to expect that when they head out on a journey they will safely reach their destination. But concerns have been raised by the fatal, May 9 crash of a Tesla running in semi-autonomous Autopilot mode. A pair of federal investigations is now underway and Tesla on Sunday outlined plans to upgrade the Autopilot system in the coming weeks.
Read More: Tesla Says It's Improving Autopilot by Boosting Radar
Ford's push into driverless technology is just a part of its new focus on transportation services. Among other things, the maker last week bought a San Francisco-based shuttle service Ford expects to begin expanding to at least five other cities over the next 18 months.
But Ford also bought into a bike-sharing service, as well.
CEO Fields promises to lay out the business side of his strategy during an investor's conference at its suburban Detroit headquarters later this week.