/ Source: The Detroit Bureau
From a distance, they sound like a swarm of angry hornets – if you can hear them at all. For those familiar with traditional motorsports series, like NASCAR or Formula One, the oddest aspect of a Formula E event is the virtual silence of the dart-shaped race cars. But for organizers and supporters of the ePrix, that really is the sound of the future.
Now, halfway through its first season after finishing a 39-lap run through downtown Miami over the weekend, Formula E is a global race series with a mission. The goal is not just to entertain but to prove the viability of electric propulsion at a time when at a time when the public is having a hard time getting charged up about battery cars.
"Formula E is both my environmental conviction and my business conviction," says series organizer Alejandro Agag. "I don't believe environmental convictions alone are sustainable without being supported by a good business case."
A long-time participant in what he calls "normal racing," the Spanish promoter had to face down plenty of skeptics when he proposed the idea of electric car racing back in 2012. "I didn't have money. I didn't have teams. I didn't have cars. I only had a Powerpoint presentation."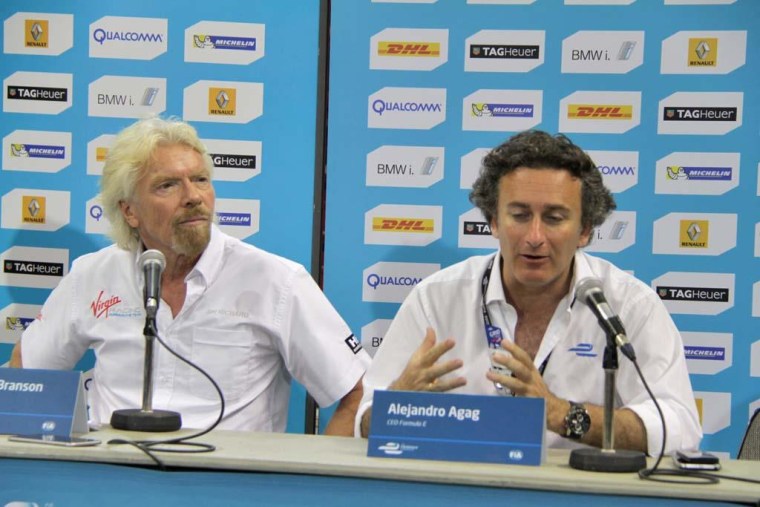 But that presentation and Agag's relentless drive won over the Federation Internationale de l'Automobile, or FIA, the governing body for world motorsports. He then went after sponsors, lining up the likes of BMW, Michelin and Virgin. Virgin also fielded one of the series' 10 teams, as did the racing family dynasty of Mario Andretti, giving the fledgling ePrix both cash, cars and credibility.
"I think this is the future," said Andretti team manager Michael Andretti, as his crew got geared up for the Miami race. "To be part of it and make something happen is what excites us."
"I think this is the future."
He and other participants in the Formula E series are quick to point to the role racing played in the early years of the automobile, helping prove the viability of the internal combustion engine to a skeptical public. They're determined to show that battery cars can be just as practical — and just as much fun to drive.
The lack of the traditional gasoline engine roar aside, a Formula E race car is blindingly fast, launching from 0 to 60 mph in barely 2.8 seconds, only a few tenths slower than a classic Formula 1 car. And because electric motors develop wheel-spinning torque almost instantly, even veteran drivers admit shock at how quickly they launch out of corners, racing to a top speed of about 140 mph.
The first race ran in Beijing last September 13, and is working its way through cities around the world. The Miami event will be followed next month by a Formula E race in downtown Long Beach, California. Events in Monte Carlo, Berlin and Moscow follow before the series wraps up with back-to-back races in London in June.
All 10 races will be run on downtown courses, Agag stressing that his goal was to show what electric vehicles are capable of on the sort of streets where battery cars are most likely to be used in the future.
Upsides and downsides
"Twenty years from now, the smell of exhaust will be as rare (in cities) as the smell of cigarette smoke is in a restaurant today," predicted Virgin owner Sir Richard Branson while attending the Miami race. He stressed that his company chose to join the series to help promote alternative power. "Unless you have sports like this, you'll never get to a world that's carbon neutral by 2050."
While the ePrix might show the upside of electric propulsion, it also highlights some of the downsides.
Lithium-ion batteries make up nearly 40 percent of the 1,950-pound weight of the 1-seat, open-wheel Formula E racers. Yet, they could only hold enough power to make it about halfway through the 39-lap run around the 1.4-mile Miami street course. Halfway through, the 20 drivers, two per team, had to pull into the pits, race to a second car, buckle back up and launch back onto the track.
So-called "range anxiety" is considered one of the biggest drawbacks of regular battery cars, as well.
Team manager Andretti said he is confident the technology used in Formula E will steadily improve. The target is an 8 percent annual increase in the amount of power the race car batteries can store, so he expects Formula E will eliminate pit stops entirely by the end of the decade — something conventional racing can't accomplish.
Whether the Formula E series will survive that long is far from certain, but it does appear to have solid momentum halfway through its first season. The crowds were large for the Miami race and there was reasonably good television involvement, including both live and delayed coverage on ESPN. Several other cities, including Montreal, are pitching to be added to the race calendar. And several new manufacturers plan to produce cars for the series over the next few years.
"It's clearly a learning curve," said Scott Speed, the well-respected international driver who took second at the Miami ePrix.
That goes for drivers, organizers, sponsors and fans alike, as Formula E sets out to change the world both on track and off.
More from The Detroit Bureau: