General Motors plans to go 100 percent electric, the Detroit automaker announced Monday.
GM currently offers one extended-range electric vehicle, the Chevrolet Bolt EV, but will add two others within 18 months, said Executive Vice President Mark Reuss, with "at least 20" to be in the line-up by 2023. In addition, the company is developing a new truck platform powered by hydrogen fuel cells, dubbed Surus, short for Silent Utility Rover Universal Superstructure.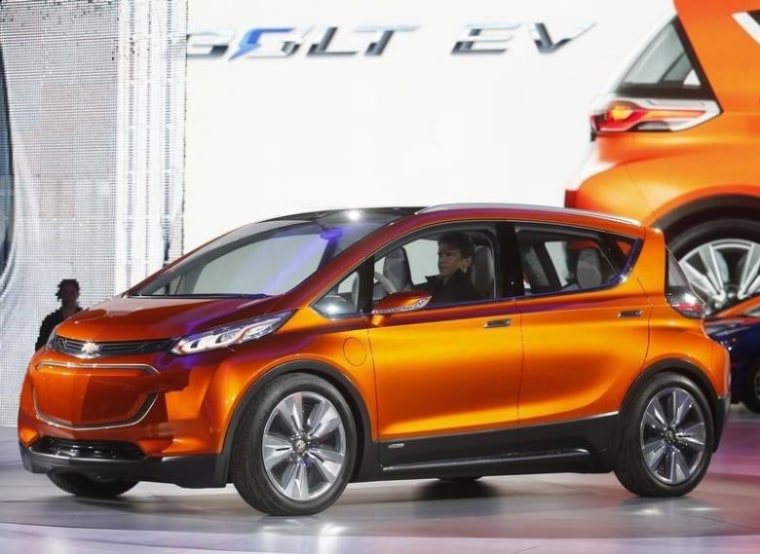 "General Motors believes in an all-electric future," Reuss said. "Although that future won't happen overnight, GM is committed to driving increased usage and acceptance of electric vehicles through no-compromise solutions that meet our customers' needs."
Related: Volvo to Offer Electric or Hybrid Only
In recent months, a number of manufacturers have announced plans to "electrify" their product lines. All Volvo models launched from 2018 and beyond, for example, will use either hybrid, plug-in or pure battery-electric drivetrains. Last month, Volkswagen AG said it will invest $20 billion to develop electrified products. Every model sold by its various brands — including VW, Audi, Bentley and Lamborghini — will be offered with at least one battery-based drivetrain option.
But GM said it will go a step further.
Ditching the Combustion Engine
GM's goal is to abandon the internal combustion engine entirely. At some yet-unspecified point, all of its products will draw power either from batteries or hydrogen. Fuel cells are sometimes referred to as "refillable batteries." They rely on devices called stacks to combine hydrogen and oxygen from the air to produce water vapor and electric current. That power is used to drive the same sort of motors used in battery-cars.
GM was a pioneer in both battery and hydrogen technology. It launched its first fuel-cell prototype four decades ago. Its EV1 was one of the first electric vehicles produced by a mainstream manufacturer, but the line was scrapped when California abandoned its initial zero-emissions vehicle mandates in the 1990s.
Government mandates are clearly driving the industry's current push to electrify. Even though the Trump administration is expected to roll back the federal Corporate Average Fuel Economy standards, California's new ZEV mandate will require automakers to collectively sell millions of battery or hydrogen vehicles in the years ahead.
Related: Trump Rolls Back Obama-Era Fuel Economy Standards
And pressures are growing overseas. Several countries, including Norway and India, now plan to ban internal combustion engines entirely. The U.K., France, Germany, and China are considering similar moves. China has just laid out new guidelines for alternative propulsion and is now the world's biggest market for electrified vehicles.
The key question is one of consumer acceptance. Last year, all forms of electrified vehicles, from hybrids to battery-electric vehicles accounted for barely 3 percent of the U.S. new vehicle market. Pure electrics, like the Chevy Bolt, generated only around a half-percent of total volume. But a number of recent studies have suggested that could top 30 percent or more within a decade.
Tesla Leading the Way
One sign of an impending shift is the strong response to the launch of the new Tesla Model 3 which, like the Bolt, gets more than 200 miles per charge and is priced at under $40,000 before federal and state tax credits. Meanwhile, a new generation of even more advanced and affordable batteries, dubbed solid-state, is expected to reach the market early in the coming decade. They are expected to yield even longer range, shortage charge times and lower prices.
GM isn't talking about what its new battery-electric vehicles will be but they are generally expected to be utility vehicles, reflecting the rapid market shift from passenger cars to light trucks.
GM describes Surus as a "fuel-cell-powered, four-wheel steer concept vehicle on a heavy-duty truck frame that's driven by two electric motors." It could be used for delivery trucks, for example, or ambulances.
Earlier this year, GM launched a joint venture with Honda to begin producing fuel-cell stacks that could be used in vehicles as well as stationary power systems. Honda is expected to use the new hardware in the next version of its Clarity Fuel-Cell Vehicle. GM could use the system in a number of its own future models, including a production version of Surus.