General Motors and Honda will set up a new plant in Michigan to mass produce next-generation fuel-cell technology that both companies plan to use in upcoming products, the automakers jointly announced Monday.
An alternative to battery-cars, hydrogen fuel-cell vehicles, or FCVs, are considered a serious alternative for an industry driving to slash emissions and raise energy efficiency. And despite signals from the new Trump administration that current mileage rules might be relaxed, officials said, following a joint Monday morning news conference, that the push for clean cars will continue.
Related: Latest Vehicle Rankings Put a Surprise at the Top of the List
It is "probably not a good idea" to back off from the push for alternative powertrain technology," said Mark Reuss, GM's global product development director. "I'm not sure anything that puts emissions into the air is something any of us are interested in" long-term.
Not a Moon Shot
While most major automakers have launched efforts to develop clean, hydrogen-powered vehicles, the new joint venture teams two of the most experienced manufacturers. GM created the world's first hydrogen fuel-cell vehicle in the 1960s, borrowing from technology developed to provide electricity for the Apollo moon mission.
For its part, Honda was the first automaker to offer an FCV on the retail market, offering a limited number of Clarity FCX models for lease in Southern California early in the decade. It just launched a successor model, the Clarity FCX. It is one of three hydrogen-powered products now offered to U.S. motorists, albeit in a similarly limited geographic region.
Honda and GM first established a fuel-cell research program in 2013, said Toshiaki Mikoshiba, president of Honda North America, explaining that, "This foundation of outstanding teamwork will now take us to the stage of joint mass production."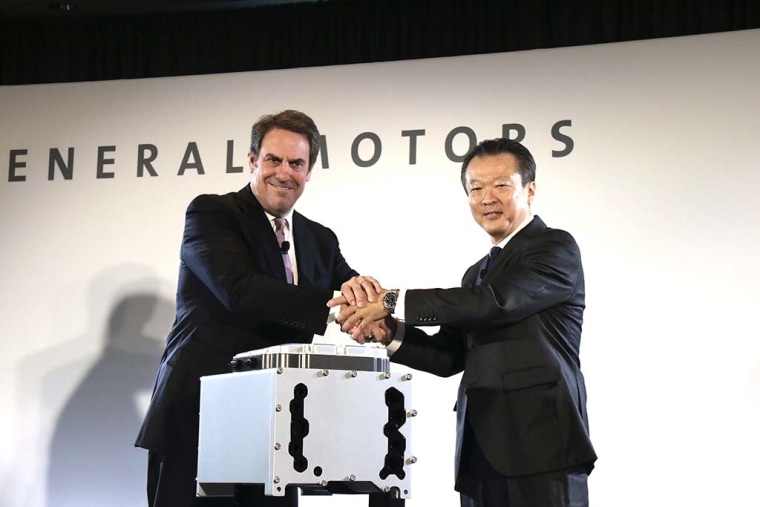 FCVs replace conventional internal combustion engines with a system called a "stack." Oxygen from the atmosphere is combined with hydrogen – which can be stored in liquid form, or as a compressed gas. The process creates a flow of energy that can be used to power the same sort of motor drive system found in an electric vehicle.
Related: Analysts Predicting a Dip in January Auto Sales
Proponents claim significant progress has been made in recent years, with fuel cells becoming smaller, lighter, more powerful and less expensive – though, like batteries, they still are far more expensive than comparable gasoline engines.
While the two automakers hope their new joint venture will yield improvements in performance and efficiency, "Our focus is on reducing their cost," said Senior Chief Engineer Takashi Moriya.
One way to do so is to reduce the amount of rare metals, especially platinum, used to make the stack work. The other key is finding ways to assemble each of those devices by robot, rather than by hand. Today the hundreds of layers of fine mesh that hydrogen and oxygen pass through are all laid down by hand.
By bringing down costs, "The eventual deployment of this technology in passenger vehicles will create more differentiated and environmentally friendly transportation options for consumers," said Reuss.
Honda expressly committed to using the new fuel cell system in upcoming products – part of the company's push to have two-thirds of its vehicles powered by some form of zero-emissions technology by 2030.
For its part, GM's Reuss would not give a hard commitment on plans to put the new fuel-cell stack into a vehicle, noting the technology has a wide range of other potential applications. That includes powering long-running unmanned research submarines, as well as troop carrying vehicles – both projects GM is working on with the U.S. military.
When Can We Get One?
Reuss did not dispute reports from industry analysts suggesting GM is working on a production fuel-cell car for retail sales.
Fuel cells do have advantages over batteries. Among other things, they can readily provide range of more than 300 miles, and their tanks can be refilled in about five minutes, roughly the same time it takes to fill a gas tank.
Related: Ford Joins Chorus Condemning Trump's Immigration Order
That's if a motorist can find a place to fill up on hydrogen. There is a relatively limited infrastructure to produce and distribute the fuel. That's why the new Honda Clarity FCV is only being sold in a few select parts of California: Orange County, the San Francisco Bay Area and Sacramento, where some pumps are currently available.
California regulators hope to have a statewide network in place by the end of the decade, but it is unclear how soon it would spread across the U.S.