General Motors will temporarily idle five U.S. assembly plants next month in a bid to reduce bloated inventories.
The cuts focus on plants building sedans and coupes, such as the Chevrolet Cruze, Cadillac CTS and Chevy Camaro, which have been losing momentum as American motorists by the millions shift from passenger cars to utility vehicles and other light trucks.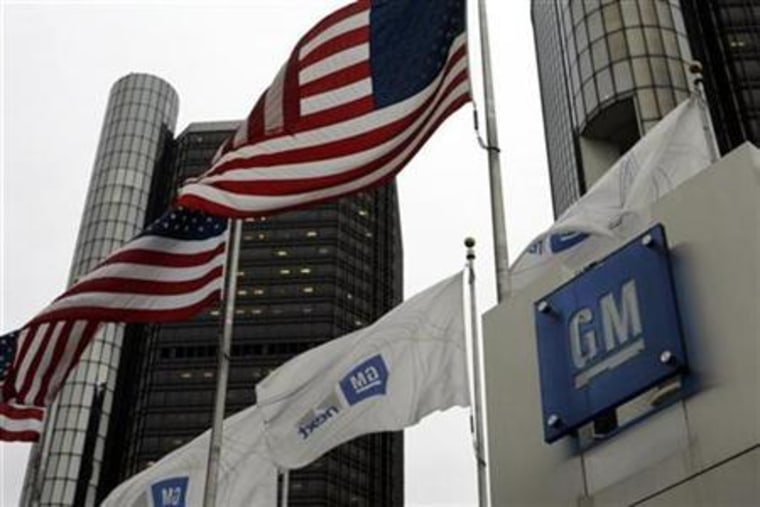 But the move could also signal a broader slowdown of the U.S. automotive market after three consecutive years of record sales. While demand in November brought a welcome reprieve after months of slowing demand, most industry analysts have been predicting that the long industry recovery from the Great Recession is finally ending.
The big questions are how fast and how far a slide the industry could be facing.
A Modest 2017
"We may be over the top," Bob Carter, Toyota's senior vice president of U.S. Automotive Operations, said during a visit to Detroit earlier this month. The executive said he expects 2016 will still set a new record of around 17.5 million, but Carter also forecast a modest dip in 2017.
Related: Show Across the Bow? China Considers Huge Fine for GM in Antitrust Suit
Forecasts by IHS Automotive and other research firms say sales could slide by 200,000 vehicles or more, with a variety of factors threatening to create even more of a downturn. These include rising fuel prices and increasing interest rates. Automakers could offset higher monthly payments by offering new loan and lease subsidies, but such moves would, in turn, impact industry profitability.
GM's decision to cut production at plants in Michigan, Ohio, Kansas, and Kentucky comes as it watches inventories surge, in some cases, to nearly three times what the industry considers the norm: about 60 to 65 days' worth of vehicles on dealer lots. The company has a 177-day backlog of Camaros, while its overall inventory grew from a 79-day supply in October to 84 days at the end of November.
GM tried to downplay those figures by noting inventories "fluctuate before moderating at year-end." And Chief Financial Officer Chuck Stevens said in October that GM actually wanted to build inventory on some models ahead of product changeovers scheduled for next year. That's a normal move to help tide a company over while it helps convert plants, a sometimes lengthy process.
Idling Plants
But analysts have been warning for months that GM's inventories were simply getting out of hand. And the company isn't alone. Ford has temporarily idled a number of its own plants since mid-year.
Fiat Chrysler Automobiles, meanwhile, has responded to shifting market trends by ending U.S. production of sedans. Earlier this month, it mothballed a plant in Sterling Heights, Michigan, that was producing the midsize Chrysler 200. It will reopen about a year from now after being refitted to assemble the next-generation Ram 1500 pickup.
The shift away from passenger cars has hit the industry hard. Bill Fay, U.S. head of the flagship Toyota brand, said the company has likely lost thousands of sales because it had too much sedan and coupe capacity. It has been converting operations at a number of North American plants to favor light truck models.
On the plus side, average transaction prices — what consumers actually pay before cars roll off dealer lots — tend to be thousands of dollars higher on light truck models than comparably sized sedans and coupes, according to data from J.D. Power and Associates.
More Production Cuts?
Industry observers are watching closely to see whether new production cuts are in the works. Brian Johnson, an automotive analyst with Barclays, warned GM's stock price could be hurt by such a move.
In some cases, however, temporary plant closures are seen as a positive step. All too often, in the past, manufacturers resisted shutdowns, preferring to try to artificially stimulate demand by boosting incentives. By the time the market collapsed in 2009, some givebacks were running more than $10,000 a vehicle, all but guaranteeing automakers like GM would fall deep into the red.
This time, Detroit's largest maker has promised to tie production to demand, even if that means reducing output and risking a dip in market share. GM has raised incentives by $1,100 a vehicle compared to a year ago, reports J.D. Power. But at an average $4,800 per vehicle, it is roughly in line with the industry average. And that has helped it generate an average transaction price of $35,767 per vehicle — about $4,000 more than the industry average.
Whether or not these automakers can maintain that discipline if the market softens more rapidly than expected next year remains to be seen.