Conventional wisdom suggests that SUVs are set to rule the world, with sedans slowly dying on the vine. But Honda just unveiled an all-new and dramatically updated version of its long-popular Accord sedan, which may prove there's still life left in the passenger car market.
The all-new midsize model, which lands in dealer showrooms this fall, is loaded up with the sort of features it hopes will offer a good alternative to the light trucks that now account for nearly two-thirds of U.S. new vehicle sales.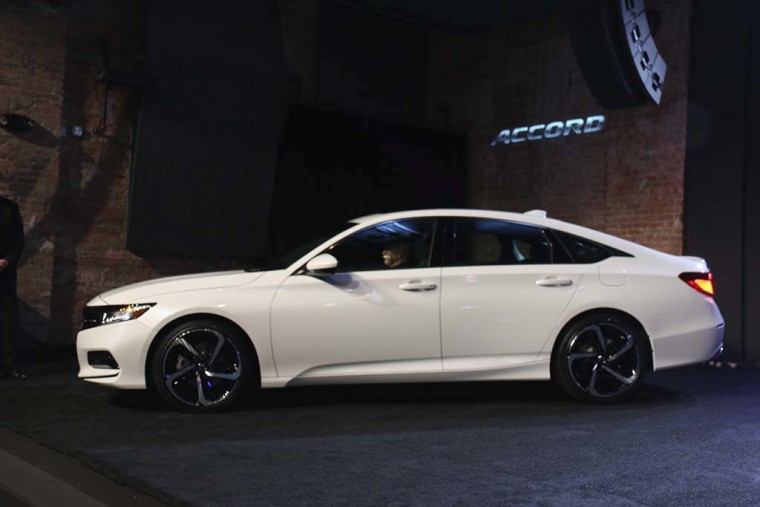 Honda isn't the only one betting there are still plenty of buyers left in the sedan market, however — Toyota is also introducing a complete makeover of its midsize Camry model for 2018. The question is whether they will pump new life into the segment or simply battle it out for bigger pieces of a rapidly shrinking pie.
"We think new product will get people to stop and look" at midsize sedans again, said Jeff Conrad, head of automotive operations for American Honda. "Can we stop the shrinking of the segment? We think we can at least slow it down."
Related: GM and Honda Team Up to Create Hydrogen-Powered Cars
The midsize four-door market is still one of the U.S. industry's biggest segments, but it has rapidly lost ground in recent years, especially to utility vehicles. SUVs and so-called crossover-utility vehicles have jumped to about 40 percent of the market this year (with pickups, vans and other trucks adding another 20 percent). That's expected to grow to 45 and even 50 percent, according to various industry forecasts, by 2020.
America Still Loves Its SUVs
Since the beginning of the decade, meanwhile, passenger cars have lost more than 10 points of share, with some of the sharpest declines coming in the midsize sedan market. Analysts like AutoPacific's Dave Sullivan point to a variety of factors, including the greater utility of utes, the availability of weather-beating all-wheel-drive, higher "command seating," and more macho styling.
The new 2018 Honda Accord aims to challenge at least some of those bullet points, tossing in a few pluses of its own, such as better performance, class-leading fuel economy, an array of new, high-tech safety and driver assistance systems and much more aggressive styling.
The new Accord "is definitely going away from boring, plain vanilla," said Sullivan. "I think it takes away most every excuse for people who might otherwise go to an SUV."
Honda clearly needs to hope Sullivan is right. The Accord has been one of the best-selling vehicles in the U.S. since its debut in 1976, and was the top retail model for four straight years.
Honda isn't the only company worried about declining sedan sales, however. General Motors has had to schedule several short-term closures at the Lordstown, Ohio plant assembling its own Chevrolet Malibu model, and it recently announced plans to drop an entire production shift. Ford has faced similar challenges and Fiat Chrysler Automobiles has pulled the plug on its Chrysler 200 and Dodge Dart models.
Related: Trump, Detroit Automakers Trade Wish Lists
Toyota's Camry, meanwhile, has been the Japanese giant's best-selling model for years, but Bob Carter, the head of U.S. automotive operations, recently told NBC News, "We could see the RAV4 (compact CUV) supplant the Camry this year."
Toyota has had an even more plain vanilla reputation for styling than Honda, but like its smaller rival it decided to go for a bold new look when redesigning Camry for 2018. The new model received generally positive reviews when automotive media were given a chance to drive the new sedan last month. Honda hopes for a similar, favorable response when it stages its own media drive late in the summer.
One bit of conventional wisdom has generally proved true for the auto industry: New product, especially good product, can move the needle. And with two of the biggest players in the midsize sedan market launching aggressive new entries for 2018, motorists are expected to take notice. Whether they'll veer away from the utility vehicles that have come to dominate the market, however, remains to be seen.