Hugh Hefner's inimitable pipe, red smoking jacket and captain's hat are just a few of the late Playboy founder's items set to hit the auction block later this week in Los Angeles.
There's something for almost everyone in the 836-item catalog, which is being auctioned on Friday and Saturday by Julien's Auctions. Fans of the late Playboy founder who can't make it to the auction house can also bid online for their chance to own a piece of history.
A leather-bound copy of the "Saturday Night Live" script from when Hefner hosted in 1977 is expected to fetch between $400 and $600. Hef's Bible, which comes with his American Secular Humanist Church minister card, will start at a bid of $200. And if a bronze statue of Farrah Fawcett's torso sounds like the new home decoration you've been searching for, get ready to pay between $2,000 to $3,000.
"We are finding that everyone wants a piece of Hef, and the most sought after items are his trademark pajamas, robes, slippers, and pipes along with items that were in the mansion as part of his historic life and career," Darren Julien, president and CEO of Julien's Auctions, told NBC News.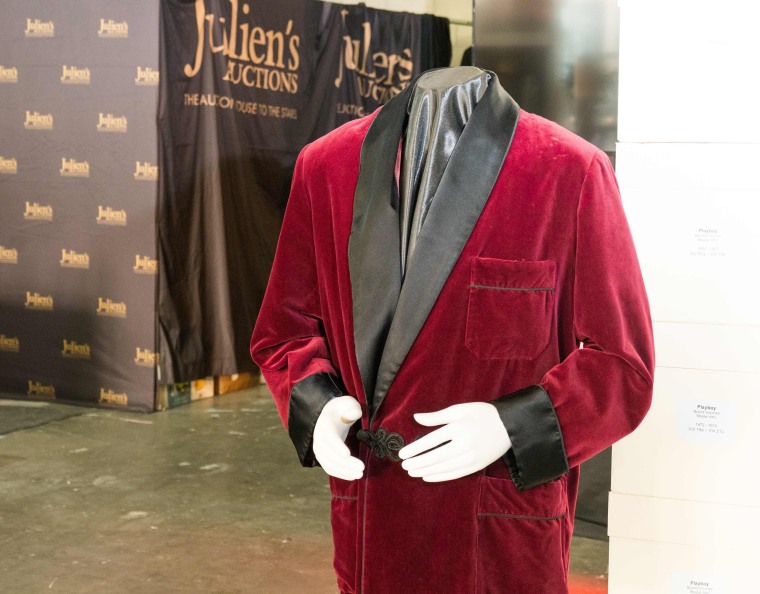 Proceeds from the auction will benefit the Hugh M. Hefner Foundation, a charity he founded in 1964, to aid organizations that promote civil rights and civil liberties, especially with respect to rational sex and drug policies.
The one item not on the auction block? The Playboy Mansion. The home where Hef famously balanced work and play was sold for $100 million in 2016 to Daren Metropoulos, heir to the Twinkie fortune.