When it comes to making customers happy, the auto industry put on the brakes and slipped into reverse during the past year, according to the latest results from the American Customer Satisfaction Index (ACSI). Customer satisfaction dropped 1.2 percent to 81 out of 100 points.
Last year, when car sales were at a record high, the industry made a dramatic improvement – a jump of 3.9 percent in the ACSI survey. Now, demand has cooled and so has buyer satisfaction.
Of the 25 automakers tracked by the ACSI, eight declined in satisfaction – four of those are domestic brands. GM (82) was the only U.S. automaker to get a higher score than last year. Ford (81) down 3.8 percent from 2016 slipped behind GM. Fiat Chrysler tumbled 6.9 percent to score a 77.
Based on this survey, the satisfaction gap between domestic and foreign-made vehicles has widened.
"It's really not a matter of the domestic brands lagging behind because their quality is shrinking or getting worse, it's that they aren't keeping up with the quality innovations of the imports," said David VanAmburg, ACSI's managing director.
European automakers, with an ACSI score of 82, now match Japanese and Korean manufacturers. American brands fell to 80. Foreign manufacturers continue to deliver the highest driver satisfaction and most (77 percent) of the above-average brands in this year's survey are imports.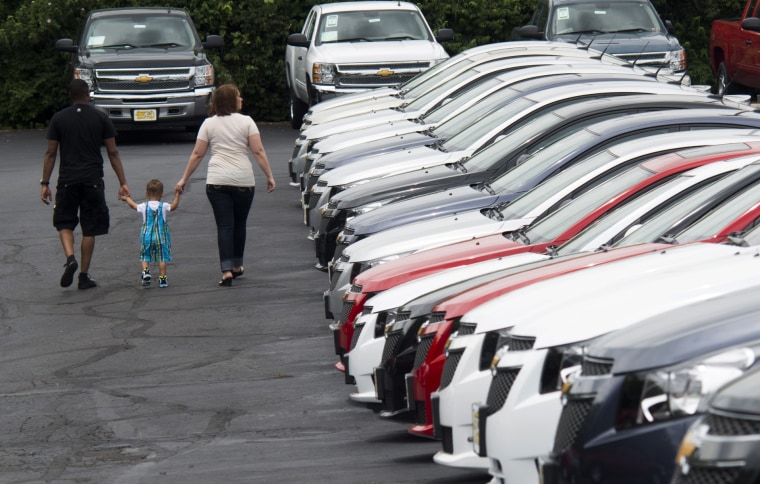 "This movie does not have a good ending," warned ACSI Chairman and founder Claes Fornell, unless domestic automakers take major steps "to focus on how to create satisfied and loyal customers."
What Annoys Drivers
While dependability remained steady year-over-year (86 out of 100), driving performance, including handling, braking and steering, declined for both luxury and mass-market vehicles.
The ACSI survey also showed that drivers are less satisfied with vehicle technology and safety systems than they were a year ago. The decline was seen in both mass-market and luxury brands.
Rebecca Lindland, executive analyst at Kelley Blue Book, believes this dissatisfaction could be related to the rollout of automated driver assist systems (ADAS) such as lane keep assist, lane departure warning and automatic braking.
"Consumers may not be comfortable yet with those new bells and whistles and beeps and bumps," Lindland told NBC News. "On the tech side, Apple CarPlay and Android Auto continue to frustrate consumers, as does more familiar tech like phone connectivity and GPS."
Recalls can also drive down satisfaction and the number of recalls has steadily gone up since 2013. Nearly one-third of the drivers surveyed by ACSI had a recalled vehicle this past year.
The Scoreboard: Mass-Market Vehicles
Toyota blew away the competition this year. Toyota took the top spot among mass- market vehicles, while the company's Lexus division came in first in the luxury category – both scored an 86.
Five of the top six mass-market vehicles this year are foreign-made and all of them saw their scores improve.
Subaru (85) is a close second behind Toyota. Third place GMC (84) is the only domestic nameplate in the top tier. Hyundai (83) took fourth place, followed by Kia and Mazda (82) tied for fifth place.
Honda, which has been plagued by a series of safety recalls, lost the most ground of any automaker, foreign or domestic, this year. It dropped 6 percent to tie Chevrolet, which slipped 2 percent to 81.
Two domestic brands bucked the trend and scored higher than last year. Buick (up 1 percent) and Jeep (up 3 percent) tied Nissan at 80.
At the back of the pack: Ford dropped 2 percent to tie Volkswagen and Chrysler at 79. Mitsubishi is a notch below at 78. Dodge and Fiat tie for the bottom position at 75.
Fuel Economy Matters
Both luxury and mass-market car buyers want vehicles that deliver better gas mileage. Luxury vehicles (77) scored lower than mass-market cars (79) for that.
"Gas mileage is clearly the single lowest scoring element in our study," VanAmburg said. "It's the thing that consumers want most. Whether it's an SUV, a small car, an import or domestic, luxury or a mass-market nameplate, everyone wants to see better gas mileage."
Currently, the Trump administration is reviewing higher fuel economy standards for cars and light trucks that are set to take place starting with the 2022 model year. U.S. automakers would like to see those standards rolled back. Consumer groups argue they were agreed to in 2012 and should stay in place.
Herb Weisbaum is The ConsumerMan. Follow him on Facebook and Twitter or visit The ConsumerMan website.