You wouldn't deliberately leave your car running after you pull into the garage, but if that car has a keyless push-button ignition you could forget to turn it off. With an attached garage, the carbon monoxide spewing out of the tailpipe could very easily seep into your house, causing illness or death.
"We have documented at least 19 fatalities that are specifically attributed to keyless ignition vehicles since 2009 and 25 more close calls," said Janette Fennell, founder and president of the safety group KidsAndCars.org. "As more keyless ignition vehicles are sold, we are going to see these predictable and preventable injuries and deaths increase."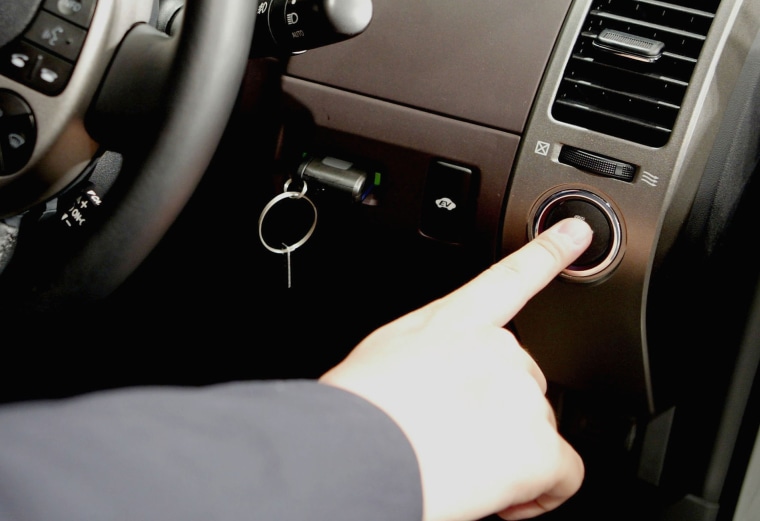 Keys are clearly on the way out. Keyless ignitions are now standard in 245 models and optional in 31 others, according to the automotive website Edmunds.com.
The current keyless ignition systems have "an inherent design defect," according to Sean Kane, president of Safety Research & Strategies and a researcher and consultant for plaintiffs' lawyers in consumer-product cases. The way he sees it, manufacturers changed the relationship between the driver and the key and without warning them of the resulting safety hazard.
"In the past, you had a traditional metal key that you could only remove from the ignition when you shifted the vehicle into park and the key had been turned to the off position," Kane explained. "Keyless ignition vehicles completely upend that relationship. In most vehicles you can exit with the fob – which most drivers believe is the key – and the engine will keep running until it is out of fuel. You need the fob to start the vehicle, but it plays absolutely no role in turning it off."
U.S. Sues Volkswagen Over Diesels Designed to Cheat Emissions Tests
In November, a keyless ignition left on resulted in a close call for a family of six in Issaquah, Washington, near Seattle. All six were all rushed to the hospital for treatment of carbon monoxide poisoning. Three firefighters responding to the emergency call also went to the hospital.
The father told fire officials he parked his Toyota van (equipped with a keyless ignition) in the garage and took the fob with him into the house without remembering to turn off the engine. When firefighters arrived, they found potentially deadly levels of carbon monoxide in the home. The van had been running all night until it ran out of gas.
"The family was extremely fortunate," Eastside Fire and Rescue Deputy Chief Michael Boyle told KOMO TV News. "This could have had a much worse outcome."
Change is slow in coming
Federal safety regulators know about the hazard.
In December 2011, the National Highway Traffic Safety Administration (NHTSA) said keyless vehicles posed a "clear safety problem" and it proposed rules to require an exterior alarm system to warn drivers who walk away from a car that's still running or capable of starting without the fob being present. Five years have passed and the agency has not taken any action.
Sen. Bob Casey, D-Pa., wants NHTSA to get moving on finding a solution for this growing problem. Carbon monoxide poisonings related to keyless ignitions have been blamed for several deaths and many injuries in Pennsylvania.
"Without an alarm or automatic shut-off feature for ignition systems, drivers, families, neighbors and emergency responders could be at risk for carbon monoxide poisoning," Casey wrote.
BMW Fined $40M for Not Recalling Mini Coopers After Crash Test Failures
A NHTSA spokesman told NBC News the agency has been addressing public comments and expects to issue a final rule mandating a warning alarm for the vehicles next month.
NBC News contacted several trade associations representing foreign and domestic automakers asking them to comment on keyless ignition problems and solutions. In an email, Wade Newton, director of communications for the Alliance of Automobile Manufacturers said: "The industry continues working with a standards-setting body to further develop best practices."
Not good enough, critics say
Critics say NHTSA's proposed rule won't solve the problem because it would only require a warning alarm that the car is running. They want an automatic engine shut-off. They claim it's something that could be accomplished with a software update.
Clarence Ditlow, executive director of the Center for Auto Safety, blames the carmakers and the government for not taking action to correct a detective design.
"There's a safe design that can prevent these deaths and injuries – an auto-shutoff," Ditlow told NBC News. "Any time you have an alarm a certain number of people won't hear it or in their rush will neglect to process it. Also, so many people are simply hardwired into thinking that when they take the fob out of the car the ignition is off or will turn itself off."
Kane, of Safety Research & Strategies, said he is "very disappointed" with NHTSA's proposal for a warning alarm. He, too, is urging the agency to require an auto-shut-off.
"The real fix should be in preventing the hazard, not just mitigating it," Kane told NBC News. "There's no reason a car should be running for more than 30 minutes unattended. There's just no good argument for doing that."
When NHTSA announced the proposed rule, it said it did not call for an auto-shut-off because there are "many situations in which a driver intends to leave some electrical system or the engine in the vehicle running without his or her presence."
NHTSA gave two examples: leaving a passenger with heat or air conditioning while the diver runs an errand or keeping the engine running to prevent having to restart the car in a very cold climate.
"This is completely contrary to the last 40 years of NHTSA's history," Kane told NBC News. "If you leave a car unattended and the car is running – you have a safety hazard on your hands."
Taking automakers to court
New York City attorney Martis Alex calls the keyless fob "a deadly defect" that is marketed as a convenience. She wants to force carmakers to fix the millions of vehicles on the road and those that are manufactured in the future.
Alex is the lead attorney for a class action lawsuit filed by her law firm, Labaton Sucharow, against 10 automakers, all of which make vehicles with keyless ignition systems and no auto shut-off.
"We want the auto manufacturers to fix the problem. They know how to fix it. They have fixed it in some cars and that is very troubling to me," Alex told NBC News.
Keyless Ignition Used in Millions of Cars a Deadly Safety Defect: Lawsuit
For example: General Motors recalled its 2011-2013 Chevrolet Volts to install an auto shut-off after receiving complaints from customers and reports of two injuries caused by carbon monoxide build-up.
The lawsuit claims the fix took approximately 30 minutes and cost GM $4.78 per vehicle for the reprogramming. Newer Volts come with the auto-shutoff software already installed.
Why don't all GM models with push-button ignitions have this safety feature? GM spokesman Tom Wilkinson said current keyless ignition system designs "generally follow the recommended practices of the Society of Automotive Engineers." Those recommendations do not call for an auto shut-off.
Another model with keyless fobs – the 2014 and 2015 Ford Lincoln MKS – have an auto-shutoff system that stops the engine after it's been idling for more than 30 minutes, according to court papers.
Alex notes that most cars today are smart enough to turn off the headlights if you leave them on.
"Why can't we have auto-off to save your life and the lives of your children?" she asks. "This is a serious problem with fatal consequences. And it's not just about the deaths; it's about all the injuries, terribly serious injuries. Let's fix it. "
The Alliance of Automobile Manufacturers represents many of the companies named in the lawsuit. Spokesman Wade Newton told us he was "not in a position to comment on any pending litigation."
A personal note: It happened to me recently. I pulled my hybrid car into the garage and headed into the house – the key fob was in my jacket pocket – assuming I had turned the car off. I hadn't. Luckily, I had to go back into the garage to get something and heard the gasoline engine turn on. That really scared me. Now, I put the fob in the cup holder between the front seats. That way, I have to reach for the keys before I get out, which reminds me to hit the ignition button.
Herb Weisbaum is The ConsumerMan. Follow him on Facebook and Twitter or visit The ConsumerMan website.