About 2.4 million Volkswagen diesels sold in Germany over the last seven years will be recalled under an order issued Thursday by the Berlin government.
The move marks the first official recall of diesel vehicles that VW surreptitiously outfitted with software designed to meet emissions tests, then switch off pollution controls during real world operation. VW has said it produced about 11 million such vehicles with its EA 189 engine.
The scam was revealed last month by the U.S. Environmental Protection Agency. The EPA has yet to order a formal recall – though one is expected – in part because it has been working with VW to come up with an appropriate fix. The U.S. has some of the world's most stringent diesel emissions standards.
Complicating matters, it now appears that Volkswagen's 2016 diesels may be using a different type of software code to evade emissions mandates.
Thursday's order by German Transport Minister Alexander Dobrindt told VW "to remove the software from all vehicles and to take appropriate measures to ensure that the emissions rules are fulfilled."
The embattled automaker will have to provide German regulators with the code for a software fix by the end of this month. Repairs aren't scheduled to begin until early in 2016.
The mandatory recall in Germany means other EU countries will follow suit. Europe's biggest carmaker has said up to 8 million vehicles in the EU could contain banned software.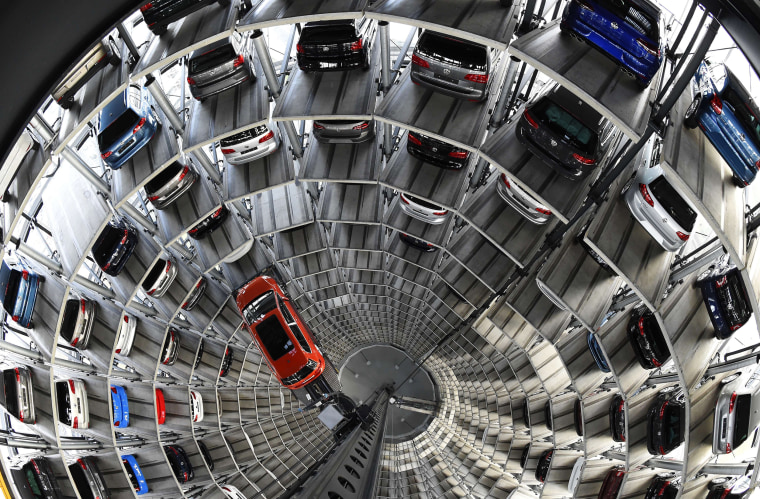 Last week, Volkswagen AG CEO Matthias Mueller said he expected to begin the repair of the 11 million diesel vehicles in January, with a goal of completing the "retrofit" by the end of 2016. Along with changing the software code on VW's EA 189 engine, some versions, especially a smaller 1.6-liter diesel, could require revisions to the engine itself, not just an update to the engine controller's code.
Wolf of Wolfsburg? Leonardo DiCaprio Plans Movie on Volkswagen Scandal
A fix might take longer in the U.S.
For one thing, Volkswagen has to prove to the EPA that any changes will continue to meet emissions standards for 150,000 miles. And because the American standards for smog-causing oxides of nitrogen (NOx) and particulate emissions are tougher than in Europe, VW insiders have said they expect they will have to modify engine hardware, as well.
Further complicating the situation, there have been two major updates to the 2.0-liter U.S. diesel since it was introduced. Earlier models may now require the addition of a urea injection system similar to what most other automakers use on their diesel vehicles. The ammonia-like chemical helps break down NOx into harmless components.
VW Plans to Overhaul Diesel Technology in Scandal's Wake
Meanwhile, the EPA has begun examining the software used on 2016 versions of some diesels that Volkswagen use different software code also aimed at fooling emissions tests.
VW on Tuesday told the Associated Press the "auxiliary emissions control device" on 2016 models operates differently from the so-called "defeat device" used on VW diesels during the previous seven years.
But so far VW but has provided regulators with few details.
"We have a long list of questions for VW about this," Janet McCabe, acting assistant EPA administrator for air quality, said this week. "We're getting some answers from them, but we do not have all the answers yet."
As a result of the disclosure, VW has withdrawn a request for the EPA to certify some of its 2016 diesel models for sale in the U.S. Whether the new software code actually violates U.S. emissions rules is unclear, however.
Toyota to Phase Out Gas-Powered Vehicles, Doubling Down on Hydrogen
If it does violate the rules, Volkswagen's problems could increase exponentially, some observers warn. The maker already faces potential fines from the EPA of more than $18 billion for the first software cheat. It is also facing a criminal investigation into the scandal by the U.S. Department of Justice. And at least a half-dozen class action lawsuits have now been filed on behalf of VW diesel owners.
Additional civil and criminal probes are underway abroad.
German Transport Minister Dobrindt said that while his agency had an "extraordinarily good" working relationship with VW as it continues its probe, for the moment, at least, it has "no information about who decided where, when at Volkswagen about the use of such software."
Since the diesel scam was revealed last month, VW has ousted its long-time CEO Martin Winterkorn, along with two of its top R&D executives. Meanwhile, Winfried Vahland, who was named just three weeks CEO of the new Volkswagen North America group tendered his resignation on Wednesday. The maker said that departure was "expressly not related" to the diesel scandal, but provided no other details.
Reuters contributed to this report.
More From TheDetroitBureau.com
Who Was Responsible For VW Diesel Cheating Scandal?
New Chevy Colorado Pickup Could Save Diesel's Reputation
Dayz'd? This New Nissan Concept Car is Social Media on Wheels