/ Source: The Detroit Bureau
With its "tactical table" and "augmented reality" windshield, the Mitsubishi GC-PHEV Concept might seem to have more in common with a Star Trek shuttle than a conventional sport-utility vehicle. But it's actually a hint of what's likely to come to showrooms soon. Under its hood, the GC relies on a plug-in hybrid powertrain that would dramatically increase the fuel economy of the big utility vehicle.
Sport-utility vehicle sales have soared in recent months and are expected to top demand for conventional sedans this year for the first time. Considering their traditionally high profit margins, that's good news for automakers. But the downside is the relatively poor mileage "utes," or "coupé utility" vehicles deliver compared to sedans, a major headache as the industry races to meet toughened fuel economy standards that will jump to 54.5 mpg in 2025.
"They've got to make SUVs more efficient, one way or the other," said Stephanie Brinley, a senior analyst with consulting firm IHS Automotive.
To get there, manufacturers are taking a variety of steps. Land Rover, for example, shaved over 800 pounds off the weight of its flagship Range Rover sedan by switching to an aluminum body. Jeep squeezed a bit more efficiency out of the drivetrain of its new Cherokee model by adopting a 9-speed transmission. And downsized engines using turbochargers have allowed makers to deliver the seemingly incongruous: better mileage and more power.
But there's a limit to how far conventional powertrain technology can go, and as SUV sales climb, dragging down the mileage of manufacturers' fleets overall, the pressure is on to go with even more radical solutions.
The Kia Trail'ster Concept, also unveiled at this week's Chicago Auto Show, provides another possible solution. It's based on the wildly popular Soul "crossover" for which the Korean carmaker recently launched a battery-electric option. As with most pure battery-cars, the Soul EV sacrifices range and performance for zero emissions.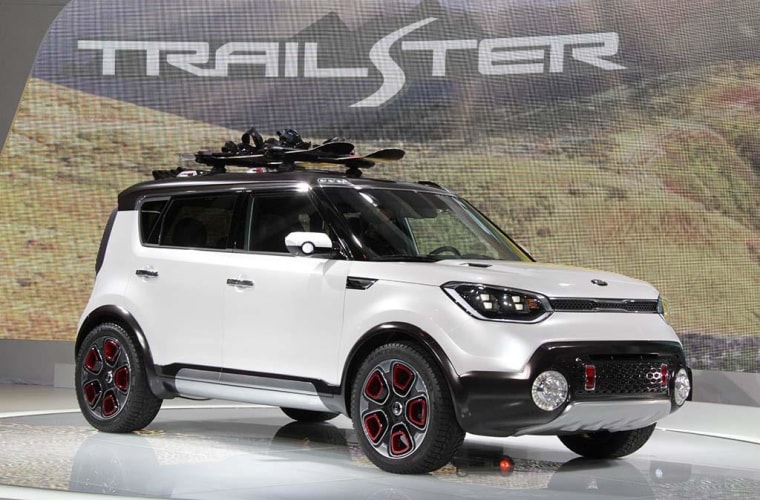 But the Trail'ster not only avoids those sacrifices, it actually improves performance and adds some additional off-road capabilities not found in the conventional, gas-powered Soul. That's because of its eAWD system. The Trail'ster Concept's front wheels are driven by a turbocharged 1.6-liter gas engine. The rear wheels rely on a lithium-ion-powered electric motor.
The ute can run in pure electric mode, gas mode, or what Kia marketing chief Michael Sprague calls "through-the-road all-wheel-drive mode" when pavement is slippery or when an extra boost of power is needed. He also notes Trail'ster would get about 25% better mileage than a gas Soul in city driving, and up to 10% better fuel economy on the highway.
The maker plans to watch media and consumer reaction, but insiders say it is very likely to launch a production version of the Soul.
Kia's sibling Korean brand Hyundai, meanwhile, last summer introduced a hydrogen-powered version of its own compact crossover, the Tucson. "We have a full range of alternate fuel plans" under development to help meet future fuel economy standards, said Hyundai's U.S. product planner, Brandon Ramirez.
Pressure is only mounting on the industry as utility-vehicle sales grow.
All told, Americans bought 5.5 million sport-utes and crossover in 2014, compared to 5.8 million sedans. And, as the year drew to a close, compact and smaller utility sales actually surpassed demand for midsize sedans, long the industry's largest market segment. IHS analyst Brinley forecasts total utility vehicle sales will reach 5.86 million this year, compared to 5.80 million sedans.
"Electrification and alternative powertrains are the tools manufacturers will be leveraging," Brinley said. But she cautioned that this shift will have an impact on buyers, noting that "These systems will be more expensive, and that means consumers will wind up paying more."
More from the Detroit Bureau: