U.S. auto sales plunged by 4.7 percent in April, a significantly greater decline than industry analysts had expected, and the fourth consecutive month that demand has fallen for new cars, trucks and autos.
The news appears to signal that, after seven years of steady growth — including three consecutive years of record sales — the American motor vehicle market has hit the top of its game.
So just how far will the market drop in 2017 and beyond? That could determine not only whether industry earnings have also peaked, but whether manufacturers will ramp up the pace of production cuts and layoffs they've ordered in recent months.
Anything beyond the modest sales dip many have been forecasting, several insiders warn, could impact the broader economy and, in particular, make it more difficult for President Donald Trump to encourage auto manufacturers and suppliers to bring back plants — and jobs — from abroad.
Slippery Road Ahead
"The pieces of the puzzle are coming together to point to weakness ahead for the auto sector," wrote Bank of America analysts Michelle Meyer and Alexander Lin in a letter to investors. "The lingering question (is) how quickly the story will evolve." Though they stressed that, "so far (it has been) manageable," they ended their advisory by asking, "Are we heading into a car crash?"
Even in 2016, the third consecutive record year for the industry, with U.S. sales of 17.5 million new vehicles, industry planners were already becoming more cautious. There were numerous production cuts and temporary plant closures, primarily impacting Detroit's Big Three.
General Motors ended 2016 by announcing it would temporarily idle five plants and drop an entire shift at its Detroit-Hamtramck plant, a factory in Lansing, Michigan and another in Lordstown, Ohio, costing 3,300 hourly jobs.
Ford began 2017 with temporary cuts at a number of its plants, and in March, Chief Financial Officer Bob Shanks told automotive analysts during a conference call "Don't be surprised" to see further temporary reductions in the months ahead.
Related: As Trump Flaunts Ford's Investment, Ford Says It Was All Planned in 2015
The most likely cuts will be at plants producing sedans, coupes and other slow-selling passenger car models. While there have been a few exceptions — including a recent, temporary idling of a Ford F-150 plant — light truck models remain in high demand and, analysts say, are less likely to face cutbacks — at least in the near future.
The automotive downturn, so far, has been modest and largely predictable, according to Mike Jackson, CEO of AutoNation, America's largest new car retailer. If there have been any surprises they've come in the form of unexpected upturns in sales, like the industry experienced in December. The general consensus is that 2017 will see only slightly fewer sales than last year — around 17.4 million, or a 100,000-vehicle decline — according to Stephanie Brinley, a senior analyst with IHS Automotive. But others have begun lowering their numbers to reflect the market's January-to-April weakness.
Decrease in Demand
It's not just the overall sales figures that are worrisome, said David Andrea, an industry veteran with the Center for Automotive Research, in Ann Arbor, Michigan. It's "all the other symptoms of a (new car) cycle getting long in the legs."
Automakers are straining to keep demand propped up. They're writing more leases, as well as extended loans. Fully one-third of retail sales during the first quarter were backed by loans of at least 72 months, according to industry data. And a big push into sub-prime and extreme sub-prime loans has resulted in the highest levels of delinquencies since 2008, just before the industry's worst crash since the Great Depression, reported the Federal Reserve Bank of New York.
Other disturbing signs include the steady rise in rebates and other incentives, warned Bob Carter, head of U.S. automotive operations for Toyota. The Japanese giant's givebacks are "higher than we've ever experienced," Carter said during an industry forum marking the opening of the New York International Auto Show last month. Industry-wide, automakers report incentives are averaging about $3,900 a vehicle, or roughly 10 percent of the typical sticker price.
Related: Why Did GM Ditch Its European Business?
Even so, prices have been on a fast rise in recent years — partly driven by consumers trading up and then loading vehicles up with options — something that has narrowed the segment of consumers who can even consider a new vehicle anymore, even with discounts and extended loans.
There comes a fine line between buoying the market and throwing good money after bad. And with many manufacturers reporting dealer inventories well above the industry norm of around 60 days' supply, analyst Brinley says the question will come down to whether an individual company wants to retain market share or focus on profitability.
Since the end of the Great Recession, Brinley and Andrea agree, most manufacturers have maintained a good discipline. Industry observers, on the whole, praise companies like Ford and GM for their willingness to order short-term production cuts to keep things in balance. But the real test wlll come, they say, if and when sales start falling off more precipitously.
Even if the market manages to hold relatively steady — and IHS believes we could see volumes in the 17 million range for another three years or so — manufacturers are expected to take an increasingly cautious approach.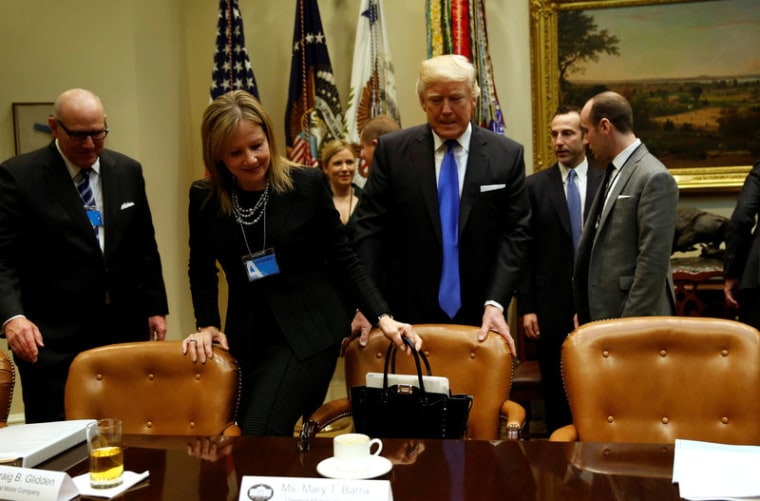 Politics at the Wheel
There have been some big investments announced in recent months, though most have been aimed at shifting production from slow-selling passenger cars to hotter SUVs and pickups.
It's another matter entirely to ask manufacturers to start building plants in a slowing U.S. market to replace factories in Mexico, China or other parts of the world, said CAR's Andrea, as Trump has been demanding.
"You're not going to bring back jobs and add capacity going into a downturn," he said, adding that investors are "watching closely" to make sure carmakers maximize returns on investment, rather than build new factories in the name of politics.