Britain's Royal Family is plugging in: Prince Charles will get the keys this week for a Jaguar I-Pace, the automaker's first all-electric model. The heir to the throne reportedly also tested a Tesla, but ultimately settled for the British marque — which already comes with three Royal Warrants — in a custom-made shade of Loire blue.
The I-Pace just recently began rolling into showrooms in key markets, including Europe, the U.S. and Asia, and it marks the start of a wave of new, long-range battery-electric vehicles that proponents hope will charge up the market for zero-emission transportation.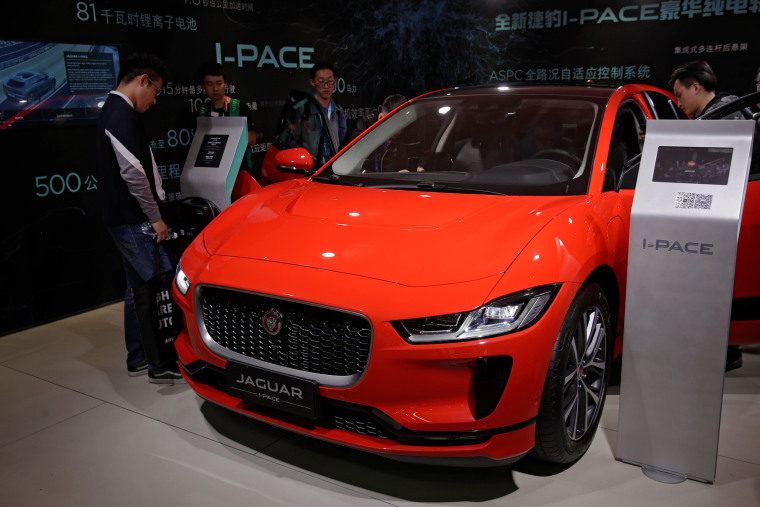 Daimler on Tuesday officially entered the market with the debut of its new Mercedes-Benz EQC model.
The EQC is part of a nearly $13 billion project that will see Mercedes launch an all-new sub-brand, EQ, while also switching to all-electric propulsion for Daimler's urban brand Smart. The company is "going all in…on electric cars," Daimler CEO Dieter Zetsche told an audience in Stockholm, where the EQC was unveiled.
Daimler and Jaguar Land Rover aren't alone. These days, it's tough to find an automaker, luxury or mainstream, not investing heavily in battery-car technology. Audi next month will introduce the e-tron all-electric counterpart to its popular Q5 sport-utility vehicle. Volkswagen is launching its own electric sub-brand, the I.D., as BMW already has; while General Motors will next year add two more models alongside the Chevrolet Bolt EV now in showrooms. All those Goliaths appear to be taking dead aim at the industry's David, California-based Tesla.
"We see the medium-to-longer term industry backdrop as challenging for Tesla's products," Goldman Sachs auto analyst David Tamberrino told clients in a research note on Tuesday. "We believe (Tesla) will see pressure to its lead in EVs as competition catches up," added Tamberrino, especially as it won't have any additional products to bring to market until 2020.
"We see the medium-to-longer term industry backdrop as challenging for Tesla's products," said one auto analyst.
Like most of the European auto industry, Daimler was long skeptical of electrification, whether in the form of hybrids, plug-ins or pure battery-electric vehicles. But the embarrassing diesel emissions scandal that has so far cost Volkswagen nearly $30 billion has helped change perceptions.
So have increasingly stringent global emissions and mileage rules that will require more and more of a focus on electrified drivetrains. Some markets, including India and Norway, plan to ban internal combustion engines entirely, and others may follow. That includes China, now the world's largest automotive market. While a total ban is still under discussion, recently enacted regulations will force a rapid rise in sales of plug-based models.
Daimler's urban minicar brand has already laid out a plan to become all-electric. And Mercedes will soon offer a mix of electrified options for almost all existing products, even its high-performance AMG line. There will be 10 fully electric offerings for its new EQ sub-brand by 2022, including the EQC and smaller EQA model to follow barely a year later.
"With the EQC — the first fully electric SUV from Mercedes-Benz — we are flipping the switch," said Zetsche, during the EQC debut in Stockholm. "Electric drive is a major component in the mobility of the future. We are therefore investing more than ten billion euros in the expansion of our EQ model portfolio, and more than one billion euros in global battery production."
Like Tesla, Mercedes is adopting a skateboard-like platform for its all-electric models that mount the batteries, motors, and key electronics under the floorboard. That lowers the center of gravity and improves the vehicle's handling. It also provides room for a larger battery pack that extends range without cramping passenger and cargo space.
The EQC will be a lot quicker than prior-generation BEVs, hitting 60 in about 4.9 seconds, topping out at 112 mph, and traveling 200 miles per charge. Motorists will be able to charge the batteries to up to 80 percent of capacity in around 40 minutes — or at home overnight.
The range and performance of next-generation BEVs is expected to be a big selling point, especially with luxury buyers, said David Sullivan, a senior analyst with research firm AutoPacific. Dietmar Exner, CEO of Mercedes-Benz USA, told NBC News the electric crossover will be "surprisingly affordable," which suggests it could nudge into the high-$30,000 to low-$40,000 range for base models.
That could pose a real challenge for Tesla, especially as it isn't expected to even reveal its own compact SUV model until next March, according to CEO Elon Musk, with production set to begin in 2020. And considering Musk has hinted a new plant may be needed — and in light of Tesla's history of production delays — that date may be quite optimistic, according to observers.
Goldman Sachs' Tamberrino isn't the only self-described "bearish" analyst when it comes to Tesla. If anything, a number of his colleagues have begun questioning the company's situation, especially in light of the recent flap that saw CEO Musk say he wanted to take Tesla private and then, just weeks later, reverse course.
While Tesla does have a unique and loyal following that other manufacturers can only dream of, so much competition from every direction means the California upstart could be facing some real challenges.