It may not strike fear in the hearts of hardened criminals, but the Los Angeles Police Department has added a new tool to its fleet of cruisers -- a modified version of the BMW i3 battery-electric vehicle.
Bearing the LAPD's familiar black-and-white paint job, with the motto, "To Protect and to Serve," emblazoned on its doors, the pint-sized EV will patrol in downtown L.A. as part of the city's efforts to "green" its government fleet.
"Today, we take another step toward becoming the most sustainable city in America," Los Angeles Mayor Eric Garcetti said during a ceremony marking the debut of the LAPD's BMW i3. "This year, Los Angeles will become home to the largest city-owned fleet of pure battery electric vehicles anywhere in the country, and we will save taxpayer dollars along the way."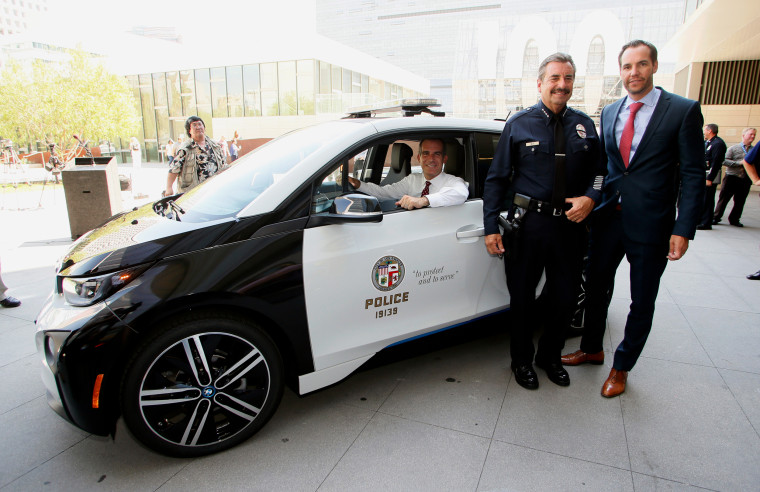 All told, various Los Angeles government fleets – including police, fire and other departments, will lease 160 battery-electric vehicles, as well as another 128 plug-in hybrids.
The i3 joins an assortment of unusual police cars in service around the world, a list that includes supercars like the Lamborghini Huracan and Ferrari FF, as well as a hearse. Some are used for high-speed freeway pursuits, but others serve as part of community campaigns emphasizing safety or simply to put a more friendly face on the local constabulary.
Is Toyota Trying to Build a Flying Car? If So, It Won't Be the First
The i3 is one of two models offered by the Bavarian maker's new sub-brand BMW i. It features a lightweight carbon fiber body and is powered by a small electric motor drawing power from a lithium-ion battery pack.
"The i3 is a brilliant fit with the technology-driven research philosophy of the LAPD," said Christine Fleischer, manager for BMW plug-in cars in the U.S. "This will be a valuable learning experience for both BMW and the department."
The LAPD has also been experimenting with electric motorcycles, though their limited range has prevented the department from using them as a replacement for conventional, gasoline-powered models.
Los Angeles is by no means the only place where police have been looking to go green. The Police Service of Northern Ireland tried out a Vauxhall Ampera plug-in hybrid several years ag.
Part of the challenge is the limited range that electric power offers -– something that can be overcome with plug-ins that can fire up their gas engines when their batteries run down. But police cruisers can get beaten up pretty badly, and it's far from certain the hybrids can stand up to patrol duties on a day-to-day basis.
Besides, they typically can't deliver the power needed for high-speed pursuits, which is why some police departments have been opting for more sporty alternatives. A number of European forces have turned to brands like Alfa Romeo and Mercedes-Benz. AC Schnitzer, a performance "tuner," has modified the BMW 428i coupe for use on the German Autobahn.
Buying 'Bad': Young Used Car Buyers Crave Walter White's Wheels
The oil-rich emirate of Dubai has taken things to extremes. It has built up a fleet of supercars, including a four-seat Ferrari FF which can hit 208 mph thanks to its 650-horsepower V-12. If that's not fast enough, there's also a $1.6 million Bugatti Veyron that can reach 60 in a mere 2.5 seconds, on its way to a top speed of 270 mph.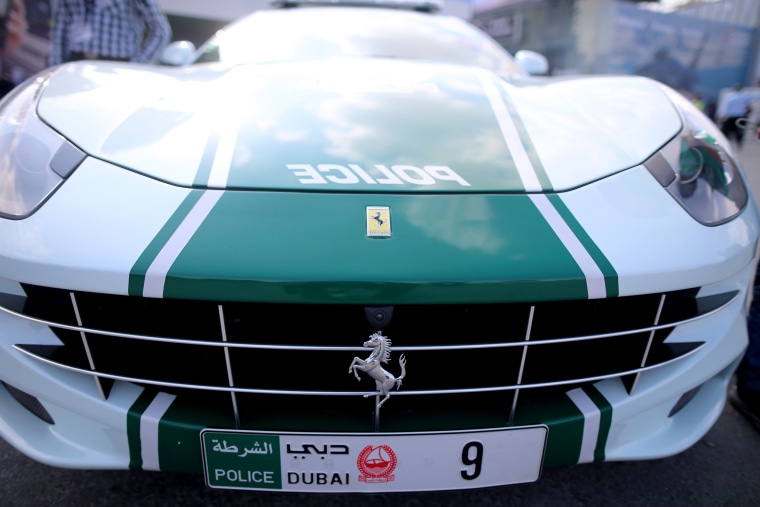 Dubai also has a McLaren MP4-12C, a Bentley Continental GT, a Mercedes SLS and a Lamborghini Aventador in its fleet.
While Italian authorities haven't gone that far, they did add a 202 mph Lamborghini Huracan to patrol their autostrada – the equivalent of America's Interstate highways -- in spring 2014.
Australia is notoriously intolerant of speeders, and authorities in New South Wales have a Porsche 911 that can hit 60 in barely 4 seconds, enough to catch all but the fastest miscreants. But the sports car is largely used for community events, rather than patrol duties.
The Vancouver, British Columbia, police department has several unusual cars in its fleet, including a Honda Civic Si-R. Among other things, the nonstandard cruisers are used to demonstrate what modifications are – and aren't – legal for street racers to make.
The constabulary in Avon and Somerset, England, picked up a skeletal Ariel Atom, with its modified, 350-hp supercharged Honda motor, to promote the department's Safer Rider campaign.
Perhaps the oddest law enforcement vehicle can be found in Toronto. As part of a new campaign to emphasizing the dangers of texting while driving, the city's police force deputized a hearse.
Over the years, police forces around the world have tried out a variety of other vehicles meant to deal with local challenges: SUVs to deal with hostile and desert environments, as well as vehicles modified with tracks to help crawl through deep snow.
More From The Detroit Bureau
Top Drops on Global Convertible Sales
U.S. Motorists Saved $1.4 Billion on Gas; Prices Heading Below $2?