The new 2017 Mercedes-Benz E350 comes loaded with all the features you'd traditionally expect of a high-line automobile: lots of leather, wood and chrome – as well as a 241-horsepower engine. But, minus the familiar Mercedes tri-star logo on the grille, you can find many of the same traditional luxury features on some products costing less than half as much as the German sedan.
And that's posing a serious problem for upscale brands like Mercedes, BMW, Lexus and Cadillac. As many mainstream brands, such as Japan's Mazda, add more high-line features, how does a true luxury brand continue to differentiate itself?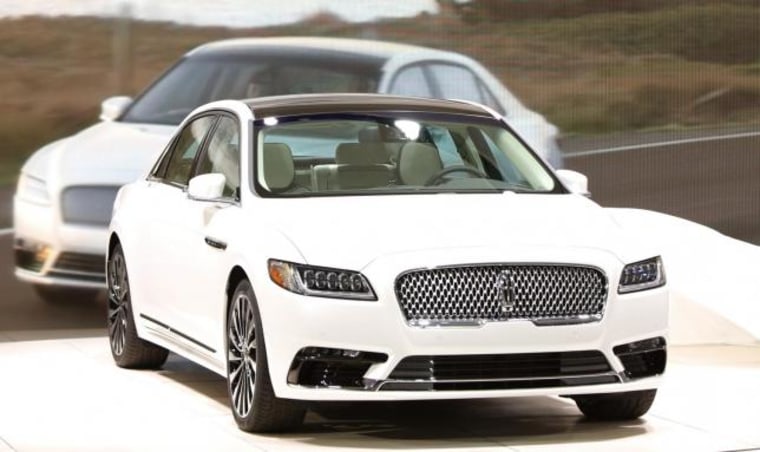 "Because so many things that used to be considered luxury are now available across the line, the only way to differentiate yourself as a luxury manufacturer is to make the total ownership experience painless and seamless," said Joe Phillippi, senior analyst with AutoTrends Consulting.
Features like leather and wood – never mind that big engine -- still matter, but luxury car makers have discovered the best way to stand out in today's hotly competitive market is to offer a range of high-tech services and features too costly for mainstream brands to include.
In fact, Ford's long-struggling Lincoln brand is hoping it can rise above the rest of its luxury competitors by offering a suite of customer services, including a concierge that can arrange tickets to a play or even set up a "date night." Starting with the 2017 Lincoln Continental, all new Lincoln models get standard pickup and delivery – along with a free loaner – when the car needs to go in for service or repairs.
Read More: Here's Why Luxury Carmakers are Going Vroom for the SUV Boom
"The goal," said Consumer Marketing Manager Rob Rosenbach, "was not just to deliver a laundry list" of traditional luxury cues, but to focus on the "ownership experience."
Hyundai, which has been tinkering with the idea of moving upscale, will take a similar approach as it spins off the new Genesis luxury brand for 2017. It will also offer valet pickup and delivery, as well as free scheduled maintenance for three years. And owners will be given a choice of three different ways to schedule an appointment: by calling a dedicated Genesis hotline, through the Connected Services feature built into the vehicle, or by opening up an exclusive Genesis smartphone app.
"Respect and courtesy are the foundation of the Genesis Experience. We will honor our owners' time through streamlined processes that put their needs first," said Erwin Raphael, general manager of Genesis in the U.S. market.
High-tech systems allow manufacturers to create a variety of new features and services, changing not only the way owners schedule service but how they buy a vehicle in the first place. Mercedes-Benz is launching a new online system that will allow buyers in Germany to complete the order process almost entirely online.
"Customers would like to come into contact with a premium brand everywhere and at any time. They expect more and more digital information and interaction possibilities," said Ola Källenius, the Daimler board member in charge of Mercedes-Benz marketing and sales. The new system, he said, is taking a further step towards the sales of the future."
Unfortunately, for tech-savvy American motorists, state franchise laws currently prohibit online buying of new cars, though manufacturers are walking closer and closer to that process. They're also setting up non-traditional showrooms – like the new Lincoln Experience Center in Newport Beach, California. Tesla has bucked those franchise laws in a number of states by setting up unique, factory-owned showrooms, often in unusual locations like shopping malls.
Today's cars are rapidly becoming computers on wheels, with more electronics onboard than you'll find in the typical home or office. Until recently, most high-tech systems debuted on the highest end of the luxury spectrum, only eventually working down to mainstream models. But "technology is being democratized," said analyst Phillippi, sometimes appearing first on lower-priced products targeting tech-savvy younger buyers.
There's a downside to technology, according to industry studies. Complaints about high-tech systems far outnumber traditional quality problems, according to the latest J.D. Power Initial Quality Survey. But that actually opens up an opportunity for luxury makers.
Read More: Some Big Surprises as U.S. New Car Quality Makes Solid Improvement
BMW, which launched its newest, tech-laden 7-Series sedan for 2016, wants to make sure buyers aren't overwhelmed and frustrated by all that gear. The maker now schedules a follow-up appointment with 7-Series buyers a week or two after they take delivery. The idea, explained BMW North America CEO Ludwig Willisch, is to make sure they fully understand all the new systems on their vehicle and how to use that technology.
That is expected to translate into greater customer satisfaction and increased loyalty – which translates into repeat business when it is time to trade in.