Pulling myself up into the cab of the big 18-wheeler, I settle into the shotgun seat and buckle up while driver Mark Alvick fires up the Freightliner semi. With a groan, the airbrakes release, the big diesel rumbles to life and we head off down the highway.
It takes a fair bit of muscle to manage a heavy truck like this, but after a couple moments, Alvick taps a switch on the sprawling instrument console and settles back, both hands off the steering wheel.
A brief moment of panic quickly subsides as the truck maintains its rock-steady grip on the road, smoothly negotiating a sweeping curve on the two-lane blacktop north of Las Vegas.
This isn't a normal 18-wheeler.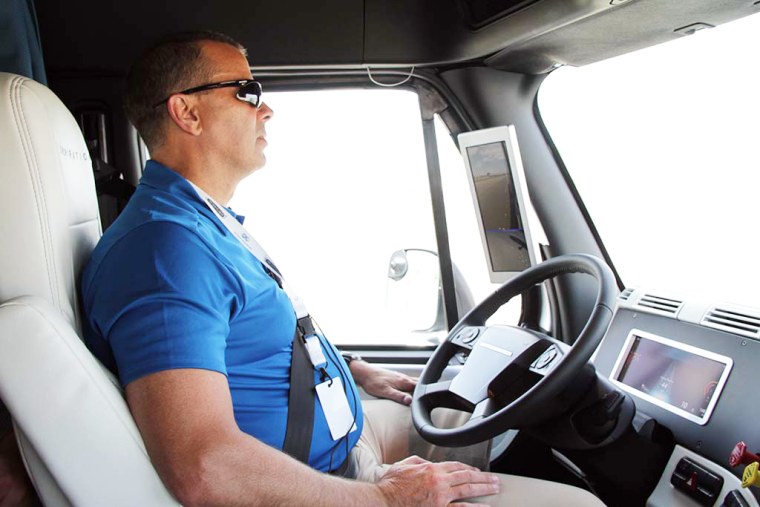 It's the prototype Freightliner Inspiration, the world's first autonomous heavy truck licensed for use on public roads. The company, the country's largest manufacturer of heavy trucks, plans several years of tests and, working with its many customers, hopes to commercialize this self-driving technology by decade's end.
"First time I tried it, I was a bit nervous, especially when I had to pass another truck coming from the other direction" admits Alvick, the Director of Vehicle Performance for Freightliner. "Now I'm very comfortable."
In fact, Alvick slowly admits, the system does a better job holding its lane than he does, especially after a long day behind the wheel. And that's one of the reasons why Freightliner and its parent, Daimler Trucks North America, hope to find a market for an autonomous semi.
Federal data show that about 90% of heavy truck accidents are the result of human error, quite often due to driver fatigue. Their research indicates truckers are more relaxed when switching to autonomous mode, and less likely to make mistakes.
"If you watch the wheel move, those are all the inputs I'd have to do," explains Alvick. "It's fatiguing."
The system uses a variety of sensors, including a windshield-mounted camera and a radar unit buried in the big grille. It's a similar setup to what Daimler's Mercedes-Benz subsidiary is developing for its passenger cars.
More from The Detroit Bureau:
But where Mercedes hopes to soon market a fully autonomous vehicles that can do pretty much anything a human driver does, Freightliner is playing things a bit more cautiously.
At least initially, its Inspiration truck, and the production models to follow, will be limited to use on well-paved roads with clearly visible lane markers. A human will still need to sit behind the wheel ready to take over at a moment's notice in the event of a problem. It won't be able to execute passing another truck or pull up to a loading dock. For that, you'll still need the human touch.
But Martin Daum, president of Daimler Truck North America, hints that if the more limited technology proves out – and if both trucking companies and the public accept the idea – future models could be offered with even more advanced features.
There's also the issue of regulations. Right now, Nevada is the only state in the union that allows testing of autonomous trucks on public roads. Automotive manufacturers are pressing for uniform federal regulations. In the meantime, Freightliner hopes to log as many miles as possible to prove the technology works.