South African entrepreneur Elon Musk has a history of taking big risks, whether launching a battery-electric car company or rockets bound for the International Space Station. But some observers are wondering whether he might be pushing things a little too far this time.
Musk's Tesla is burning through cash at a frantic rate as it prepares to introduce its new Model 3 sedan over the summer, its first foray into the mainstream automotive market. But the project pushed Tesla deep into the red for the fourth quarter of 2016, leaving Musk himself to concede the automaker is "getting very close to the edge."
Cash Cow or Risky Investment?
Edgy investors — who had driven up Tesla shares by more than 50 percent over the last 12 months — have pulled back in recent days despite Musk's assurance that the automaker is set to deliver on its long-term promise: sales of a million vehicles a year by 2020.
That could transform Tesla into a cash cow. But for the moment, it seems increasingly likely that the automaker will need another cash infusion before the first Model S sedan starts rolling off its Fremont, California assembly line.
Tesla doubled its capital spending during the final three months of the year, a key reason why it turned in a loss of $121.3 million, or 78 cents per share, for the quarter. The news wasn't all bad, though; the deficit came in at less than half the $320.4 million Tesla lost the year before. Meanwhile, production of Tesla's two existing models rose 77 percent during the October-December quarter, while sales jumped 27 percent.
Related: Musk Shares What's Next for Tesla as Stock Price Soars
Musk, meanwhile, spiced up a conference call with analysts and reporters by confirming widespread expectations the Model 3 sedan would go into production by July of this year. Considering Tesla has yet to bring a new product to market on time, many observers had been worrying that the midsize battery-electric model wouldn't make it to market until sometime in 2018.
All Eyes on the Model 3
The Model 3 is the foundation of Tesla's future strategy. At a starting price of around $35,000, or half that of a base Model S, it's expected to transform Tesla from a niche player into a mainstream manufacturer. During the earnings teleconference, Musk reaffirmed a goal of turning out 500,000 vehicles in 2018, a roughly tenfold increase over 2015 production. By 2020, the Tesla CEO declared, the target is a full 1 million.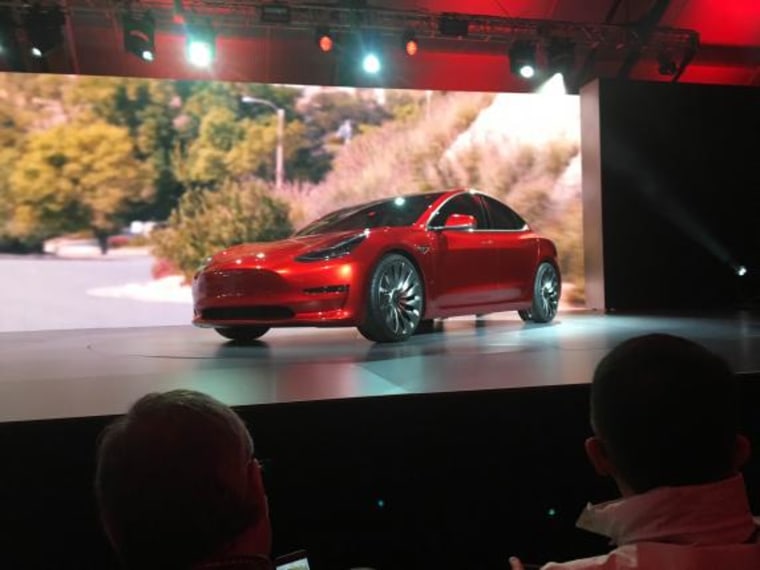 Not everyone is convinced Tesla will get there, even if it does meet its July deadline. Musk himself acknowledged, "It's not simple. You've got to put these parts together into a car and then you've got to deliver these cars. None of these things occur instantaneously."
Production of the new Model X battery SUV ran well behind schedule for much of 2016, largely due to design and quality snags. Ironically, "Mainstream buyers are going to be a lot less tolerant" than the more affluent customers who have been purchasing the Models S and X, cautioned analyst David Sullivan of AutoPacific.
Tesla is betting that higher volumes will offset the lower profit margins on the Model 3, so even a modest shortfall could worsen the company's cash crunch. About the worst thing that might happen would be to get the same drubbing influential Consumer Reports magazine handed the Model X when it declared the battery SUV," the sixth least reliable vehicle in our (annual automotive quality) survey," that was released last November.
The Trump Dichotomy
Even if all goes well on the manufacturing side, Tesla could face other obstacles. Fond of using blogs and Twitter to outline his vision of the future, Musk has developed a large and loyal fan base. But he surprised many of his followers by agreeing to join the economic advisory council set up by another dedicated tweeter, President Donald Trump.
The two have expressed seemingly polar opposite positions on many environmental issues, Trump going so far as to call global warming a "hoax." For his part, Musk has defended his new ties to the White House, insisting he will use the forum to help shift the president's opinion. But there have been reports some customers began canceling advanced reservations for the Model 3 after Trump announced his immigration policies — despite Musk's public criticism of the travel ban.
During last Wednesday's conference call, Musk confirmed some reservations have, indeed, been canceled, though he declined to say how many or identify why. But he did stress that Tesla still has more than 300,000 customers lined up, each having plopped down a $1,000 deposit.
There are other issues worrying investors. That includes the controversial takeover of Solar City, the solar cell company started by several members of the extended Musk family. Despite the CEO's promise of long-term synergies, some still worry the acquisition will drain not only cash but Elon Musk's attention.
A Need for Profit
During the earnings call, Musk was asked whether SpaceX, his rocket company, could also prove a distraction, especially if the Trump administration ramps up the nation's space exploration efforts. But the Tesla CEO insisted, "I plan to stay with Tesla forever unless someone kicks me out."
So far, there are no signs of any such revolt, even after Tesla's weak earnings report, its likely need for a new infusion of capital, and this past week's stock slide. But there's no question that after the giddy ride of the last 12 months that saw Tesla shares hit a 53-week peak of $280.98, caution is now becoming the watchword.
Since going public, Tesla has delivered a profit only twice — and even then using its own, non-GAPP accounting methods. Noting that the research firm now expects another loss for 2017 of around $2.15 a share, CFRA analyst Efraim Levy advised Tesla investors this week to go from "Hold" to "Sell."
"While we see a clearer path towards Model 3 production," Levy wrote, "we still see execution and other risks to the timing of and achievement of targets."