Tesla has built a reputation for taking things to extremes, and it lived up to expectations at a standing-room-only event near San Francisco Thursday night.
The upstart electric vehicle manufacturer had promised to deliver some big news in the form of a long-range Semi truck that could transform the U.S. freight-hauling business. But hidden in the back of the 18-wheeler it rolled out was another surprise — a pint-sized electric Roadster that Tesla CEO Elon Musk billed as the world's fastest production automobile.
"The purpose of this is to give a hardcore smackdown" to vehicles running on internal combustion engines, declared Musk to wild cheers and applause from an audience full of fans and employees.
Nearly 11 billion tons of freight will be hauled by truck this year, or two-thirds of all the cargo moving across the country, and traditional diesel semis handle a major share of the load. But the typical 18-wheeler getting barely five to seven miles a gallon also sucks down a lot of fuel and catches blame for a disproportionate share of transportation-based pollution.
That's where Musk said the Tesla Semi could find a ready market. "It blows my mind and I think it'll blow yours," said the South African-born entrepreneur as two of the big rigs rolled into sight.
With a dramatically aerodynamic design — which Musk claimed is more windswept than a Bugatti Chiron supercar — the Semi can get up to 500 miles on a charge. While that's less than the 1,000 miles many diesels can manage on a tank, it's also more than enough to handle most heavy-duty freight assignments, which average about 250 miles.
And for longer trips, Tesla plans to set up a network of "Megacharger" stations across the country — much like the high-speed superchargers it has set up for its electric passenger vehicles. A trucker will be able to stop, on average, every eight hours or so and during a half-hour break get enough energy to travel another 400 miles.
A truck that handles like a sports car
With four separate motors driving the four back wheels of the cab, the Semi will have almost sports car-like performance, launching from 0 to 60 in just five seconds, or 20 seconds when carrying a full load. It can take more than a minute for a conventional diesel truck.
More importantly, for customers who absolutely depend on reliability and durability, Musk promised the Semi would be low maintenance, last for at least a million miles, and be tough enough to stand up to a "thermonuclear explosion…or your money back." An even bigger selling proposition for tight-fisted shippers: operating costs that will be at least 10 percent lower than for a conventional diesel semi.
Tesla is promising to get the Semi into production in 2019, with the new Roadster set to follow a year later. With the sleek 2+2, Musk seems determined to not only prove that battery-cars are here to stay but that they can top even the most exotic and expensive gas-powered automobiles.
"The Roadster will be the fastest production car ever made. Period," said the Tesla founder as he rattled off a series of jaw-dropping numbers — including its $200,000 sticker price.
Even now, the Tesla Model S P100D with optional Ludicrous Mode can launch from 0 to 60 in 2.3 seconds, within hundredths of a second of the current king-of-the-hill, the Dodge Challenger SRT Demon. The Roadster with Maximum Plaid Mode — a nod to a line from the Mel Brooks movie, Spaceballs — cuts that to 1.9 seconds and secures the crown. It will hit 100 in 4.2 seconds and top out "above 250 mph," according to Musk.
For gearheads, he noted the three-motor Roadster will turn out an unprecedented 7,376 pound-feet of torque, more than a diesel 18-wheeler, and 10 times what even some of the world's most powerful gas sports cars can manage.
Meanwhile, the Roadster will have a range of 620 miles of highway driving, Musk added, noting, "You'll be able to travel from Los Angeles to San Francisco and back without charging."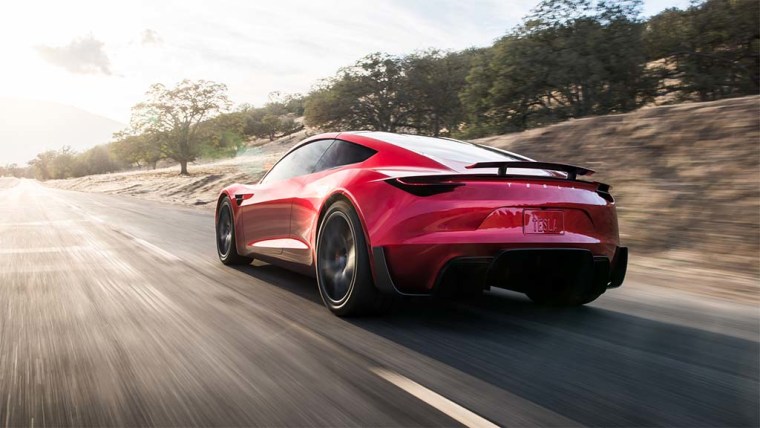 Good news in a bad week
The timing of the two announcements couldn't come at a better time for Tesla, the company being socked with a series of setbacks in recent weeks. It delivered unexpectedly severe third-quarter losses, has been facing what Musk called "production hell" all but stalling the launch of its new Model 3 sedan, and has been hit with a series of embarrassing discrimination lawsuits.
Related: Tesla accused of being a 'hotbed of racist behavior'
So, despite the potential for the new trucks, there are plenty of skeptics. The delays with the Model 3 are particularly worrisome, especially since Tesla has yet to deliver a smooth launch. Its Model X battery-SUV was two years late to market.
Could the Semi and Roadster break its string of bad luck? Perhaps, but some analysts are questioning whether it will have the money to carry it through to 2020, at least without having to go begging for more capital.
But after tumbling in the wake of the third-quarter earnings report, Tesla's stock has once again rebounded. And the optimists among investors and potential buyers are likely only to be buoyed by Thursday's announcements.
"The debuts of the Tesla Semi and the surprise new roadster exemplify everything Tesla does right," said Jessica Caldwell, director of industry analysis for data tracking firm Edmunds. "Very few brands have the ability to emotionally connect with consumers quite like Tesla."