A woman whose semi-autonomous Tesla rammed into a fire department truck in Utah last week told police her car was in Autopilot mode at the time of the crash, authorities said Monday.
The unidentified 28-year-old driver was looking at her phone when her Model S — which was traveling at 60 mph — careened through a red light and crashed into the truck, Sgt. Samuel Winkler of the South Jordan Police Department said in a statement.
The woman broke her right foot, Winkler said, while the truck driver was checked for whiplash but not hospitalized.
Winkler said investigators were working with Tesla technicians to gather and review data stored in the car.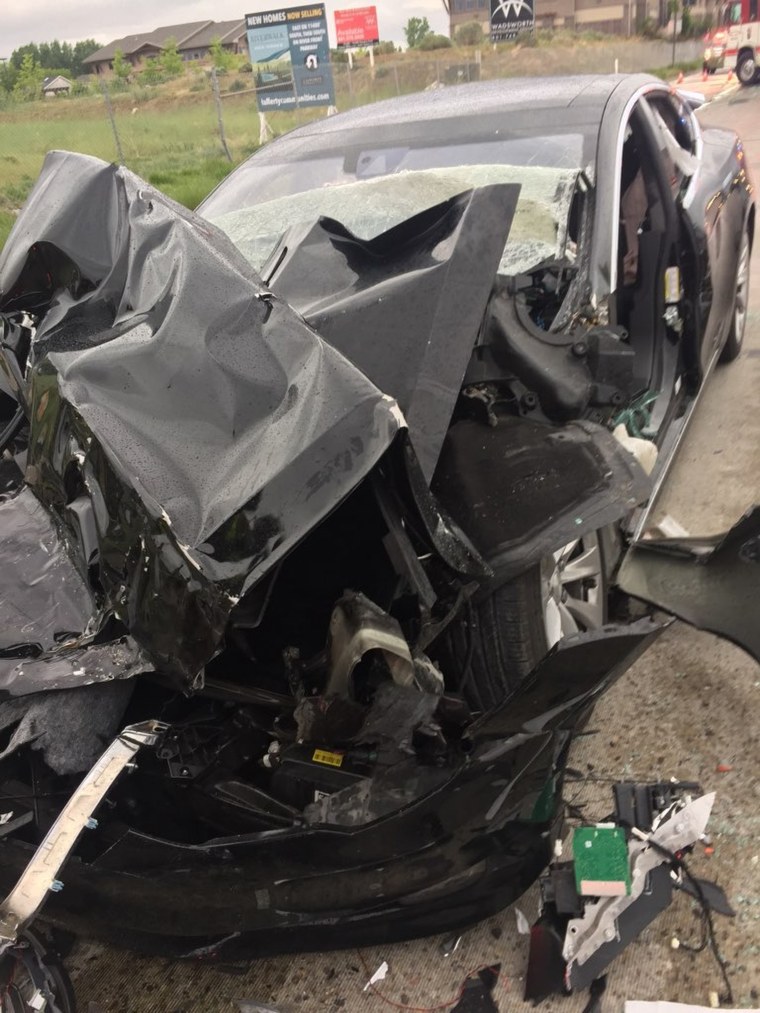 The company, which warns drivers of semi-autonomous vehicles to remain alert and active — and "to be prepared to take action at any time" — said in a statement that it had not yet received that data.
Tesla "thus does not know the facts of what occurred, including whether Autopilot was engaged," the statement said.
The carmaker's co-founder, Elon Musk, said in a tweet Monday that it was "super messed up that a Tesla crash resulting in a broken ankle is front page news and the ~40,000 people who died in US auto accidents alone in past year get almost no coverage."
Musk added: "What's actually amazing about this accident is that a Model S hit a fire truck at 60mph and the driver only broke an ankle. An impact at that speed usually results in severe injury or death."
In a crash of another semi-autonomous Tesla earlier this year, a driver was killed after a Model X smashed into concrete barrier on a highway in Mountain View, California.
The company later said the driver had not responded to several hands-on warnings before the crash.
The carmaker was later banned from a National Transportation Safety Board-led investigation into that crash for publicizing the agency's preliminary findings.
"Releases of incomplete information often lead to speculation and incorrect assumptions about the probable cause of a crash," the NTSB explained in a statement.
Tesla, which said it planned to file a complaint with Congress, responded that the board was "more concerned with press headlines than actually promoting safety."