Early on the morning of Aug. 1, 2006, as Dan Lindner prepared to leave his Illinois home for work, he kissed each of his two boys good bye. But before he could walk out the door, 15-month-old Aidan came waddling over for a second kiss. Not to be outdone by his little brother, Danny, 3, ran to his dad to get a second kiss goodbye of his own.
That was the last time Lindner ever saw his boys alive.
Later that morning, Lindner's wife Angela loaded the boys into the family minivan along with her mother, Dorothy Meller, for a four-hour drive to visit family in Ohio. Soon they got caught in congestion on Interstate 80, slowing down just behind a flat-bed truck.
But behind them, a three-axle Intercontinental 9400 semitrailer didn't slow down in time. That truck plowed into the Lindner's minivan at high speed, crushing it, and slammed into the flat-bed truck ahead, creating a horrific fire. Angela, the boys and her mother were all killed instantly. Clyde Roberts, the 57-year-old truck driver of the 9400, also died at the scene.
Fatal truck accidents like the one that killed Dan Lindner's family are all too common—happening nearly 11 times every single day in this country on average, and killing nearly 4,000 people each year, according to the Federal Motor Carrier Safety Administration.
On top of that, more than 100,000 people are injured every year in truck crashes. That's as bad as if a commuter jet crashed every single week of the year, killing everyone on board. And the numbers have been getting worse: Truck-crash fatalities have increased since 2009, as an improving economy leads to more goods being shipped on American highways and more pressure being placed on trucking companies—and drivers—to get the loads delivered on time.
Interviews by CNBC with regulators, industry, lawyers and victims reveal a toxic mix of causes for the deaths. The reasons why are as varied as overly tired drivers, companies that don't screen for problem drivers and government that is slow to force new safety technologies on to American roads. Some blame even goes to passenger vehicles weaving dangerously in and out of the way of heavier, slower-reacting trucks.
What is clear is that, in any other industry, thousands of deaths a year would generate a national outcry. But because trucking deaths are scattered in small numbers across the country, they don't often get covered in the national news—although this summer's fatal crash in New Jersey involving actor Tracy Morgan was a rare exception.
"I hope they were asleep and they didn't know what hit them, and it was painless."
And with trucking as the backbone of a U.S. economy that's struggling to grow, both government and industry are wary of putting too many restrictions in place that could harm the country's ability to do business.
The cost of doing business
In some ways, that means trucking fatalities have become the awful human cost of doing business in America.
Today, Dan Lindner said he still thinks about his family's last moments, especially those of his two little boys. "You never want your child to be scared. You never want your child to be hurt," he said. "I hope they were asleep and they didn't know what hit them, and it was painless."
And he said he will always remember that last kiss. "I'm fortunate to have that last memory and that last moment with them," he said. "I'm lucky that way."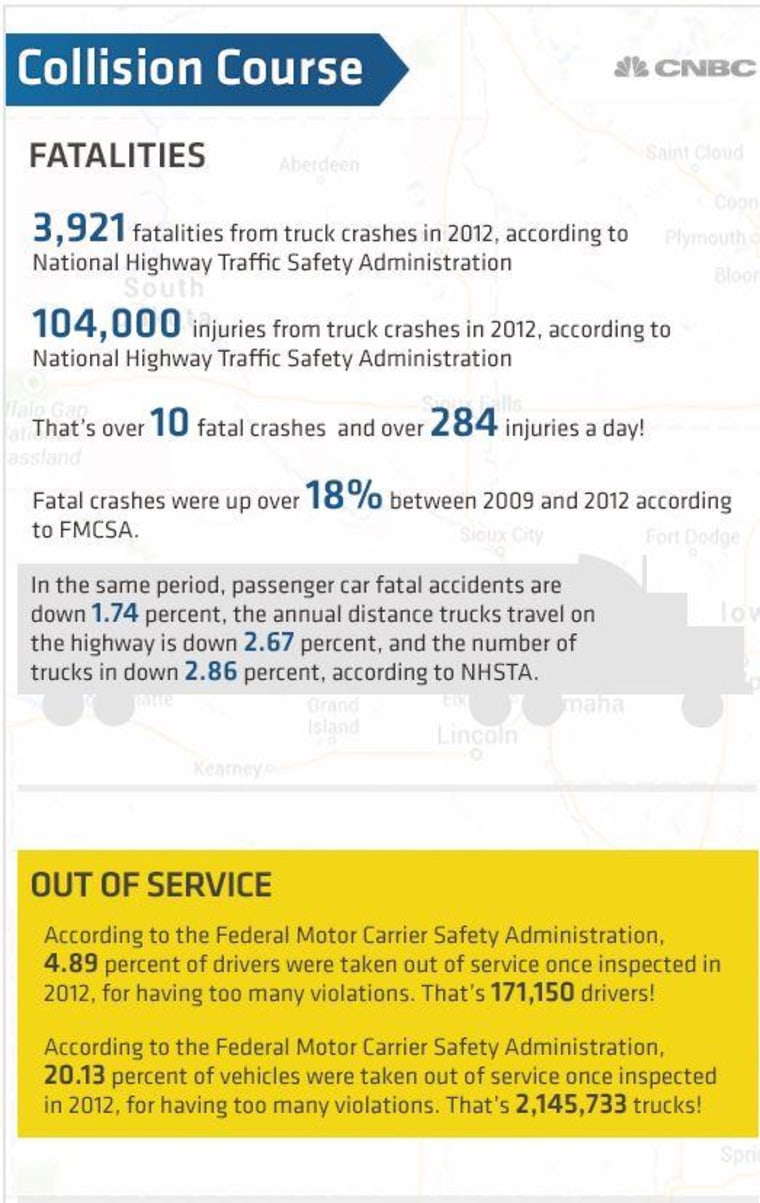 Lindner's lawyer, Jon Papin, hired a private investigator to dig into the background of the truck driver who killed Lindner's family. They found that the driver had been given seven warnings from his company's safety manager. And he had three prior rear-end accidents—something experts say is a red flag for unsafe driving. "This is a driver we don't think should have ever been on the road," said Papin.
Millis Transfer, the freight company that operated the truck in the Lindner family crash, did not respond to multiple requests for comment from CNBC.
Trucking is an industry that's straining to keep up with surging demand for goods. The industry trade group American Trucking Associations (ATA) says there are 30,000 to 35,000 unfilled truck driver jobs in the United States, and it expects overall freight tonnage to jump 23.5 percent from 2013 to 2025. To keep up with all that expected growth, the industry says it will need to add nearly 100,000 drivers each year over the coming decade.
Trucking companies have a hard enough time keeping ahold of the drivers they already have. Trucking can be a tough job, with long hours, low pay and extended time away from family. That leads to extremely high driver turnover among large trucking carriers, 92 percent annualized in the first quarter of 2014, ATA says.
All that economic pressure can lead to a very tired workforce. "Companies are wanting things delivered at a certain time, consumers are wanting them overnight," said Dan Ramsdell, the national director of the Association of Plaintiff Interstate Trucking Lawyers of America. "And so it forces drivers to drive over hours because the companies permit that to happen."
But one industry spokesman says simply cutting driver hours isn't necessarily the solution. "There will always be risk on our roads, there's no doubt," said Dave Osiecki, executive vice president of national advocacy at the American Trucking Associations. "We have to decide as a society: how much risk do we accept?"
Osiecki said new rules can provoke unintended consequences. "We reduce the number of hours a truck driver can operate and work, what will happen is we will put more trucks on the road," he said. "So that's a trade-off. That will increase risk."
Who's to blame?
Reformers and the trucking industry also disagree on almost everything else about the fatal crash epidemic, including what causes them, who's to blame and what should be done about it.
Plaintiff's attorney Ramsdell said the No. 1 problem with commercial trucks is mechanical: Unsafe brakes. But industry spokesman Osiecki said faulty brakes are not to blame. "That doesn't cause crashes, people cause crashes," he said. "We don't direct our resources towards the human behavior element of this."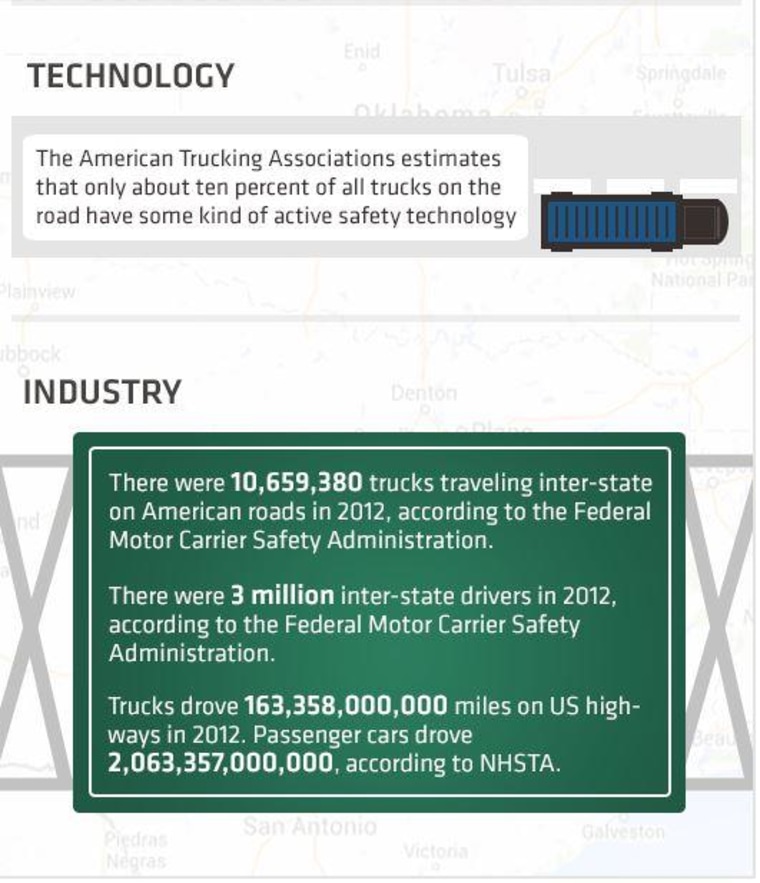 And at the same time, the trucking industry opposes a new set of safety rules requiring drivers to get a mandatory "restart" to their work week with two consecutive nights of rest between 1 and 5 a.m. The industry argues those rules are putting more drivers on the roads during morning rush hours—when there's greater congestion and more passenger vehicles on the road. "If you put those trucks in the early morning hours, we've got a bigger risk," Osiecki said.
But trucking safety advocates disagree. "That's not accurate," said John Lannen, executive director of the Truck Safety Coalition. "The restart provision doesn't tell you when you need to drive and when you need to sleep. All it says is when you have finished all the hours that you're allowed to work, that you should be taking two nights sleep."
And the two sides disagree over who's at fault in most of the crashes. "According to all the data that we've seen, 70 percent of those crashes are initiated by, unfortunately, someone other than the truck driver—the car driver, the SUV driver," said the trucking industry's Osiecki. "So we're responsible for about 30 percent of those crashes."
"That's inaccurate. It's an attempt to do the blame game," said safety advocate Lannen.
What's more, there are loopholes in truck safety regulations that allow some unscrupulous carriers to evade federal safety rules by simply re-registering with the Department of Transportation under a new name. Studies show so-called chameleon carriers not only avoid penalties and liability by shifting corporate structures, they're also more dangerous than their more stable competitors.
"You can't stop that commerce. But you need to do it safely—you need to do it properly."
The federal government has launched a massive vetting operation to try to spot chameleon carriers—and shut those companies down if they're guilty of enough safety violations. "We connect the dots behind the scenes," said Anne Ferro, administrator of the Federal Motor Carrier Safety Administration. "We say in our records, 'are there patterns in this company's operations that show that they actually are sharing an address with a company we've shut down before?'"
There are more changes on the horizon that could radically alter the trucking industry—and dramatically increase safety on the roads. Volvo is working on trucks that use radar to detect cars ahead, and brake automatically if the truck gets too close. The company has similar technology that can tell when a driver has drifted out of his lane, and readjust.
Meanwhile, Mercedes-Benz is working on a fully autonomous truck—a long-haul road robot that would need almost no input from its operator.
Of course, these developments will come far too late to save Dan Lindner's family. "You can't take the trucks off the road," Lindner said. "You can't stop that commerce. But you need to do it safely—you need to do it properly."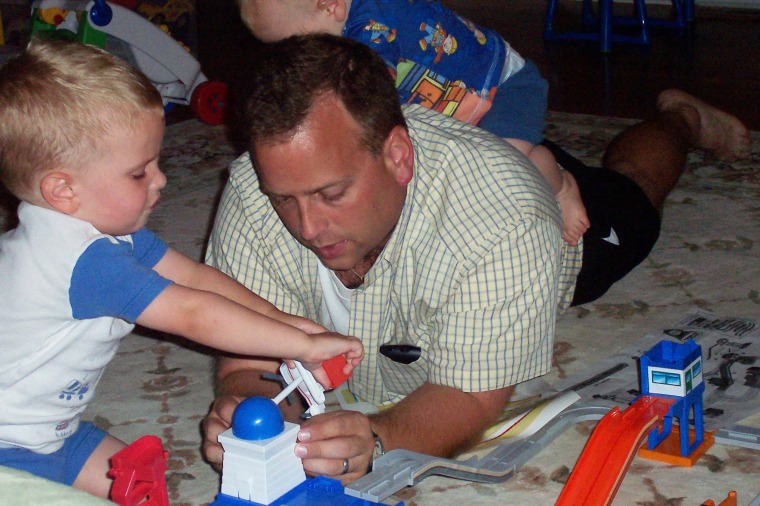 Lindner sued Millis Transfer, the company that operated the truck that killed his family. The legal website Avvo reports that he settled out of court for $13 million.
Lindner remarried in 2010, and he and his new wife had a baby girl—named Madeline—just 17 days before he sat down to talk to CNBC. Lindner placed a small white statue of two baby angels by Madeline's crib. "She has the looks from her brothers," Lindner said. "Her nose, her lips and her chin, definitely—she gets from the two angels that are looking down on her.
"I'm a fortunate person," Lindner said. "I mean, in an odd sense, I'm a fortunate person."