American consumers pay an average of $35,000 for their new car, truck, or crossover. But what does that sum actually cover? And with President Donald Trump's border tax threats that could add 20 percent to the price of any car manufactured outside America, exactly how crucial are labor costs to consumers — and automakers?
"We'd kill to cut a nickel off the price of a car," one high-ranking automotive insider told NBC News.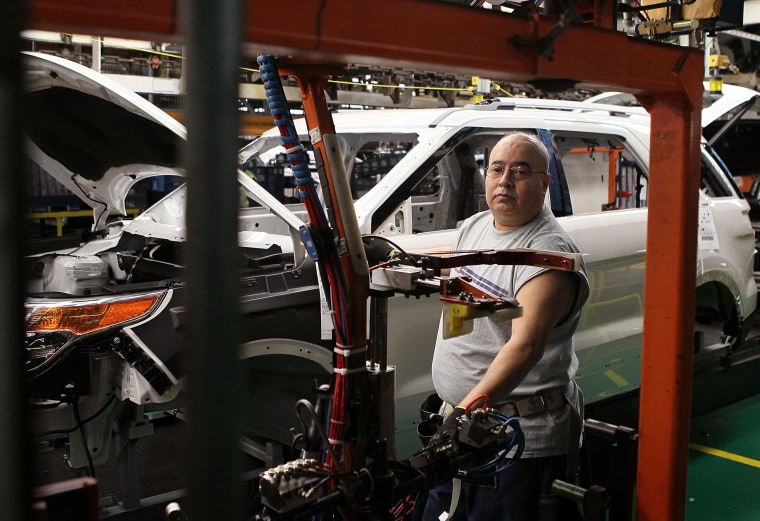 Labor is nowhere near the most expensive part of building a car. Add in all factory costs, including the $1 billion price tag for the plant itself, and you're looking at roughly 10 to 15 percent of that vehicle's $35,000 sticker price, according to several senior industry executives who asked to remain anonymous in revealing typically proprietary data.
The auto industry has found itself in the political spotlight in recent months, as Trump has called on automakers to shift production back from Mexico to the U.S. Though a variety of factors have led them to move many models to plants south of the border, labor costs are one of the key factors.
Mexican auto workers barely earn as much in a day as their U.S. counterparts do in an hour — between $50 and $60, including wages and benefits, when you average out various union and non-unionized plants across the States, according to industry data.
Mounting Labor Costs
By far, parts and components add up to the single biggest factor when it comes to the cost of building a car — anywhere from 60 to 65 percent, says analyst David Andrea, with the Center for Automotive Research, or CAR, in Ann Arbor, Michigan.
But both parts and labor figures are fluid and depend upon the type of vehicle. When it's a Mercedes-Benz S-Class, equipped with such niceties as heated and cooled massaging seats, infrared night vision and semi-autonomous safety systems, those parts account for significantly more of the vehicle's price tag.
Labor costs mount with complicated products like a Ford F-Series, explains CAR's Andrea. That pickup "is a highly customized product, with a great number of permutations: bed lengths, cab sizes, powertrains. You can have 20,000, even 30,000 variations before you get to color and trim options. So, for a carmaker managing that sort of complexity, your manufacturing costs can be significantly higher."
And that's more than labor. There are the logistics of managing the plant — making sure the right parts are in the right places along the line. Such complex operations may be more difficult to automate and, where robots are used, they may be more costly because they have to be flexible enough to handle a variety of different tasks.
"On the opposite end of the spectrum are the entry level products sold almost purely on price," such as a Ford Fiesta, Nissan Versa or Honda Fit, says Andrea. That's why those vehicles normally have lower equipment levels, options available grouped together into manageable packages.
Vehicle manufacturers are trying to limit complexity," he notes, adding that, "It becomes an economies of scale game."
On average, parts and manufacturing costs still average about three-quarters of the cost of a new vehicle.
Roughly 10 percent more goes for advanced research and development, design and engineering. But the exact figure is also somewhat fluid. It's one thing to update an existing vehicle. It's another thing, entirely, to launch an all-new model.
And R&D costs climb even higher for breakthrough products such as the new Chevrolet Bolt EV, the first mainstream-priced, long-range battery-electric vehicle. It can cost billions to develop all-new, high-efficiency, low-emissions powertrain systems.
What's the Profit Margin?
Assuming there's room left, the industry is, on the whole, shooting to earn to achieve net returns of about 10 percent, though only a handful of companies come close. That would work out to roughly $3,500 of that new vehicle.
What's left covers a variety of general sales and administrative costs, a broad catch-all covering everything from overhead to marketing and incentives, as well as the interest a manufacturer must pay on its debt.
Wrap things up with the money dealers earn on each vehicle. Surprisingly, reports the National Automobile Dealers Association, those retailers typically don't pocket much for a new car after covering the costs of running a showroom, paying employees, and other expenses. With some brands, it can be less than $100 a vehicle.
But don't let that scare you off from bargaining for a good deal. Dealers make most of their profits on financing, insurance, and maintenance and repairs.