President Donald Trump threatened in a tweet Tuesday to cut off all government subsidies to General Motors, including electric cars, following the company's announcement of layoffs and plant closures. But he didn't spell out whether he had any political support for the move, nor whether any specific protocol existed for carrying out that threat.
"Very disappointed with General Motors and their CEO, Mary Barra, for closing plants in Ohio, Michigan and Maryland," the president tweeted.
"Nothing being closed in Mexico & China. The U.S. saved General Motors, and this is the THANKS we get! We are now looking at cutting all @GM subsidies, including for electric cars. General Motors made a big China bet years ago when they built plants there (and in Mexico) — don't think that bet is going to pay off. I am here to protect America's Workers!"
GM shares fell 3.5 percent after the president's salvo.
On Monday, GM put numbers to the expected announcement of layoffs following its offer of buyouts to workers weeks ago, announcing around 15,000 layoffs and possible plant closures.
Under federal law, buyers of electric vehicles can get a $7,500 tax credit as an incentive to balance out the slightly higher upfront cost of the car. All automakers are eligible for the credit. After each manufacturer surpasses 200,000 vehicles, the credit begins to phase out. GM confirmed in October that it would already exceed the aggregate cap by the end of 2018. Tesla hit that threshold in July.
"There's disappointment that it seems like GM would rather build its electric cars in China rather than in the United States," White House chief economic adviser Larry Kudlow said at a press briefing Tuesday.
"We are going to be looking at certain subsidies regarding electric cars and others, whether they should apply or not. I can't say anything final about that but we're looking into it," said Kudlow.
General Motors and its subsidiaries have so far received $76 million in federal grants and state tax credits during 2018, according to data from goodjobsfirst.org..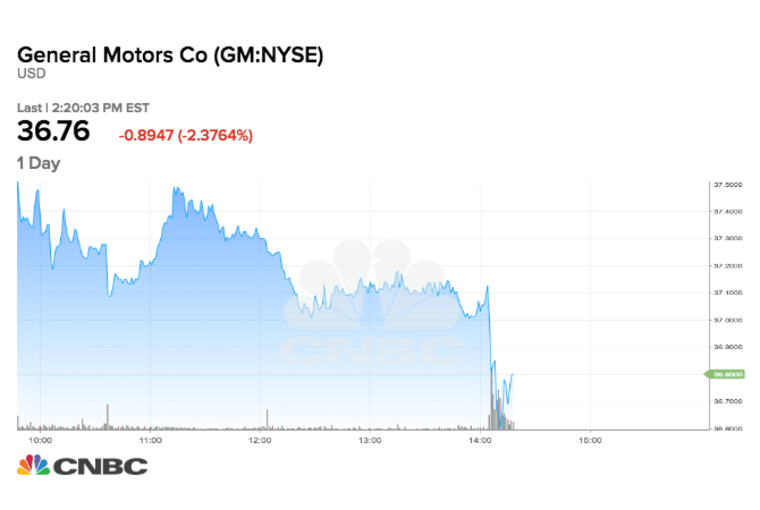 In an announcement Monday, the auto giant said it was refocusing its resources on autonomous and electric vehicles, and more efficient trucks, crossovers, and SUVs. It also said it was closing two unspecified additional plants outside North America by the end of 2019.
"The actions we are taking today continue our transformation to be highly agile, resilient and profitable, while giving us the flexibility to invest in the future," said GM Chairman and Chief Executive Officer Mary Barra. "We recognize the need to stay in front of changing market conditions and customer preferences to position our company for long-term success."
GM did not immediately respond to an NBC News request for comment on the president's tweets.