President-elect Donald Trump's repeated attacks on Mexican auto imports has collapsed the peso — which has ironically made Mexico a more inviting location for American manufacturers.
Trump has repeatedly warned automakers they could be hit with a 35 percent tariff on imports, but some observers believe such threats could actually make it more attractive to invest south of the border.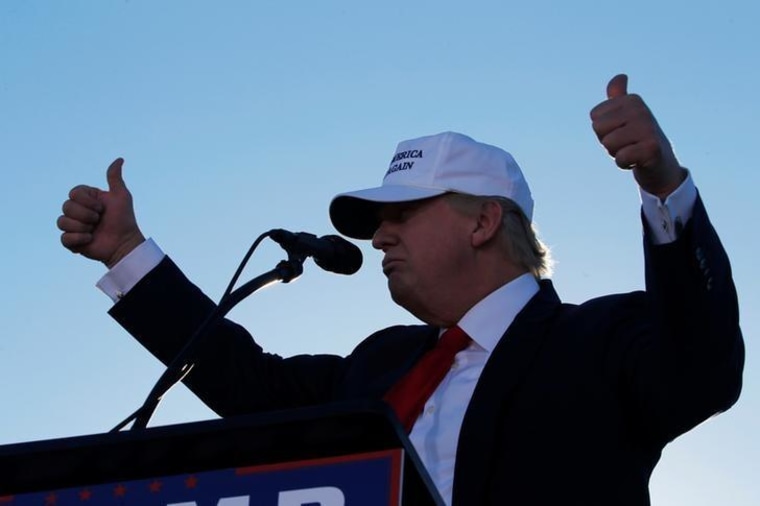 Several high-level auto industry officials told NBC News that a sharp slump in the price of the peso could more than offset any import tariffs, leading them to consider new Mexican manufacturing options. The unexpected consequence was highlighted by former U.S. Treasury Secretary Lawrence Summers during a speech on Wednesday at the World Economic Forum in Davos, Switzerland.
"The decline in the peso is a dagger at Ohio," said Summers, who served in the Clinton administration from 1999 through 2001. "It is a major change in the relative attractiveness of locating production activity in Mexico versus locating it in the American heartland."
A Weak Peso Could Offset Trump's 'Border Tax'
Almost from the moment he entered the 2016 president campaign, businessman-turned-politician Donald Trump has criticized the automotive industry for investing in Mexico, a country now among the world's five largest auto producing nations. Initially, the focus was on Ford which, last April, said it would move its small car production to Mexico. But in recent weeks, the president-elect has also targeted such manufacturers as Toyota, BMW and General Motors.
The threats have wreaked havoc on the Mexican economy. And the peso has collapsed. It is currently trading at nearly 22 to the American dollar, compared to 18 on election day. And that was already down sharply from the beginning of the year, as Mexican trade became an election hot-button issue.
"Compared to when we built our (last) plant in Mexico," the peso has fallen by almost half," said a CEO of a major foreign automaker's U.S. operations. "It makes me think about the opportunity of adding more there," he said, noting that, "this would probably offset any tariff they might impose."
Several other senior industry executives with foreign-owned and Detroit-based carmakers said they also need to be considering the economics of Mexican operations, adding that if the peso continues to weaken, the country will retain its economic advantage, especially with reduced labor costs.
That is a case of unintended consequences, former Treasury Secretary Summers added. "And the consequence of that is measured not in the dozens, or hundreds but in the thousands, or ten thousands or even hundreds of thousands of jobs."
It is another example of "class populism (being) invariably counterproductive for those in whose name it is offered as a policy regime," he said.
A Trade War Could Be Counterproductive
Summers is by no means the only one worrying that a Trump tariff could be seriously counterproductive. A study released last week by the Center for Automotive Research warned that eliminating or sharply scaling back on NAFTA could seriously impact the U.S. auto industry, especially in the American Midwest, where much of its manufacturing still takes place.
"Counter to the incoming Trump administration's goal of creating manufacturing jobs, the withdrawal from NAFTA or the implementation of punitive tariffs could result in the loss of 31,000 U.S. jobs," said a summary of the report by CAR, a highly respected automotive research firm in Ann Arbor, Michigan.
Related: Scrubbing NAFTA Could Cost More Than 30,000 U.S. Auto Jobs
"The decline of the peso is not insignificant," said David Cole, the director-emeritus of that auto think tank, and now the director of an industry-backed effort to increase high-tech training for American manufacturing workers. "You could argue the weakening of the currency could have significant advantages" for Mexico.
Cole and others note that even with the border tariffs threatened by incoming President Trump, automakers are reluctant to leave Mexico. And labor costs are only one factor. America's southern neighbor not only benefits from NAFTA but from more global free trade agreements than any other country in the world but for Israel.
The Art of the Deal?
As a result, manufacturers can save substantially by using Mexico as a central production base for global distribution. A good example of that is Volkswagen AG's luxury brand Audi, whose recently opened Mexican plant is now the only source for the wildly popular Q5 sport-utility vehicle.
Even with tariffs, industry analysts like Cole say they cannot envision Audi setting up a new U.S. plant just to provide Americans with those SUVs. And the same goes for other manufacturers.
That was underscored by an announcement Ford made earlier this month. The president-elect sent out congratulatory tweets hailing Ford's decision to cancel plans for a new, $1.6 billion Mexican assembly plant. But the Detroit maker actually did not reverse its plan to move small car production to Mexico. The Focus model will simply be built in another, existing and underutilized Ford plant in Hermosillo, Joe Hinrichs, Ford's President of the Americas, told NBC News.
Other Ford insiders agreed that the economics of that move have actually been improving as Mexico's economy and currency falter.
Despite a series of announcements about new U.S. factory investments in recent weeks, there has been little actual movement of manufacturing back to the U.S. — but for a small axle line by General Motors. Industry insiders say they are highlighting spending plans already in the works as far back as 2014, hoping to curry favor with Trump and gain some leverage in negotiations over cross-border trade. But Mary Barra, the GM CEO and Chairman, said last week at the North American International Auto Show that the carmaker doesn't plan to alter its global manufacturing plans just to please the new president.
Not everyone is taking that position, however. In an interview with the Associated Press this week, Nissan Motor Company CEO Carlos Ghosn, said, "All the carmakers have listened to [Trump's] message and will act in consequence."
If and how Nissan will respond remains to be seen, however. The carmaker already produces the majority of vehicles it sells in the U.S. in two American plants. The one in Smyrna, Tennessee is, in fact, the largest single assembly line in the country.
Related: GM's $1B Investment Is Not Driven by Trump and Likely Dates Back to 2014
But Nissan also has major factories in Mexico, including a relatively new complex in Aguascalientes where it just opened a new line that will be the sole source of some of its small Infiniti luxury models. Alliance partner Mercedes-Benz was set to share that plant for some of its own models that would be shipped worldwide.
Changing those plans just to satisfy the new president seems questionable, said David Andrea, a long-time, Michigan-based automotive analyst, especially when it comes to Mexican-made products that will be shipped worldwide.
"He's collapsed the peso," Andrea said of Trump, "and you can buy a hell of a lot more now out of Mexico," even with a border tariff.