/ Source: The Detroit Bureau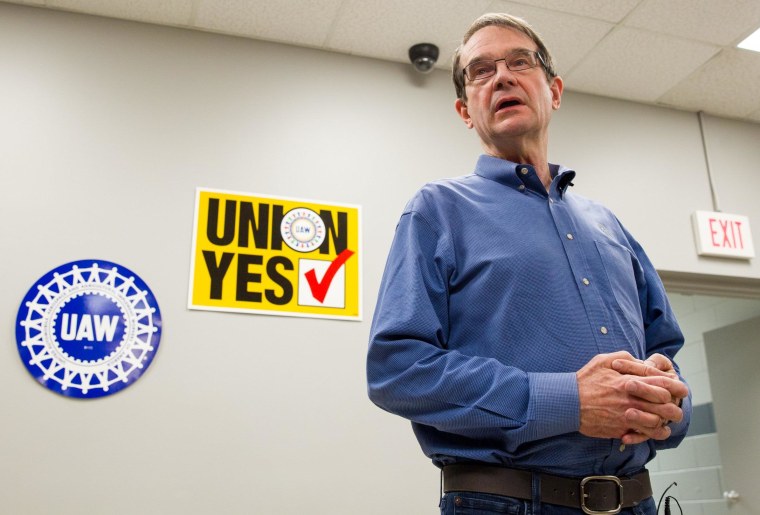 The United Auto Workers filed an appeal with the National Labor Relations Board on Friday, asking the agency to set aside results of last week's election in which workers at a Chattanooga, Tenn., Volkswagen plant voted not to join the union.
The union is claiming politicians and special interest groups interfered with its efforts to organize the plant. The NLRB will investigate.
"It's an outrage that politically motivated third parties threatened the economic future of this facility and the opportunity for workers to create a successful operating model that would grow jobs in Tennessee," United Auto Workers President Bob King said in a statement.
King is referencing the statements from Sen. Bob Corker, R-Tenn., who claimed just days before the election that he had spoken with representatives from Volkwagen AG and was told that the plant would get additional work if the employees voted down union representation.
Volkswagen officials immediately denied making the statements.
"The workers at Chattanooga's Volkswagen plant spoke very clearly last week, so we are disappointed the UAW is ignoring their decision and has filed this objection," Corker
said in a statement on Friday.
All of Volkswagen's plants worldwide have some form of union representation, except Chattanooga.
"Senator Corker's conduct was shameful and undertaken with utter disregard for the rights of the citizens of Tennessee and surrounding states that work at Volkswagen," the filing states. "The clear message of the campaign was that voting for the union would result in stagnation for the Chattanooga plant, with no new product, no job security, and withholding of state support for its expansion."
— Michael Strong, The Detroit Bureau
More from The Detroit Bureau