WOLFSBURG, Germany -- Volkswagen on Friday appointed Matthias Mueller, the head of its Porsche unit, as its new chief executive, asking him to lead a recovery from an emissions cheating scandal that its chairman described as a "moral and political disaster."
The 62-year-old Mueller, speaking at a news conference at company headquarters in Wolfsburg on Friday, said his first priority would be to win back trust following a plunge in VW stock and the resignation of long-time CEO Martin Winterkorn earlier this week.
"Under my leadership, Volkswagen will do all it can to develop and implement the strictest compliance and governance standards in the whole industry," Mueller said.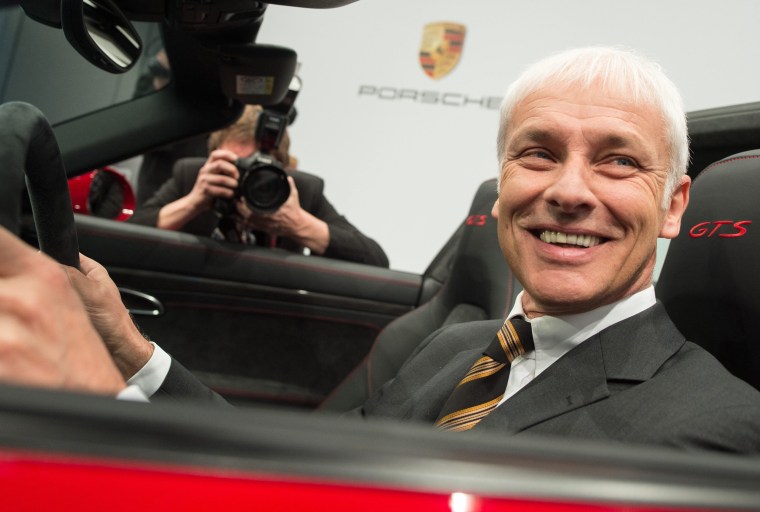 Acting Chairman Berthold Huber made an apology to "our customers, the public, authorities and investors" and asked them to give Volkswagen a chance to make good on the damage from the emissions scandal.
"I want to be very clear, the manipulation of tests for diesel engines is a moral and political disaster," Huber said. "The illegal behavior of developers and technicians in the development of engines has shocked Volkswagen as much as it has the public."
Volkswagen's supervisory board appointed Mueller, a longtime company insider, at a daylong meeting on Friday. His predecessor, Winterkorn, resigned on Wednesday, taking responsibility for the car emissions scandal in the U.S. but saying he wasn't aware of any wrongdoing on his part.
Huber said a number of employees had been put on leave until the details of the emissions cheating were cleared up. The company later announced that it would shrink its management board and get rid of the position of production chief.
The company had been expected to sack several senior officials, but at least one of those reported as being on his way out will stay with Volkswagen. While the automaker said it will reorganize its North America business under Winfried Vahland, until now chairman of the board of directors at Skoda, it said Michael Horn will remain as president and CEO of Volkswagen Group of America.
It was not immediately clear whether other executives expected to be fired at Friday's meeing, inluding the research and development chiefs at VW and Audi, would keep their jobs as well.
An EPA complaint last week accused Volkswagen of surreptitiously equipping diesel vehicles with software designed to detect when they were undergoing emissions testing. During that time, the device turned on full emissions control systems. After the test was over, the controls were turned off, allowing the cars to pollute up to 40 times the allowable levels, according to the complaint, which was accompanied by an order to recall nearly 500,000 diesel vehicles sold in the U.S.
Volkswagen has said some 11 million cars worldwide have the software. The company now faces a mountain of difficulties, from class action lawsuits to fixing the software itself.
VW Emissions Test Cheating More Widespread in Germany: Official
Since then, numerous jurisdictions in the U.S. and abroad have said they are investigating the automaker. Among them is the U.S. Justice Department, which on Friday publicly confirmed what NBC News and other news organizations have been reporting: That it is investigating VW to determine whether criminal charges are warranted for what the EPA complaint decribed as a willful violation of the U.S. Clean Air Act standards.
"The Department of Justice is working closely with the EPA in the investigation into these allegations. We take these allegations, and their potential implications for public health and air pollution in the United States, very seriously," said Wyn Hornbuckle, a spokesman for the department's Environment and Natural Resources Division.
NBC News Justice Correspondent Pete Williams and the Associated Press contributed to this report.