Slow, boring, small — and expensive? If that's your image of a battery car... you could be in for a surprise.
The company that's set to start redefining what it means to go electric isn't some high-tech California start-up, but that icon of the Rust Belt, General Motors.
At a plant in the northern suburbs of Detroit — a factory that nearly shut down when GM entered bankruptcy six years ago — the automaker has begun to ramp up production of the new Chevrolet Bolt EV. Bolt has already won a string of high-profile awards, including Motor Trend Car of the Year. But the real test will begin in the coming days, when the first retail customer is handed the keys.
Related: Chevrolet Bolt Named Green Car of the Year
Think of it as battery-car 2.0. At an EPA-estimated 238 miles per charge, the Chevy hatchback will deliver almost three times the range of most first-generation battery-electric vehicles. But at a starting MSRP of just $37,495 — or less than $30,000 after applying $7,500 in federal tax credits — the Bolt is less than half the price of the current mileage champ, the Tesla Model S.
Spacious and Fast
True, it's smaller and less lavish, but despite its small exterior footprint, Chevrolet designers and engineers took advantage of the fact that most of the powertrain, including the 60 kilowatt-hour battery pack, has been tucked under the floor. That let them carve out some extra space from what in a regular vehicle would have been an engine compartment. So, subcompact body but nearly midsize interior.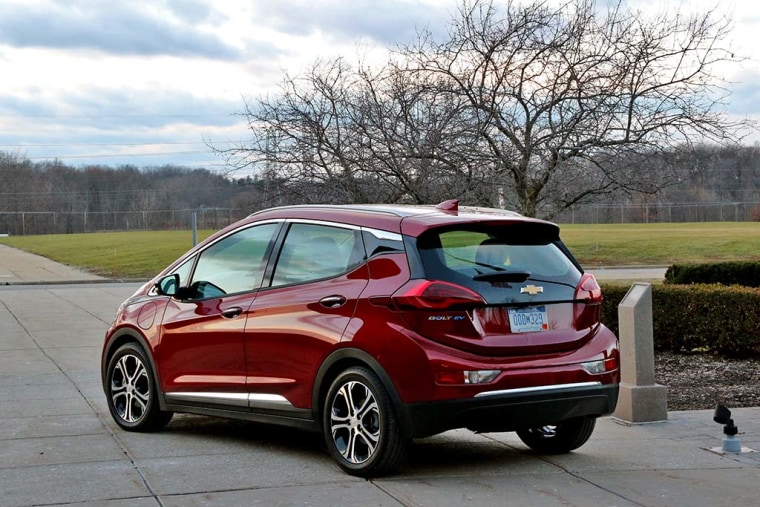 That battery pack is heavy — around 800 pounds — but because it's under the floor it actually means a lower center of gravity which, in lay terms, means surprisingly good handling. And the 200-horsepower electric motor can launch the five-door Bolt from 0 to 60 in just 6.5 seconds, or about as fast as a turbocharged Ford Mustang.
But will consumers plug in? That's the big question, says David Sullivan, automotive analyst with AutoPacific, Inc.
Hot Competition
Tesla has already lined up more than 400,000 reservations for the similarly priced — albeit slightly lower-range — Model 3 it hopes to bring out about 8 to 12 months after Bolt. Chevrolet isn't offering sales forecasts, but LG Chem, the South Korean supplier of lithium-ion batteries, recently said it expects sales of around 30,000 Bolts in 2017.
At GM's battery-car plant in Orion Township, Michigan, production of the Bolt is now running nearly 15 cars an hour on the line it shares with the conventional, gas-powered Chevrolet Sonic subcompact, or around 100 a day on a single eight-hour shift.
Related: Lucid Motors is the Latest to Take on Tesla
"And there's more capacity at this plant if we need to tap into it," says Yves Dontigny, the Bolt Launch Manager, during a tour of the plant.
By some observers' estimates, GM spent more than $1 billion to develop the Chevy Bolt EV. The figure could have been substantially higher — likely pricing the car out of the mainstream — if the maker hadn't figured out how to produce Bolt and Sonic on the same line.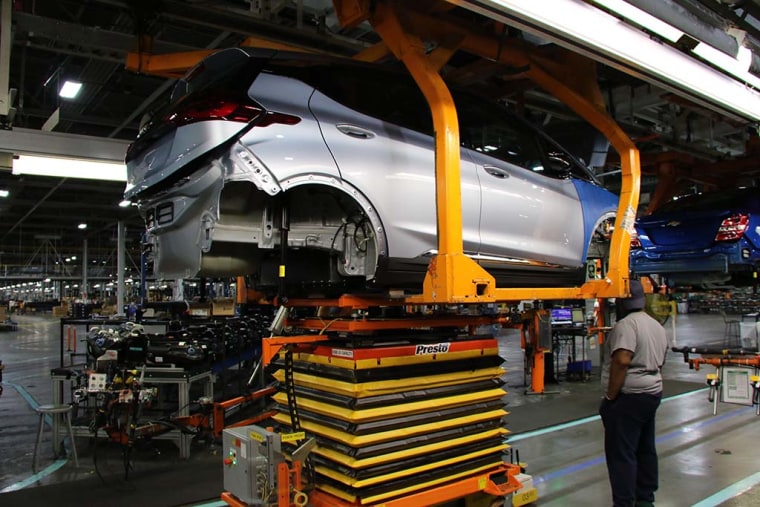 Dontigny pauses at one of more than 100 work stations along the serpentine assembly line. As a Chevy Sonic moves into position, two workers maneuver a cart into place that carries the hatchback's gas tank. In a process as carefully choreographed as a ballet, they slip the tank into the vehicle, then firmly bolt it into place before the partially completed car moves onto the next workstation.
Moments later, a Bolt swings into place, hanging from a claw-like carrier. As it does, an automated cart rolls into place beneath the EV carrying an 800-pound battery pack. The same workers trigger the cart to rise up, marrying pack and body. Six bolts later, the process is complete. The battery car rolls on.
Eventually, as the all-but-completed Bolt reaches the end of the assembly line, it rolls into a blindingly bright booth, special lamps designed to reveal even the slightest of exterior flaws. A specially trained crew pours over the car determined to make sure all the sheet metal and chrome fit together as planned, and that there are no nicks or scratches to its paint.
Quality Controlled
Surveys by J.D. Power and other independent analysts have found Chevy making significant jumps in quality in recent years, but all-new models pose unique launch problems, especially when you're introducing a completely new electric drivetrain. GM can't afford to make even the smallest of mistakes.
The good news for Chevy is that Bolt is already receiving strong kudos. Among other things, it has been named both Motor Trend Car of the Year and Green Car of the Year. And it is one of three finalists for North American Car of the Year, that winner set to be announced on January 9.
Such awards will certainly draw attention to the Chevy Bolt, but it will likely be word of mouth that really makes a difference. And that will only begin when the first of the battery-cars start rolling out of dealer showrooms before the end of this year.