Just one week after an Uber self-driving car fatally struck a pedestrian, Waymo, Google's autonomous vehicle spin-off, has announced a partnership with British automaker Jaguar-Land Rover that aims to see one million rides a day in driverless cars.
As many as 20,000 Jaguar I-Pace battery-electric vehicles will be added to the Waymo fleet over the next two years, officials from the two companies announced Tuesday at a New York City news conference, joining the "thousands" of Chrysler Pacifica Hybrid minivans Waymo had already committed to purchasing.
"We have confidence what we're putting on the road is safe," Waymo CEO John Krafcik said during the New York event. Over the weekend, at an annual dealer conference in Las Vegas, the former Hyundai Motor America CEO said he had "a lot of confidence" Waymo's vehicles would have been able to avoid the collision that killed 49-year-old Elaine Herzberg when she walked off a median onto a Tempe, Arizona roadway and was struck by an Uber-modified Volvo XC90 SUV.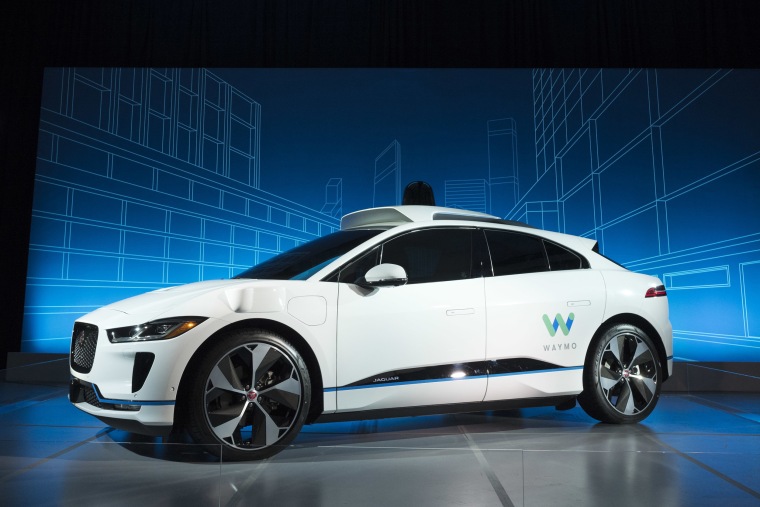 The deal between Waymo and Jaguar marks the first time an all-electric vehicle has been lined up for use in a commercial ride-sharing service. The tech company has been running a pilot program in a 100 square-mile area around Phoenix for more than a year. For now, most of its modified Chrysler minivans have a back-up operator onboard in the case of an emergency.
It has begun testing fully driverless versions of the Pacifica and recently received permission from the state of Arizona to turn the pilot program into a commercial service.
Krafcik confirmed his plans to shift Waymo "from our focus on research and development to operations and deployment." He also broadly hinted that the company will start rolling out to other cities across the country even as it begins to add Jaguar I-Pace battery-SUVs to its fleet. But when asked by NBC News how many cities he hopes to enter, Krafcik would only respond "more."
"We can either shape the future or be shaped by it."
He did hint at the breadth of his ambitions by noting the planned Jaguar purchase alone will be able to handle as many as 1 million rides a day.
The addition of the electric SUV provides the opportunity to aim for upscale buyers willing to pay a premium for a ride. It also should appeal to green-minded ride-sharing customers. And the 90 kilowatt-hour battery used by the I-Pace will allow for it to operate for a good part of the day, Krafcik noted, without having to stop to recharge. It is estimated to get more than 200 miles per charge.
Jaguar CEO Ralf Speth told the news conference he saw the partnership as an "endorsement" of the British company's first push into electrification.
"We can either shape the future or be shaped by it," Speth added.
Experts believe that by eliminating the driver, ride-sharing services will be able to reduce their costs to the point that it will be cheaper to hail a ride than own and operate a private vehicle. A recent study by The Boston Consulting Group estimated as much as 25 percent of the miles Americans clock on the road will be in driverless ride-share vehicles by 2025.