General Motors is asking for federal permission to introduce completely driverless vehicles to American roads by 2019.
The Detroit automaker hopes to begin rolling out a prototype version of its Chevrolet Bolt battery-car in 2019, sans steering wheel and pedals, a move that could usher in an era when millions of Americans turn to robo-cabs rather than owning their own vehicles.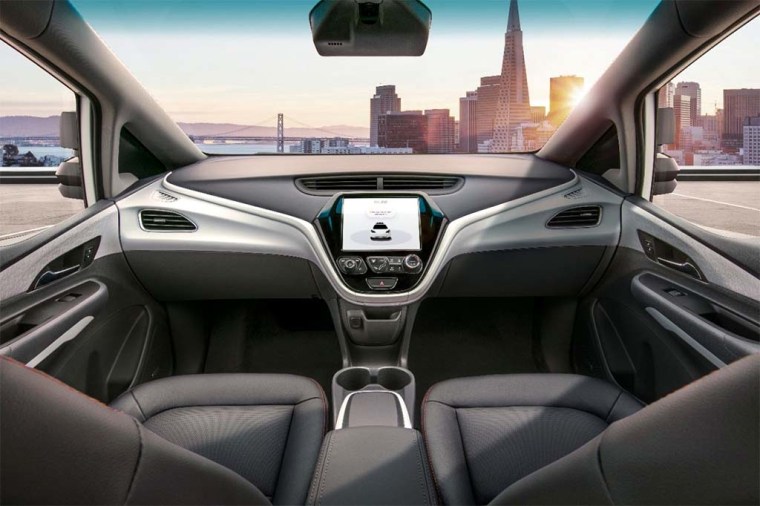 "This technology will have a huge impact on the world," GM President Dan Ammann said on Thursday, adding it will "make transportation more accessible and affordable," especially for the elderly and handicapped who cannot now drive.
GM made its announcement the same day a new study was released by the Boston Consulting Group, predicting millions of Americans, especially in urban areas, will eventually switch from owning a vehicle to using ride-sharing services. It estimated 20 percent of the miles Americans clock on the road in 2035 will be inside driverless vehicles operated by services like Uber and Lyft.
GM already is one of Lyft's largest investors and has set up its own vehicle-sharing service, Maven. The Detroit automaker has not said where it might put the first of its robo-cars to work, but those services are both interested in switching to driverless vehicles.
Related: GM is going all electric, ditching gas and diesel models
Gil Pratt, the head of the Toyota Research Institute — which is also racing to develop driverless technology — recently estimated the average trip in a ride-sharing service costs $1.40 a mile. By comparison, the figure is around $0.85 for a personally owned vehicle. But services like Uber and Lyft believe robo-cabs will bring their costs down below that of a private vehicle.
Ammann noted GM will save money by eliminating the steering wheel and pedals from its Chevrolet Bolt EV. But he cautioned there are a number of alternative technologies needed for driverless vehicles. That includes cameras, radar sensors, and LIDAR, a high-resolution, three-dimensional form of laser that can identify obstacles, such as other vehicles and pedestrians.
The driverless Chevrolet Bolt hatchbacks will require five LIDAR units each. Until recently, according to industry sources, these cost as much as $75,000 each. During a news conference at the Detroit Auto Show in January 2017, Google spin-off Waymo said it had driven that cost down to $7,500 — and that number is expected to fall even more sharply in the near future.
Quanergy, one of the key players in the LIDAR field, has developed a "solid-state" version of LIDAR that eliminates the moving parts of earlier systems. A version the company now sells has dipped to $900 and an improved system will dip to as little as $300. A LIDAR-on-a-chip technology that Quanergy is now developing could get to "under $100," Louay Eldada, the company's CEO and founder, told NBC News.
Robocabs first, robocars later
Even so, GM's Ammann and others caution robot vehicles will likely remain too costly for the typical private vehicle owner for some time. Instead, manufacturers working on the technology, including GM, Ford, and Toyota, initially plan to market to ride-sharing fleets and trucking and delivery customers.
Before they can do that, however, they will need approval from the National Highway Traffic Safety Administration. GM has requested waivers covering 16 specific regulations, according to Kyle Vogt, the CEO of Cruise Automation, an autonomous technology company GM acquired for $1 billion a year ago. "When there's no steering wheel it makes no purpose to have rules requiring an airbag in the steering wheel," Vogt said.
If NHTSA approves GM's request, the robo-cabs will be able to operate in seven states that have already authorized driverless vehicles. The automaker plans to seek approval from other states to broaden the pilot program. With the necessary go-ahead, Ammann said, it could roll out as many as 2,500 of them annually.
GM's rush to take a lead in the new field underscores the challenges it and other traditional automakers will face in the years ahead as the transportation world goes through some of its biggest changes since Henry Ford switched on the first moving assembly line more than 100 years ago.
The Detroit automaker not only faces competition from traditional rivals like Ford and Toyota, but new entrants like battery-carmaker Tesla and Waymo. Apple is also widely expected to be entering the autonomous technology arena.
Driverless robo-cabs are expected to have a major impact on the way the public travels in the U.S. and elsewhere. So, while global car sales will continue to grow, reaching a peak of around 108 million over the next decade, "We will (then) reach a plateau around 2029 or 2030," forecast Thomas Dauner, the head of the auto practice at BCG. "An industry that has been growing over the past century will stop."
But the new business model will likely favor ride-sharing services and those developing robo-cab and electric vehicle technologies, Dauner warned.
So, unless traditional automakers re-think their own business models, they could become little more than commodity manufacturers, fighting for a shrinking share of revenues and profits.