The cars being built today are safer than ever, not only better able to withstand a crash but designed to avoid accidents in the first place. Roadways have been improved, and police have cracked down aggressively on drunk drivers, the leading cause of serious crashes. So why did highway fatalities go up last year?
After decades of steady decline, roadway deaths fell to a historic low in 2014. But a newly released report from the National Highway Traffic Safety Administration shows that the numbers are on track for a 9 percent increase in 2015.
While final figures won't be available until later this year, NHTSA estimates that 26,000 American drivers, passengers, bicyclists, motorcyclists and pedestrians were killed in traffic crashes between Jan. 1 and Sept. 30, 2015. A total of 23,976 were killed during the same period the year before, with the death toll at 32,675 for all of 2014. At the current rate, that will near 36,000 for all of last year.
If the upward trend continued during the final quarter it would mark only the second time highway deaths rose for a full year during the last decade. At the current rate, Americans are dying at the rate of two loaded 747s crashing every week.
Read More: Record 9 Vehicle Models Have Zero Driver Deaths, IIHS Says
The U-turn in highway safety isn't entirely unexpected, but has actually accelerated since mid-2015 when federal regulators announced the fatality rate had risen by 8 percent. At that point, NHTSA Administrator Mark Rosekind called it "a wake-up call."
What's gone wrong? It might be tempting to point at recent, well-publicized recalls — which hit record levels in 2015 — and especially to safety lapses, such as the General Motors ignition switch and Takata airbag debacles. But as potentially dangerous as those may be, vehicle defects account for, at most, about 5 percent of fatal crashes, according to NHTSA.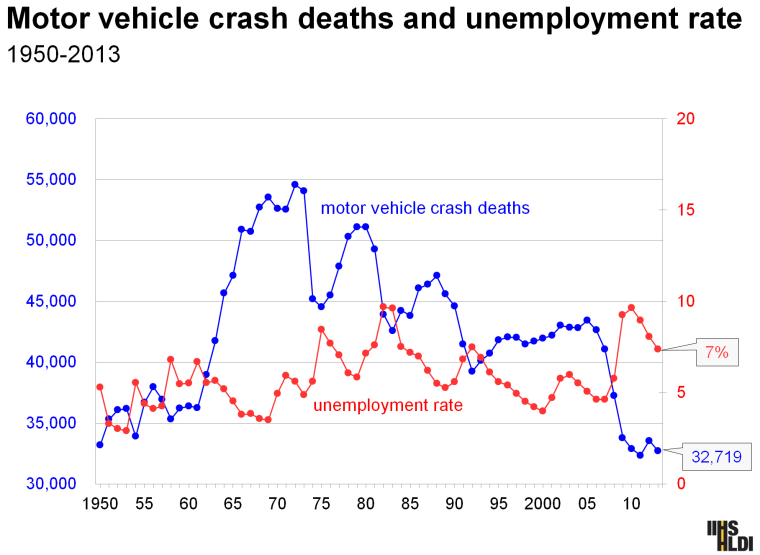 "It is important for Americans to know that human behaviors are by far the largest cause of fatalities," Rosekind said last November.
Distracted driving clearly is a factor in highway fatalities, catching the blame for as many as one in nine deaths. But despite all the breathless headlines about texting while driving, that actually hasn't changed much, said Adrian Lund, director of the Insurance Institute for Highway Safety, or IIHS.
The primary reason for the surge in roadway deaths, he contends, "is we've had an uptick in the economy, and one of the things we know is that people drive more miles, and the kind of driving people do changes. You go to more parties and there is more risky types of driving. Young people drive more and we know they're more at risk."
Read More: 'Zero Fatalities' on the Highways Coming in Our Lifetime?
The fact that motorists are taking more risks becomes apparent when you measure the recent rise in a different way, averaging things out by calculating the number of fatalities for every 100 million miles Americans drive.
For the first nine months of 2015, that figure worked out to an average 1.1 deaths, compared with the historic low of 1.05 fatalities per 100 million miles traveled in 2014. If the trend holds for all of 2015, it would come as the highest fatality rate since 2012, at 1.14 deaths per 100 million miles.
From a historic context, the latest numbers are still a significant improvement over decades past. Back in 1972, a record 54,589 Americans were killed on the highways — at a time when there were barely half as many cars on the road and motorists traveled far fewer miles each year, according to federal data.
Measured in terms of deaths per 100 million miles traveled, the figure routinely reached five back in the 1960s and 1970s, and was routinely well above 10 deaths all the way through to the end of the Second World War.
But safety advocates contend that the numbers should be even lower today considering all the steps that have been taken to improve both U.S. roadways and the vehicles we drive. So many cars now get top crash ratings that both NHTSA and the IIHS have been toughening their test procedures.
Read More: U.S. Traffic Fatalities Spike Ahead of Summer, National Safety Council Study Says
More and more cars are equipped with advanced technologies like blind spot detection and forward collision warning systems. A new IIHS study shows that collision warning technology can reduce the number of serious rear-end collisions by 23 percent or more. And such technologies are becoming more common on even the latest entry-level models.
One surprising problem is that cars have become so good they last longer. The average vehicle on U.S. roads is now 11 years old, and millions of cars have been in use for at least two decades. So, it will take years before such technology becomes the norm, rather than the exception, across the American fleet.
NHTSA and a number of automakers — including Nissan and Volvo — have set goals of driving highway fatalities down to zero. And safety experts believe new autonomous vehicles will yield big breakthroughs when they begin to roll out sometime in the coming decade.
That said, even with safer cars, better roads and improved police enforcement, last year's surge in highway fatalities definitely provides a reminder that our roads can be a deadly place to be, especially when motorists are willing to take unnecessary risks.