GM's just-announced deal to sell its long-struggling Opel/Vauxhall subsidiary for $2.5 billion may end the company's long history in Europe — it acquired Opel in 1929 — but it doesn't completely end the massive losses for GM, which is expected to take a $4 billion to $4.5 billion hit once the deal closes later this year.
While it ends GM's long legacy as a truly global automaker, the sale will allow the Detroit carmaker to more fully focus on its two key markets: the U.S. and China. For the buyers, PSA — which pulled out of the North American market a quarter century ago — the acquisition transforms it into Europe's second-largest automaker, with a 17 percent market share, behind only Volkswagen.
Related: This Scandal-Ridden Car Company Is Now the World's Best-Selling Automaker
"We are proud to join forces with Opel/Vauxhall and are deeply committed to continuing to develop this great company and accelerating its turnaround," Carlos Tavares, chairman of the Managing Board of PSA, said during a news conference announcing the widely expected deal. "We see this as a natural extension of our relationship and are eager to take it to the next level."
GM had tried to sell off Opel once before, with former CEO Fritz Henderson coming near to clinching a deal with a Russo-Canadian consortium headed by Toronto-based supplier Magna International shortly after the Detroit automaker emerged from its 2010 bankruptcy. But the executive team appointed to supervise GM as part of its federal bailout rejected the move and Henderson was instead forced out of the company.
Rue Britannia: Brexit Scuppered Deal
Since his departure, three CEOs have struggled to pull together turnaround plans, and it appeared that 2016 might actually see German-based Opel and British-based Vauxhall finally crawl back into the black. But the Brexit vote scuttled that opportunity, and GM analysts feared the losses would continue. That appears to have led current CEO and Chairman Mary Barra to dust off the idea of a sale. This time, however, it was France's PSA that offered a way out for GM.
Related: Mary Barra Says Production Won't Change Despite Trump's Threats
For her part, Barra said the deal would speed up GM's ongoing transformation. "We are very pleased that together, GM, our valued colleagues at Opel/Vauxhall and PSA have created a new opportunity to enhance the long-term performance of our respective companies by building on the success of our prior alliance," Barra said.
Not Everyone Is a Fan
There have been some questions raised about the deal. Some observers wondered what it would mean for GM to no longer be a truly global company. And the loss of about 1.2 million annual sales could impact its broader economies of scale — potentially raising costs.
Some Opel products are marketed in the U.S. under other GM brand names — the Buick Cascada convertible being one example — so GM will now have to develop replacements.
For PSA's part, Tavares said the impending merger of PSA and Opel/Vauxhall will allow it to gain substantial economies of scale and synergies in purchasing, manufacturing and R&D. Annual synergies are expected to reach 1.7 billion euros by 2026 — of which a significant part is expected to be delivered by 2020, accelerating Opel/Vauxhall's turnaround.
Leveraging the earlier partnership with GM, which dates back to 2012, PSA expects Opel/Vauxhall to reach a recurring operating margin of 2 percent by 2020 and 6 percent by 2026, and to generate a positive operational free cash flow by 2020.
PSA, together with BNP Paribas, will also acquire all of GM's European financial operations through a newly formed 50/50 joint venture that will retain GM Financial's current European platform and team.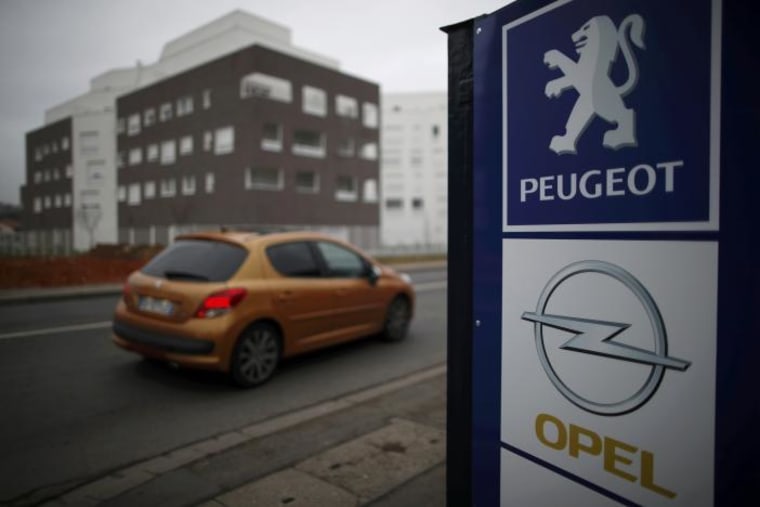 It's Not Over Yet
If PSA can turn things around at Opel, it could pay off for GM in the long run. It holds warrants to purchase shares of the French company. The two automakers also expect to collaborate in the further deployment of electrification technologies and existing supply agreements, and PSA may potentially purchase hydrogen fuel cell systems from the GM/Honda joint venture announced earlier this year.
In connection with the Opel sale, GM will take a primarily non-cash special charge of $4.0-4.5 billion.
All of Opel/Vauxhall's European and U.K. pension plans, funded and unfunded, with the exception of the German Actives Plan and selected smaller plans will remain with GM. The obligations with respect to the German Actives Plan and these smaller plans of Opel/Vauxhall will be transferred to PSA. GM will pay PSA 3 billion euros for full settlement of transferred pension obligations.
Shares of PSA surged on news that the Opel deal was completed, but among the questions analysts want answers to is how the French maker will bring about the turnaround that long escaped GM. Among the challenges were commitments that government and union officials in Germany say they were given by PSA that the new management team won't make major cuts in plants or employment levels.